Brittains Limited
"It is interesting to observe that a paper mill has stood on the present site at Cheddleton since 1797. At that time, of course, the paper was made by hand, but with the development of the paper machine by the Fourdrinier brothers, after whom a type of paper machine is named, the paper mill became mechanised.
Brittains Limited, who are the successors to the Fourdriniers who operated a mill at Hanley, through Mr. T. A. Brittain became associated with the Cheddleton mill and formed an incorporated company in 1890. The mill at Hanley later relinquished the actual manufacture of paper to the Cheddleton mill and was developed solely as a paper coating and finishing factory, in which capacity it is still operated to-day.
From the early days of a small one-machine mill specialising in the thin Printing Paper used by the potters for transferring designs from an engraved copper plate to the ware, the Cheddleton mills now comprising twelve machines, covering a large area. Although still continuing to produce Pottery Printing Paper, the mills nowadays also make specialised thin tissues, some of which are the thinnest of their type in the world. Such papers as Carbonising Tissue, which was developed with the advent of the typewriter, Insulating Papers, the famous Duplex Litho Transfer Paper, etc., have and international reputation. Brittains Limited products find their way to most countries throughout the world as the raw material for other important industries."
1955 publication of North Staffordshire Chamber of Commerce
---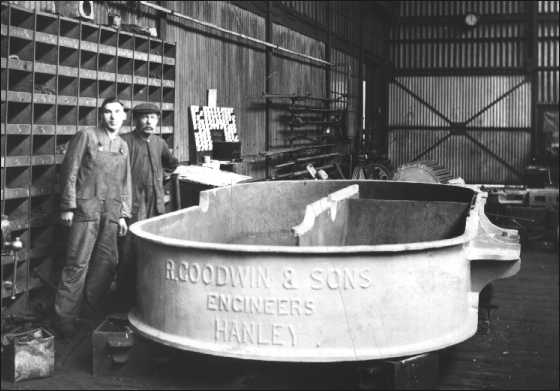 The casting (made by R. Goodwin & Sons foundry, Ivy House, Hanley) is the tub of a 'beater' used for processing paper pulp as part of the paper manufacturing process.
In the background, the large cylindrical item, is the beater rotor.
probably the castings are for the nearby Brittans Ivy House Paper Mill