Pidduck & Son, jewellers:
At the bottom of Market Square, Hanley and by the junction with Fountain Square was Pidduck & Sons - a famous Hanley jewellers. Their shop first opened in 1841, was refurbished in the 1920's and rebuilt in the 1980's.
Henry Pidduck was the mayor of Hanley in 1864
The Blue Riband is the award received by the ship with the record for the fastest transatlantic crossing it was designed by Henry Pidduck & Sons Ltd. and manufactured by James Dixon & Sons of Sheffield.

The Blue Riband was a creation of the transatlantic shipping companies in the 1860s, for the publicity opportunities of possessing the fastest ship. It was represented by a blue pennant flown from the topmast of the ship, until 1935 when Sir Harold Keates Hales (1868-1942), a British politician and owner of Hales Brothers shipping company, initiated a trophy. Hales was born in Manchester and became MP for Hanley.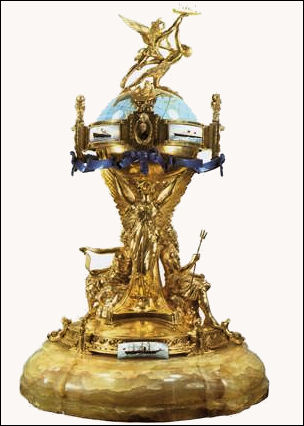 The Blue Riband - Hales Trophy
In 1933, Hales commissioned the trophy to be designed by Henry Pidduck & Sons Ltd., silversmiths of Hanley, Stoke-on-Trent.
The Hales Trophy is made of solid silver and heavy gilt, and stands almost four feet tall, weighs nearly 100 pounds and cost $4,000 to create. The trophy consists of a globe resting on two winged figures if Victory sanding on a base of carved green onyx. An enamelled blue ribbon surrounds the middle of the prize.
The award is decorated with models of old galleons, modern ocean liners and statues of Neptune and Amphitrite, god and goddess of the sea. The trophy is surmounted by a figure depicting Speed pushing a three-stacked liner against a figure symbolizing the forces of the Atlantic. The Atlantic Ocean is represented in blue enamel with the traditional ocean liner route indicated by a red enamelled line.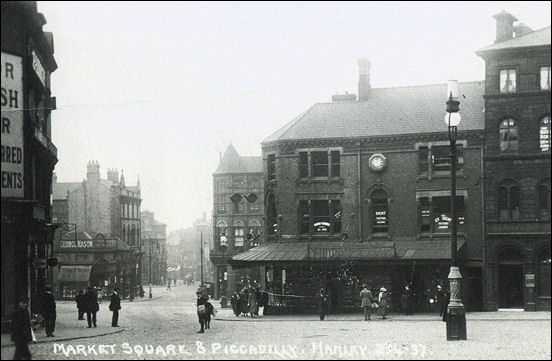 A view from Market Square looking down to the left through Fountain Square and Crown Bank to Piccadilly. Pidduck's is in the centre of the picture, the clock on the front of the building was famous as a meeting place.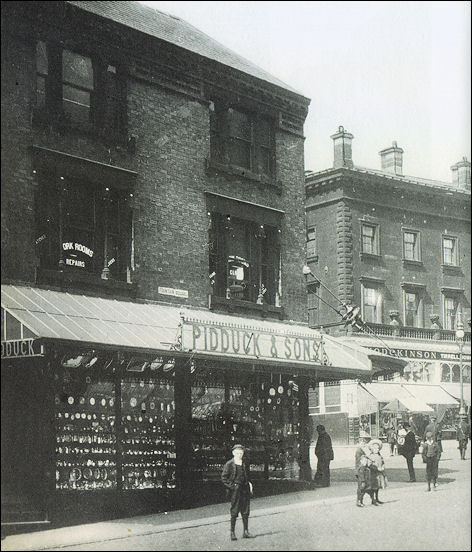 A view from Fountain Square looking into Market Square. To the right is the building of Hanley Indoor Market.
To the left is Pidduck & Sons - the main entrance and frontage was in Market Square.