| | |
| --- | --- |
| Whittingham, Ford & Riley | |
Location and period of operation:
| | | | |
| --- | --- | --- | --- |
| Whittingham, Ford & Riley | Burslem | 1876 | 1882 |
An earthenware manufacturer, operating in Newcastle Street, Burslem, Stoke-on-Trent, Staffordshire, England.
The partners were William Whittingham, Thomas Ford and Thomas Riley.

In September 1882 Whittingham retired from the business which continued as Ford & Riley.
Previously: Whittingham, Ford & Co.
Subsequently: Ford & Riley
The London Gazette
September 19, 1882


notice that William Whittingham left the business

---


An English Commemorative President James Garfield Pottery Bowl with an acrostic
on the reverse comparing America's loss to Great Britain's loss of Prince Albert

The bowl with a portrait of President Garfield, named below and with the
American and British flags behind and an American Eagle above.


Maker: Whittingham, Ford & Riley, Burslem
1881-82

President Garfield
Was Born November 19th 1831
Elected President of America Nov 2nd 1880
Shot by Guiteau July 2nd 1881
Died September 19th 1881

An Acrostic
Garfield is Dead-His Memory blest
Angels welcomed Him Home to Rest
Radiant His Life-In Suffering Brave
Friendship Now Weeps O'er A Martyr's Grave
Intwined In a Bond of Sympathy Sweet
England's and America's Widows Greet
Like Albert-Was Garfield a Nation's Pride
Devoutly They Lived. Beloved They Died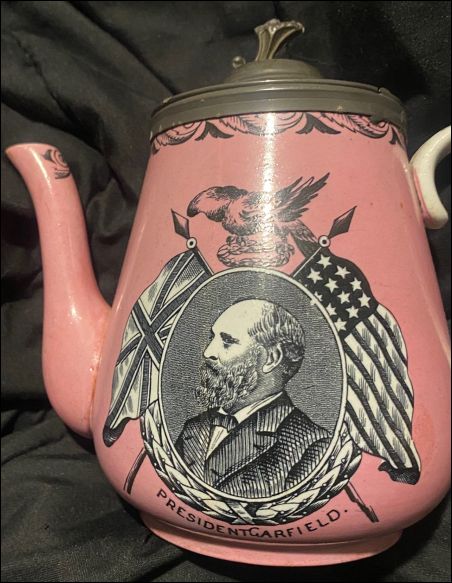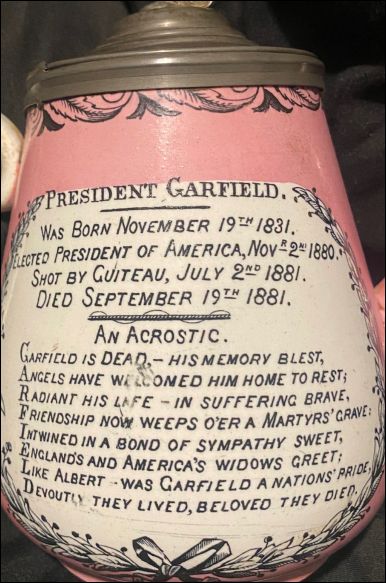 example of a metal lidded teapot in the style of
commemorative ware for US President James Garfield
1881-82
photos courtesy: Susie Silva
---

Puzzle jug with a question around the rim:

Here is An English Farmstead but where is the Farmer?


W. F. & R


the farmers face is contained in the mound where the animals are standing
---

blue transferware platter in the Eureka pattern

W. F. & R
Eureka

the registration diamond shows that the pattern was registered on the
9th February 1880
photos courtesy: Carole Winn
---
Initials used on ware for identification:
W. F & R.
---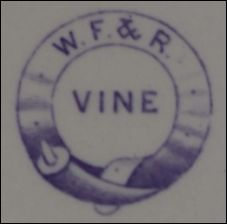 W F & R
the mark is usually the initials W. F. & R. contained in a belt
generally the pattern name is included

W F & R
Burslem
---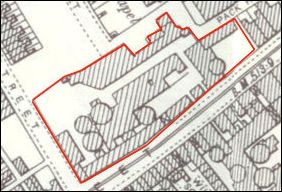 - click for more information on the potworks -
---
Questions, comments, contributions? email: Steve Birks
---