| | |
| --- | --- |
| Thomas C Wild | |
Location and period of operation:
| | | | |
| --- | --- | --- | --- |
| Thomas C Wild | Longton | 1905 | 1917 |
China manufacturer at the Albert Works and St. Mary's Works, Longton, Stoke-on-Trent, England
Thomas Clarke Wild (TC) had been in business with his father Thomas Wild traded as Thomas C Wild & Co. His father died in 1898 and in 1904 the '& Co' was dropped from the name and the business continued trading as Thomas C. Wild at the Royal Albert Crown China Works, High Street, Longton.

In 1905 T C Wild's eldest son, Thomas E. Wild, began work as an apprentice at the Albert Works, age 15.

Also in 1905 the business purchased the St Mary's Works (also in the High Street, Longton) from Bernard Moore.

The St Mary's works were initially used to decorate the wares manufactured at the close-by Albert Works. Manufacture of Royal Albert Crown China gradually transferred to the St Mary' s works.

In 1904 TC and his brothers James Shelley and Herbert Augustus Wild purchased the business of Adderley & Lawson and formed Wild Bros. to manufacture lower priced china tea ware.

1907 TC's second son, Frederick J. Wild starts work in the business of Thomas C. Wild.

In 1910 TC purchased the Park Place Works (opposite the Albert Works in the High Street) which was re-opened in 1911 manufacturing only white ware only - Mr Harry Reid (commercial traveller for TCW) was the manager. In 1913 TC sold a half-share in the Park Place Works and business to Harry Reid, the two partners established the new business as Reid & Co. with Harry Reid as managing director.

In 1916 TC, with William Thomas Chapman, founded Chapman's (Longton) Ltd which operated from the Albert Works.

In 1917 TC's sons Thomas E. Wild and Frederick J. Wild, who were already working in the business, became partners and the company name was changed to Thomas C. Wild and Sons.
Previously: Thomas C Wild & Co
Subsequently: Thomas C Wild & Sons
Marks used on ware for identification: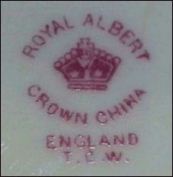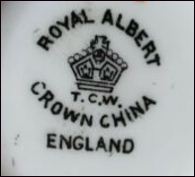 ---
Questions, comments, contributions? email: Steve Birks
---