Location and period of operation:
| | | | |
| --- | --- | --- | --- |
| Bourne & Leigh (Ltd) | Burslem | 1892 | 1941 |
Earthenware manufacturer at the Albion Pottery (which was later renamed to the Leighton Pottery), Orme Street, Burslem, Stoke-on-Trent, England
The original partners were Mr E Bourne and Mr J E Leigh - it appears that in 1913 Bourne left the partnership.

In 1913 Leigh was joined by Mr A W Potter until 1937.

In 1937 the company was incorporated as Bourne & Leigh Ltd when Gerald Wood, the principle partner of Arthur Wood & Son (Longport) Ltd, with others, aquired an interest in the business.

Bourne & Leigh closed in 1941 as part of the wartime concentration scheme and did not reopen.
Previously: E Bourne was in partnership as Blackhurst & Bourne (1880-92) at the Hadderidge Pottery Burslem.
Subsequently: Leighton Pottery Ltd (c.1940-54)
---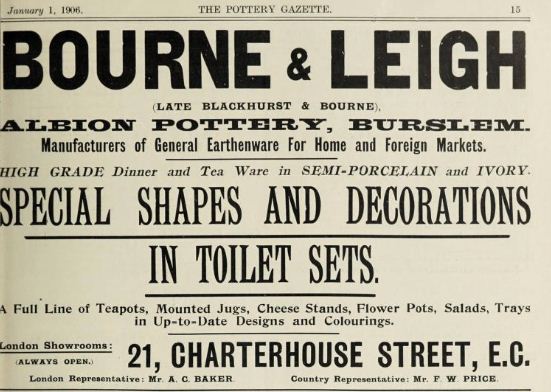 Bourne & Leigh
(Late Blackhurst & Bourne)
Albion Pottery, Burslem
Pottery Gazette - January 1906
---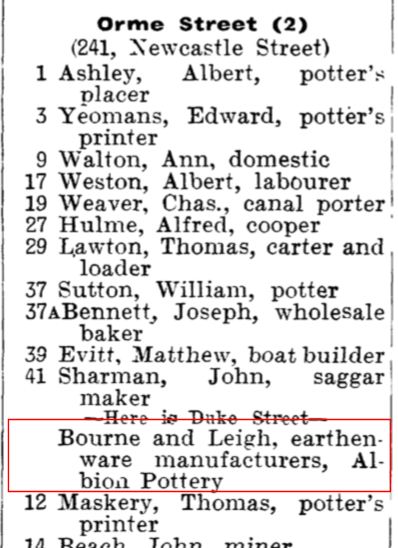 Orme Street
Bourne and Leigh,
Earthenware manufacturers,
Albion Pottery
from..... 1907 Staffordshire Sentinel
'Business Reference Guide to The Potteries, Newcastle & District'
---

flow blue butter pat dish in the Ophir pattern

OPHIR
E.B & J.E.L.
England

1892 - c.1912
---

Willow pattern dish

E.B & J.E.L.
England

1892 - c.1912
---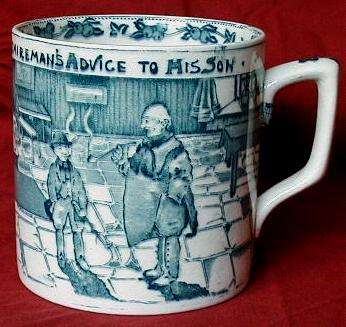 mug marked Albion Pottery

A YORKSHIREMAN'S ADVICE TO HIS SON:
SEE ALL, HEAR ALL, SAY NOWT.
On the lower part of the cup under the sleeping dog it reads:
EAT ALL, DRINK ALL, PAY NOWT AND IF EVER THA DOES OUT FOR NOWT ALLUS DO IT FOR THISEN.

---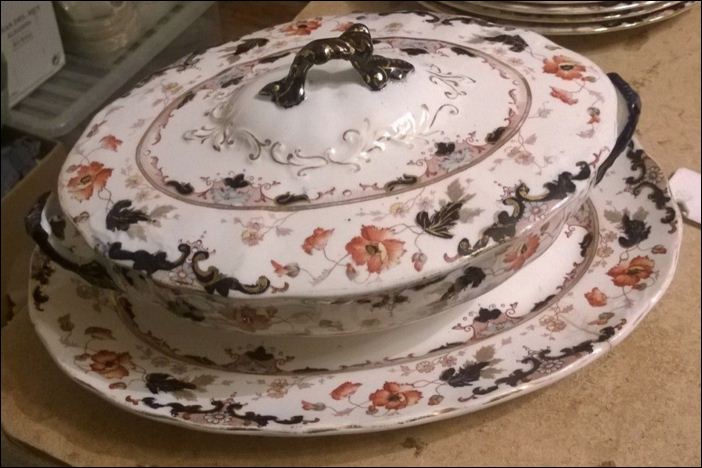 Bourne & Leigh covered serving dish

---

Vase in the Chinese Rose pattern


Leighton
Pottery
B & L
B

"Chinese Rose" is the pattern name

B stands for Burslem - the town where the works were situated

mark used in the 1930+
---

1910-1935
Silver Jubilee
King George V Queen Mary


Produced at
the
Leighton Pottery
Burslem, Eng
Made in England

this style of mark was continued
by Leighton Pottery Ltd.
---

coffee set in pattern number 4613

c.1930s


Leighton
Pottery
B & L
B

not all items in the set carry the full Leighton Pottery mark
- this was not uncommon, when speed of production was more important -
photos courtesy: Jeremy Green
---
Initials and marks used on ware for identification:
B & L
Bourne & Leigh
---
B & L
B
Bourne & Leigh
Burslem
---
E B & J E L
E. Bourne & J.E. Leigh
---
E B J E L
E. Bourne J.E. Leigh
---
E B & J E L
B
E. Bourne & J.E. Leigh
Burslem
---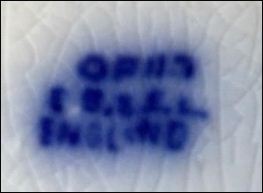 E.B & J.E.L.
England
1892 - c.1912
OPHIR is the pattern name
---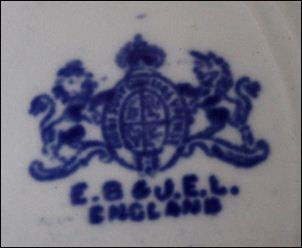 E.B & J.E.L.
England
1892 - c.1912
Mark incorporating the Royal Arms
---

E. Bourne & J.E. Leigh
Royal Semi-Porcelain
Burslem
England
EBJEL
c.1912+

OPHIR is the pattern name
---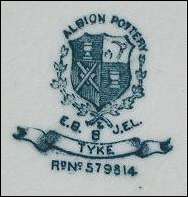 Albion Pottery
E.B. & J.E.L.
B
c.1912+
B stands for Burslem - the town where the works were situated
TYKE is the pattern name
The registration number 579814 dates from 1911
---

EB & JEL
"Asiatic Pheasants" is the pattern name
---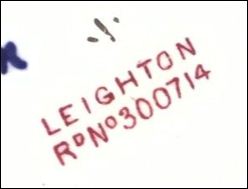 Leighton
The registration number 300714 dates from 1897
---

Leighton
Pottery
B & L
B
"Chinese Rose" is the pattern name
mark used in the 1930+
---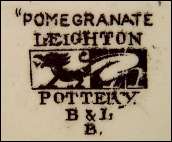 Leighton
Pottery
B & L
B
"POMEGRANATE" is the pattern name
mark used in the 1930+
this mark with the name "Royal Leighton"
was continued by Leighton Pottery Ltd
---

1899 OS map showing the Albion Pottery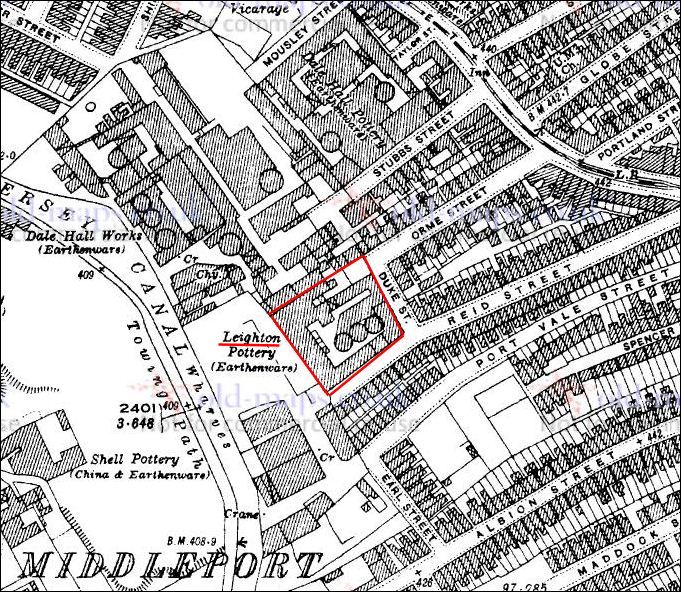 1924 OS map - the works have been renamed to the Leighton Pottery
---
Questions, comments, contributions? email: Steve Birks

---