George Frederick Bowers

(& Co)







Location and period of operation:
George Frederick Bowers

Brownhills, Tunstall

1842

1868

Frederick T Bowers

1868

1871
Manufacturer of porcelain and earthenware at Brownhills Works, Tunstall, Stoke-on-Trent, England.
George Frederick Bowers was a partner in Ambrose Wood & Co. This short lived business produced Egyptian Black at a works in Waterloo Road, Burslem. This partnership was dissolved on the 1st January 1842.

In 1842 G. F. Bowers took over the Brownhills Works - formerly operated by Marsh & Haywood.

Edward Challinor of Tunstall was a partner with G. F. Bowers in the Brownhills Pottery Works and also as Mine Owners and Coal Merchants at the Turnhurst Colliery, Tunstall, in the style of Bowers & Challinor.

Awarded a prize medal at the 1851 exhibition.

In the 1851,52 directories the company is listed as Bowers, Challinor & Wooliscroft.

Edward Challinor retired from the Brownhills pottery business on the 1st January 1849.

Edward Challinor retired from the Turnhurst Colliery business on the 26th January 1861.

In the 1861 census George Frederick Bowers was age 52 - recorded as 'a pottery manufacturer and coal master' - employing 97 men, 19 boys and 20 girls.

In December 1863 G. F. Bowers had to register Trust Deeds as a debtor. He obviously survived this and continued in business.

George Frederick Bowers continued until his death in January 1867 and was suceeded by his son Frederick T Bowers.

The business failed in 1871 and Frederick Tom Bowers initiated proceedings for liquidation in May 1871.

The works were purchased by Mr. James Eardley and operated as The Browhills Pottery Co.

Formerly: Marsh & Haywood
Subsequently: The Browhills Pottery Co.
Brownhills Works — "These works (formerly Marsh and Haywoods) were for many years carried on by Mr. George F. Bowers, who attained a fair reputation for china goods, and gained a medal at the Exhibition of 1851. Subsequently he commenced the manufacture of earthenware, which he continued until his death, when he was succeeded by his son, Mr. Frederick F. Bowers. On his failure in 1871 the manufactory was purchased by Mr. James Eardley, of Alsager."

Llewellynn Jewitt - Ceramic Art of Great Britain; 1878
---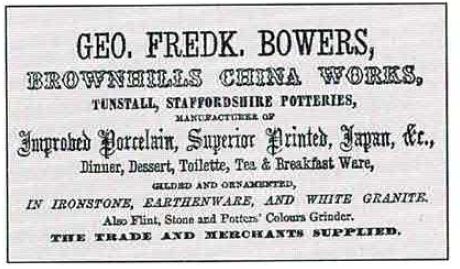 Geo. Fredk, Bowers
Brownhills China Works
Tunstall, Staffordshire Potteries
Manufacturer of
Improved Porcelain, Superior Ptinted, Japan &c.,
Dinner, Desert, Toiltte, Tea & Breakfast Ware
Gilded and Ornamented
In Ironstone, Earthenware, and White Granite
Also Flint, Stone and Potters' Colours Grinder
The Trade & Merchants Supplied
advert from 1864 Jones Directory
courtesy: R. K. Henrywood, Staffordshire Potters 1871-1900
---
The London Gazette
8th December 1863

notice of registration of Trust Deeds executed by
the debtor George Frederick Bowers
G. F. Bowers obviously survived this and continued in business.
---
The London Gazette
30th May 1871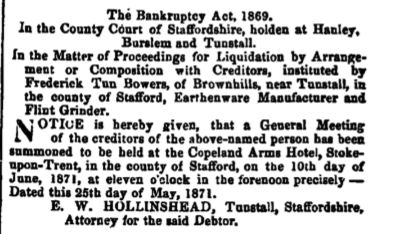 notice of voluntary liquidation instituted by
Frederick Tom Bowers
note the misspelling of Frederick's middle name
---



cup & saucer in the Scinde pattern

Registered design number: 52402.
Date: 1848 June 20
Proprietor: George Frederick Bowers and Company.
Address: Brownhills China Works, Tunstall, Staffordshire.
Subject: Cup and Saucer

the registration diamond shows that the design was registered on the
20th June 1848

---



platter in the Waverley pattern

the platter carries both the printed and impressed mark


G F B


Ironstone Ware
G. F. Bowers
Staffordshire
Potteries

both marks incorporate the
Stafford Knot
---
Marks & initials used on ware for identification:
G. F. B.
G. F. B. & Co
G F B B T
George Frederick Bowers Brownhills Tunstall
G F BOWERS
---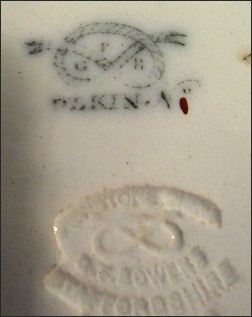 GFB
Ironstone Ware
G. F. Bowers
Staffordshire
Potteries
both marks incorporate the
Stafford Knot
---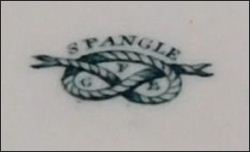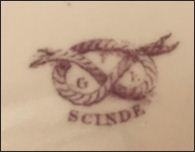 marks often include the Stafford knot and include the pattern name
---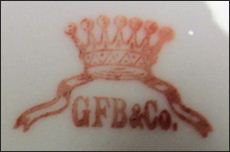 GFB & Co
probably a mark of G.F. Bowers & Co
---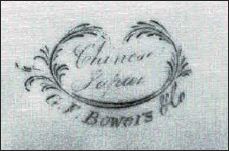 G. F. Bowers & Co
courtesy: R. K. Henrywood, Staffordshire Potters 1871-1900
---
- click for more information -
---
Questions, comments, contributions? email: Steve Birks
---