Location and period of operation:
| | | | |
| --- | --- | --- | --- |
| Canning Pottery (Co) | Fenton | c.1896 | c.1936 |
Earthenware manufacturer at Canning Street, Fenton, Stoke-on-Trent

---

The works appear to have started out as the Canning Pottery in Canning Street, Fenton between 1896 and 1907 and this belonged to R H & S L Plant.

Sometime between 1912 and 1921 the Canning Pottery Co. was formed and Harold J Plant (son of R H Plant) was a partner.

Their principal production was teapots and jugs.

In 1923 they registered the "Decoro" trademark and the trademark registration number was 429479. [Note that this number appears on these wares and is not the same series of numbers as the Registration Marks as mentioned in Godden.]
These "Decoro" wares were of an all-over decoration in dark colours and were a sideline to their principal production of teapots.

The production of this type of "Decoro" appears to have finished about 1930, when the factory expanded its teapot and jug manufacture, then in 1932 they started producing a "Decoro Flame" ware with a striated glaze effect and later, in 1933, they introduced a more floral hand-painted ware that, I believe, still carried the "Decoro" trade mark.

The factory ceased production sometime between 1936 and 1940.

This information supplied by: Brian J Hunt

---

The trade name "DECORO" was continued by the Decoro Pottery Co which succeeded the Canning Pottery Co.
Initials and marks used on ware for identification:
DECORO

mark c.1923-36

---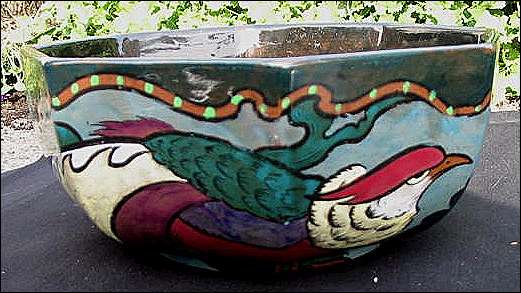 The bowl measures approximately 8 3/4 inches at it's widest and 4 inches high.
It is decorated with a marvelous bird and floral design with an art nouveau feel to it.
ware with the Decoro mark
---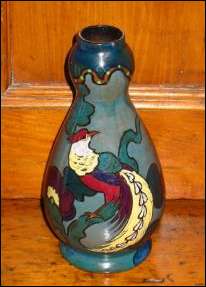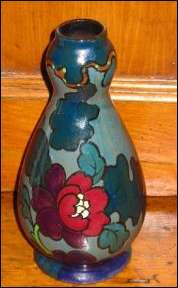 Decoro vase featuring a bird of paradise and peonies.
Colors are deep and vivid.
Marked on underside Made In England Reg. No. 429479 DECORO.
---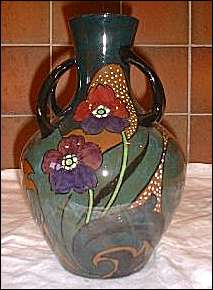 The Decoro vase measures
10.5" in height and 7" at it's widest.
---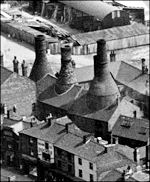 - click the picture for
information on the
Canning Street works -
---
questions/comments/contributions? email: Steve Birks
---