| | |
| --- | --- |
| Coronation Pottery Co Ltd | |
Location and period of operation:
| | | | |
| --- | --- | --- | --- |
| Coronation Pottery Co Ltd | Stoke | c. 1903 | c. 1960's |
Earthenware manufacturer at the Coronation Works (was the Victoria Works), Stoke, Stoke-on-Trent.


In 1907 the works were operated by Eli Steele & Co. (Sentinel Trade Directory)

From 1947 'Ltd' was added - Coronation Pottery Company Ltd.

At some time the business was owned by a family named 'Spares'

Subsequently the business was purchased by a Mr. Crow (based in London)

Previously: George Bennett & Co
"Owned by a family called Spares, then bought by my Grandad Crow (based in London) and managed by my other grandfather, Ernest Frost (don't know specific dates for the swap over)
There were 2 bottle kilns on site, eventually knocked down and replaced by 2 electric ovens
Mrs Bowler managed the decorating shop
Arthur Forrester was the fireman
Pottery was stamped either 'Coronation Pottery' or 'Viola' (after my Grandmother, Violet Frost)
In the 60's, Coronation Pottery stopped producing pottery and became a cash and carry warehouse still trading under the same name until my father retired in the mid 80's when he sold the place."
information supplied by Phil Crow
---

tea set made by the Coronation Pottery to
commemorate the Coronation of Queen Elizabeth II
---
Marks used on ware for identification:
early ware was not marked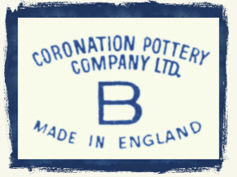 mark used c.1947 onwards
printed or impressed
[marks with "Ltd" included in the name were 1947 onwards]
CORONATION POTTERY
COMPANY LTD
---

the two bottle kilns of the Coronation Pottery
- click for more information -
---

for sale sign - still with the name "Coronation Court"
---
Questions/comments/contributions? email: Steve Birks
---