| | |
| --- | --- |
| FleshPots | |
Location and period of operation:
FleshPots

Northwood,
Hanley

1978
Fleshpots was based in Hanley, Stoke on Trent.

The company was started in 1978 by the potter and engineer Morris Rushton
who had a 'persistent sense of humour' and was interested in creating fun and innovative items.

Much of the work was sold for export to the USA

Known for his innovative ceramic work, the potter and engineer Morris Rushton, who has died aged 56, combined intellectual and artistic gifts with the practical skills of a draftsman, and, in 1990, became co-founder and chief executive of the Works Trust, a post he held until his death.

That charity was dedicated to creative, adaptive re-use of industrial monuments: the mills, pumping stations, docks, warehouses, railway stations and viaducts that a shrinking British manufacturing industry has left behind. Not all of these immediately appealed to developers for loft conversions; especially the ones still full of machinery. Morris exhibited a rare flair for finding such property a commercial future.

In 1978, he had founded Fleshpots, where a persistent sense of humour informed the artistry he brought to its ware. His most notorious product was an award-winning casserole set modelled on a nude torso, which, along with his line in Hollywood busts, now commands high prices among collectors.

A creative influence on the high-street store Next, Morris supplied the company with plates and cubist jugs. He also provided traditional ware to the National Trust. He capped his potting career in 1985 by taking over the venerable firm of James Kent.

Born in south Wales, the son of an engineer, Morris lived all his life in and around Stoke-on-Trent. He attended the Burslem School of Art, and, shortly afterwards, met and married fellow artist Margaret Morgan.

It became evident that James Kent would not allow full scope to Morris's talent, and, in 1989, he became director of the Gladstone Pottery industrial museum in Stoke, where he began a close association with Hugh Gibson. Together, they brought substantial new funding to preserve a rapidly increasing national stock of redundant industrial artefacts and buildings.

With a combination of energy, detailed knowledge and irresistible logic, Morris could persuade everyone that an idea really was a good one; and better still, that it was theirs. He knew no boundary between work and leisure, with a particular love of boating and the outdoor life; he provided the colour, zest, challenge and substantial sense of fun that makes life worth living. He is survived by his wife and son.

Morris Enos Rushton, potter and industrial conservator, born January 30 1948; died February 4 2004

Obituary - Guardian newspaper - Feb 4th 2004

"Prospect House"
Bucknall Old Road, junction Dyke Street - the steepness of the streets in this area of Hanley
can be clearly seen from this picture.
This building was, at one time, used as a small pottery works called "Flesh Pots"
---
Mark used on ware for identification:

Flesh Pots
Stoke-on-Trent England
---
"Fleshpots" casserole set

Award winning "Fleshpots" casserole set in white ceramic by Morris Rushton.
The three part nude torso of a man and woman separate to become individual casseroles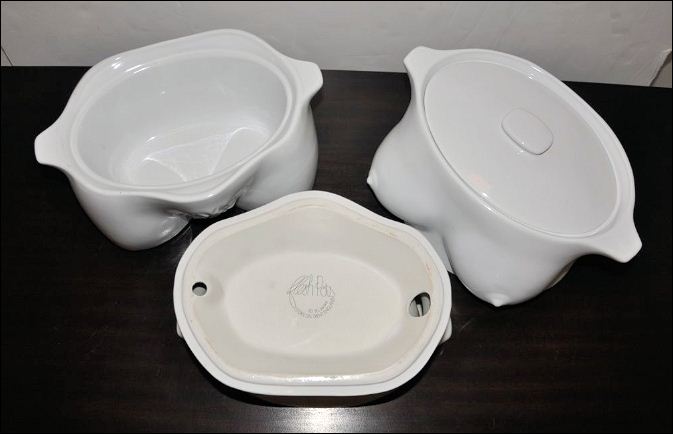 ---
'Hollywood Greats' collection
[the source of many of these pictures is:
Fears and Kahn - used with their kind prmission]

Clark Gable designed by Morris Rushton
for the 'Hollywood Greats' collection for Flesh Pots, 1979
these were lifesize busts supplied either white glaze or painted

Clark Gable - painted version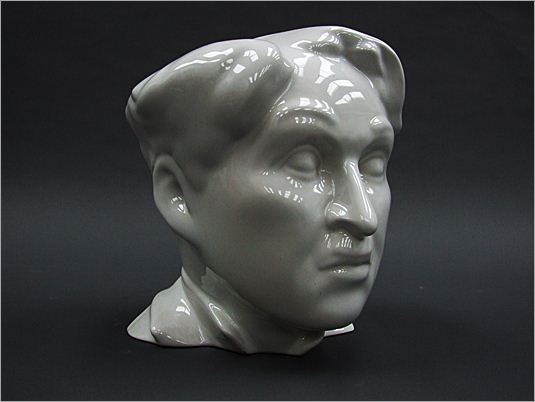 Charlie Chaplin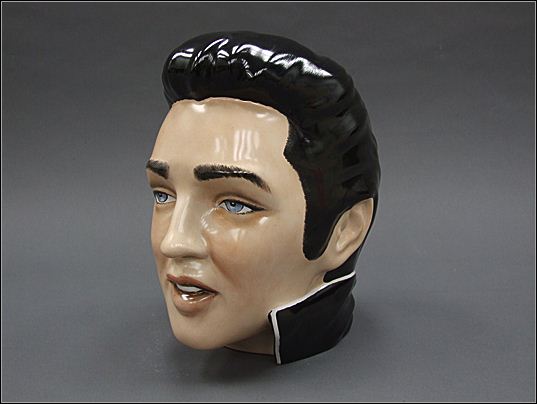 Elvis Presley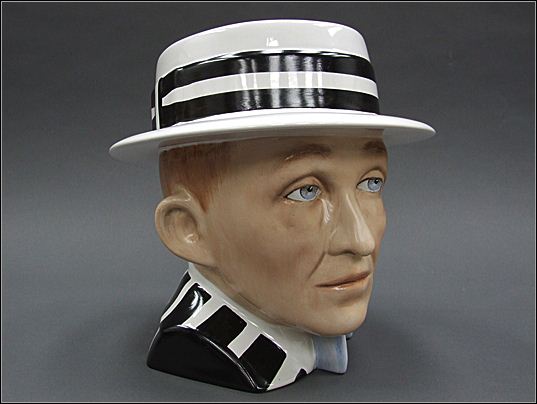 Bing Crosby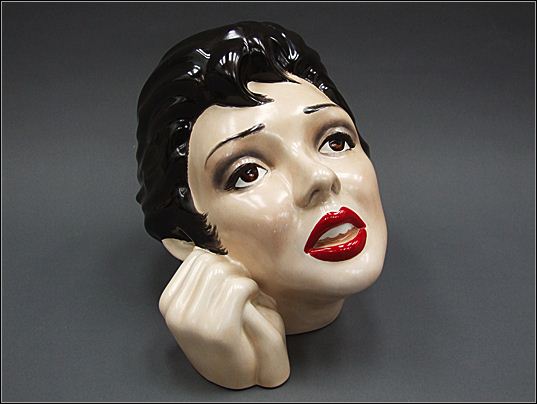 Judy Garland
---

Colourful jug manufactured by Flesh Pots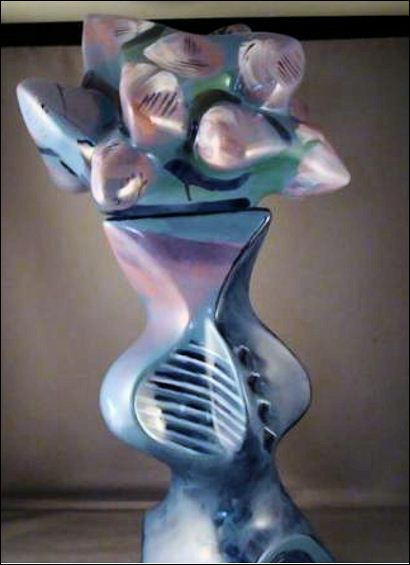 vase and stopper by Flesh Pots
---

questions / comments / contributions? email: Steve Birks