T & C Ford
Thomas Ford
Charles Ford







Location and period of operation:
| | | | |
| --- | --- | --- | --- |
| T & C Ford | Hanley | 1854 | 1871 |
| Thomas Ford | Hanley | 1871 | 1874 |
| Charles Ford | Hanley | 1871 | post 1917 |
China manufacturer at Cannon Street, Hanley, Stoke-on-Trent, England
In 1854 Charles & Thomas Ford commenced manufacturing at a works in Cannon Street which dated back to the beginning of the nineteenth century. At some point they built a larger manfactory in the same street.

The partnership was dissolved in 1871 - Charles & Thomas continued on their seperate accounts. It appears that Thomas remained in the original works and Charles moved to the new works.

Thomas Ford vacated his works in 1874 and the business was carried on by Edward Steel.

"Charles Ford manufactured here the best class of china in tea, breakfast, desert and table services for the home markets. Charles for built up a large trade from 1874 and continued to about 1904" - Jewitt,Ceramic Art of Great Britain 1800-1900.

From 1904 the Charles Ford businss and the Cannon Street factory were controlled by Harold T. Robinson.

By 1910 the business was merged with that of J. A. Robinson & Sons Ltd - the Charles Ford name continued.

In the 1917 Pottery Gazette Diary the business is recorded as "Ford Chas (Branch of J. A. Robinson & Sons Ltd), Alexander China Works, Stoke"

It is unsure when the Charles Ford name ceased to be used.
---
The London Gazette
13th June 1871


notice of the dissolution of the partnership
between Thomas and Charles Ford
---
Cannon Street
Hanley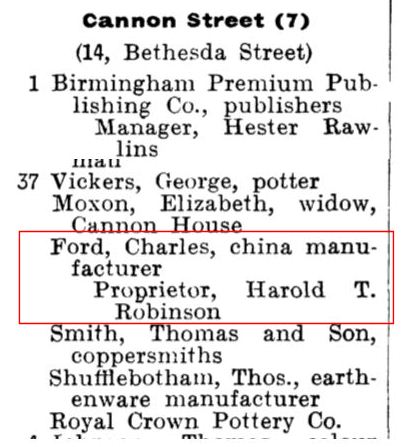 Ford, Charles, china manufacturer
Proprietor, Harold T. Robinson
---
---
Marks used on ware for identification: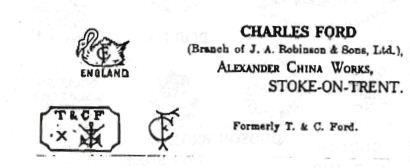 Charles Ford
(Branch of J. A. Robinson & Sons, Ltd)
Alexander China Works,
Stoke-on-Trent

entry in the 1917 Pottery Gazette Diary
---

C F
impressed or printed monogram mark
1874+
---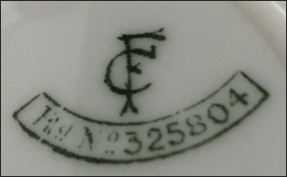 the registration number 325804 shows
that the pattern was registered in 1898
---

C F
Ford's China


Ford's China
C F
England

Swan China
C F
England

C F
England

marks incorporating the CF monogram in a swan mark
inntroduced c.1900 and continued
---
Questions, comments, contributions? email: Steve Birks
---