Location and period of operation:
| | | | |
| --- | --- | --- | --- |
| John Bamford | Hanley | 1850 | 1883 |
China, Earthenware and Parian Manufacturer at Nelson Place, Hanley (Shelton), Stoke-on-Trent, England.
Bamford was variously described in the Directories as China and Earthenware Toy and Ornament Manufacturer; China and Parian figure Manufacturer.

It is said that the original works dated back to 1758.

At some time Bamford appears to have been in a partnership with Worthington & Green, which was dissolved in 1858 resulting an a number of auctons of ware.

"Nelson Place, commenced in 1850 by its present proprietor, Mr. John Bamford. These works produce ordinary stone ware and Parian" - The Ceramic Art of Great Britian, 1978, Llewellynn Jewitt

By the time of the 1871 census John Bamford was recorded as employing 14 men, 4 boys, 7 women, 2 girls

The business closed in 1883.

After Bamford's works closed Elijah Cotton took over the site and built the Nelson Pottery in 1885.
---
The Huddersfield Chronicle
20th November 1858

notification of the auction of china and earthenware
following the dossolution of a partnership
between Messrs. Worthington & Green and Mr. Bamford
Similar auctions were adveristed in The Sheffield Gazette and The Birmingham Journal
---
"Prior to Elijah Cotton purchasing the site and (re)building his new works, the previous "Nelson Pottery" was owned by my Gr.Gr.Gr. Uncle, John Bamford. (Ref. the Staffordshire Potteries Directory for 1868).
The 1851 census has John (aged 30), his wife Cathering (nee Larkin), daughter Emily and sister in law Ruth Larkin (aged 20), living in Nelson Place. Ruth was a Figurine Maker and Burnisher (I gather that Ruth was a figure maker of some note). John is listed as a "Figure Maker Master employing 8 males and 8 females".

The 1861 census has John as a "Figure Manufacturer (Potter) employing 4 men, 4 women, 7 boys and 8 girls". John & Catherine were now living in Harley St.

The 1871 census has John as a "Parian Manufacturer employing 14 men, 4 boys, 7 women, 2 girls". John & Catherine were still living in Harley Street.

The 1881 census has John as a "Earthernware Manufacturer". John and Catherine were living at 23 Birch Terrace.
Catherine died in 1882 and John died in 1890.
John's brother and family, my ancestors, lived just up the hill in Well & Edmund Streets. and all worked in the pottery industry - perhaps working for John?"
Graeme Bentley
Melbourne, Australia.

21 and 23 Birch Terrace
No 23 - the home of John and Catherine Bamford in 1881

Birch Terrace, Hanley
---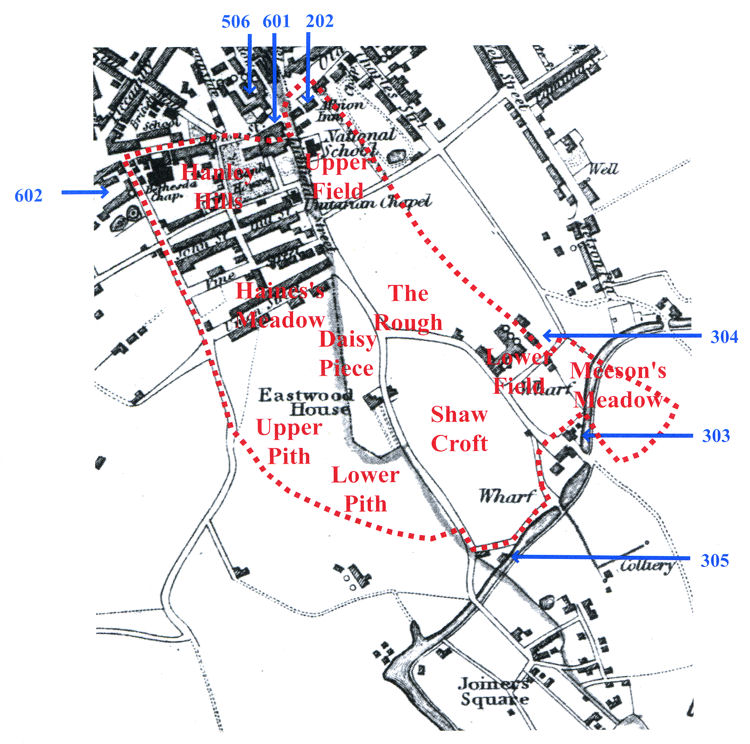 1832 Hargreaves Map of Eastwood and Joiners Square
[the numbers are potworks]
from "Copyhold Potworks and Housing in the Staffordshire Potteries 1700-1832" by Peter Roden
Nelson Pottery is on the left, just above the number 304, alongside the Caldon Canal
Above the works is Nelson Place and in the top right is Well Street and the Well the street was named after.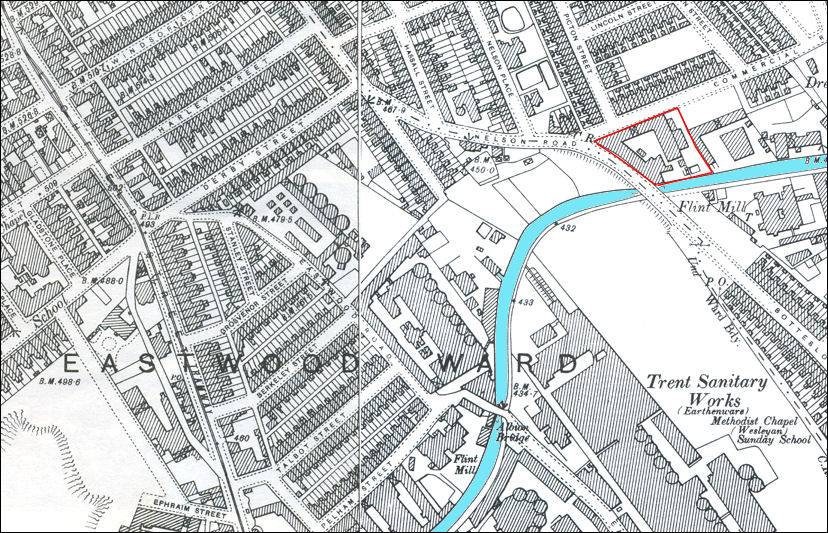 1898 map
the works shown in red had been rebuilt by Elijah Cotton
---
Questions, comments, contributions? email: Steve Birks
---