| | |
| --- | --- |
| Hoods Ltd | |
Location and period of operation:
Hood

s Ltd

Fenton

1919

c.1947
Earthenware, China, Crested Ware and industrial ceramic manufacturer at the International Works, King Street, Fenton, England.
The Hood's works were located in the Foley area between the towns of Fenton & Longton - most marks have Fenton but some later marks have the town name of Longton.
The company was registered in January 1895, to acquire the business of merchants and manufacturers of Joseph Hood - they operated at International Exchange, Edmund Street, Birmingham, selling household hardware. see: Graces Guide.

In 1919 a pottery business was started in Fenton, Stoke-on-Trent. Hoods named the pottery works - International Works.

Pottery manufacture ceased c.1947

Hoods were a Listed Exhibitor at the 1947 British Industries Fair. Producers of Earthenware Dinner and Tea Ware and Fancies in Hand Painted and Lithograph Patterns of Controlled Design. (Olympia, Ground Floor, Stand No. A.1177) - however they are not listed in the 1947 Pottery Gazette Handbook. It appears that 1947 was the date of closure.

The hardware supply business in Birmingham continued at least until 1951.
---

plate in the 'Indian Tree' pattern

---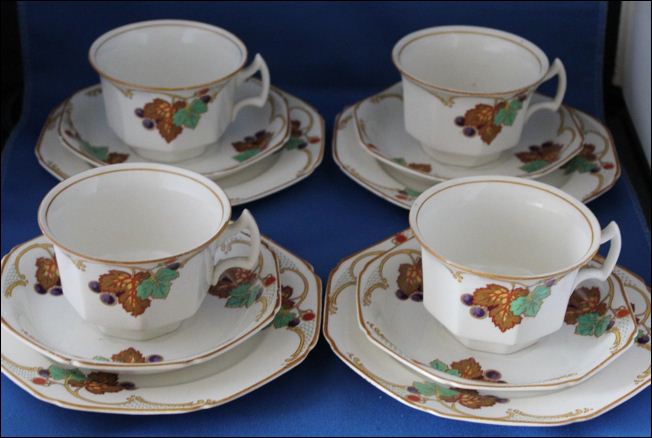 set of trios in the Vine pattern
---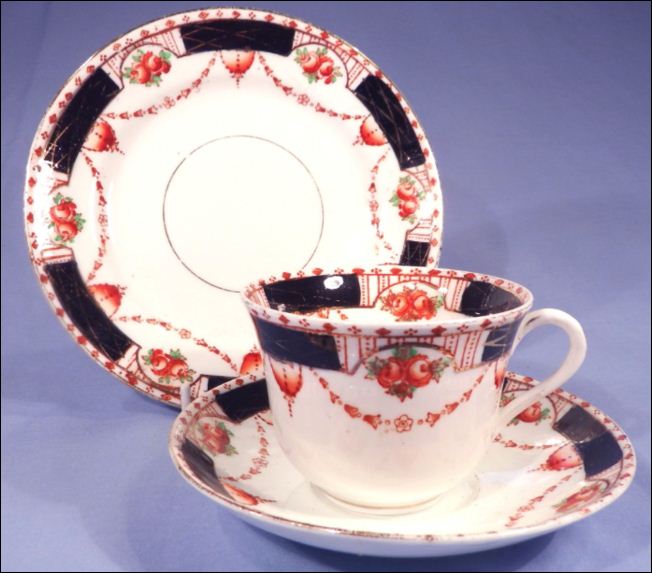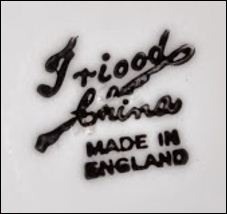 China plate, cup and saucer trio
this set is marked 'TRIOOD China'
---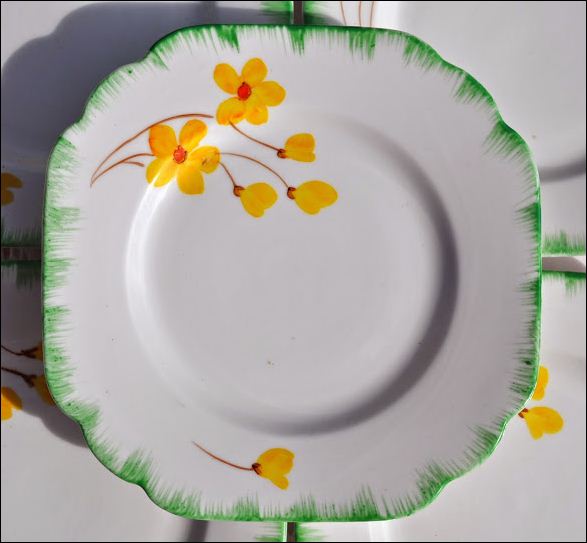 hand painted side plate
the matching cups are marked 'TRIOOD'
---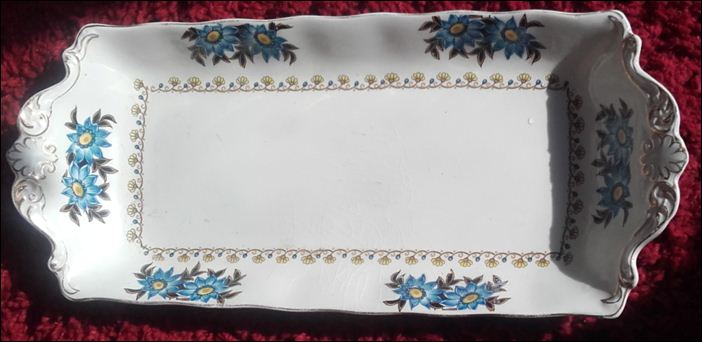 serving tray

---
Mr.Harold Frith built and owned the Elbow Beach Hotel, Bermuda until 1947 when it was sold to John Moore (The same family that owned the Moore Pools in the UK)
This plate was used between 1925 and 1930 as the Carver for the formal dinner service.


Trade Mark
Hoods Ltd
Fenton
---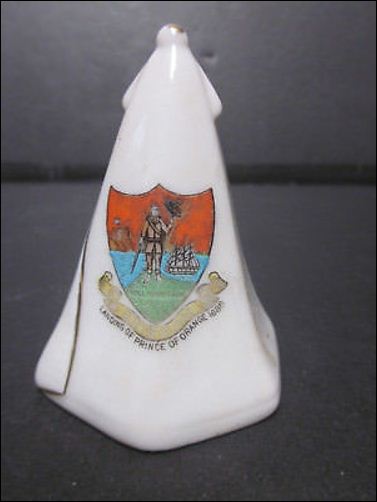 Crested China Ware

TRIOOD
---
Marks and initials used on ware for identification:
H LTD
HOODS LTD
FENTON
HOODS
LONGTON


TRIOOD
---

Hoods Ltd
Fenton

'VINE' is the pattern name


Triood China
Made in England

Triood China
Made in England

Hoods Ltd
Fenton
Stoke-on-Trent

Hoods
Longton
The Hood's works were located in the Foley area between the towns of
Fenton & Longton - some later marks have the town name of Longton
---
The Three Hoods registrered trade mark
and the name TRIOOD was also used
in conjunction with the hardware business

---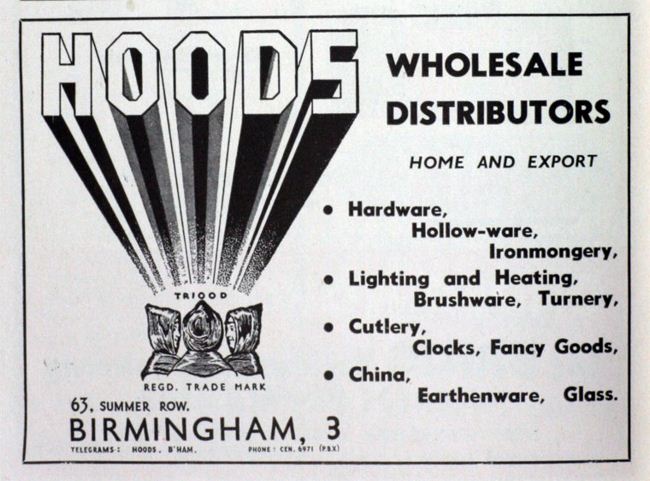 1951 advert for Hoods, Wholesale Distributors, Birmingham
Although the pottery manufacturing had ceased c.1947 the wholesale
distribution business continued in Birminham
---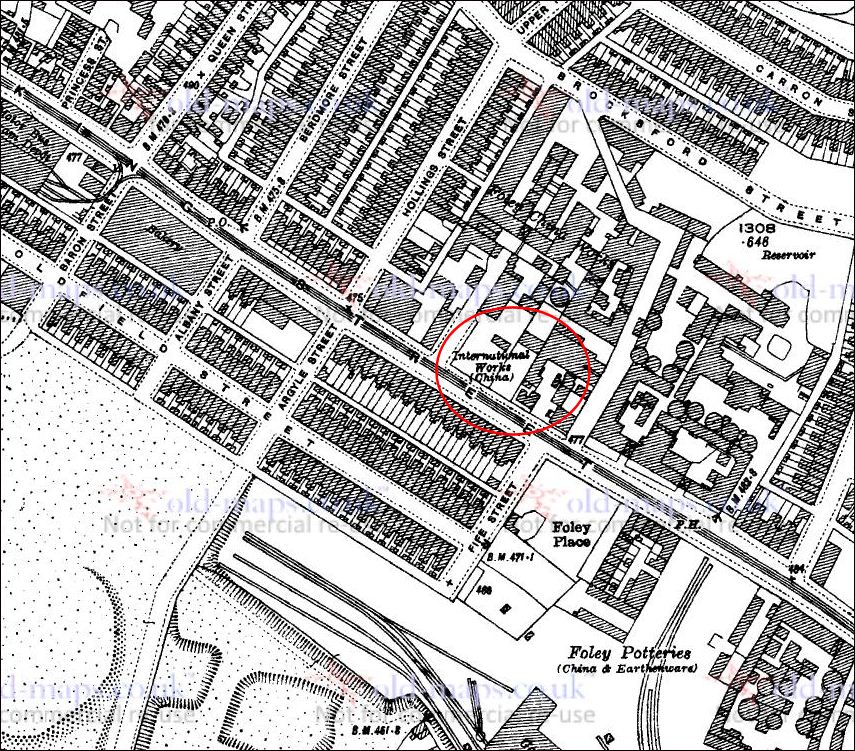 1924 maps showing the International Works, King Street
The Hood's works were located in the Foley area between
the towns of Fenton & Longton
courtesy: old-maps.co.uk
---
Questions, comments, contributions? email: Steve Birks
---