Location and period of operation:
| | | | |
| --- | --- | --- | --- |
| A. G. Harley Jones | Fenton | 1907 | 1934 |
Manufacturer of earthenware and china at the Royal Vienna Art Pottery (c.1920 renamed to Wilton Pottery) in Fenton, Stoke-on-Trent, England
Arthur George Harley Jones was the son of William Hiram-Jones (1844–1906) and his will of 1896 describes him as an earthenware manufacturer of Stoke-on-Trent.

A G Harley Jones had a brother - Thomas William Lear Jones - who was also a pottery manufacturer.

A G Harley Jones set up business in 1907 (1905?) at the recently built Royal Vienna Art Pottery, Duke Street, Fenton. He was described as a 'manufacturer of artistic fancy goods, Royal Vienna art pottery, and samian pottery',

It is said that his brother 'Thomas William lost all his money during the coal miners strike of 1912 because he would not stock up on coal. Arthur kept going because he stocked up with coal before the strike. Arthur begged Thomas to get coal in but he did not believe a strike would happen. When it did, Thomas lost all his pottery in unfired form in his pot-bank. This was his downfall and he fell on hard times thereafter.' (source: Ian Dufour - Grandson of Arthur George)

In the early 1920s the pottery works were renamed to 'Wilton Pottery'

In 1934 the business found itself in financial difficulty, it was declared bankrupt and wound up.
---

Jones, A G. Harley, manufacturer of artistic fancy goods,
Royal Vienna Pottery, and samian pottery

Jones, Arthur G. H., earthenware manufacturer
Royal Vienna Pottery
from..... 1907 Staffordshire Sentinel
'Business Reference Guide to The Potteries, Newcastle & District'


---


A G Harley Jones
Manufacturer of Artistic Fancy Goods
Royal Vienna Art Pottery, Fenton, Staffs., England
1907 advert
---

Harley Ware
reproductions of the renowned
Kang-Hsi Powdered Blue
Pottery Gazette - February 1913
---

London Gazette
17 April 1934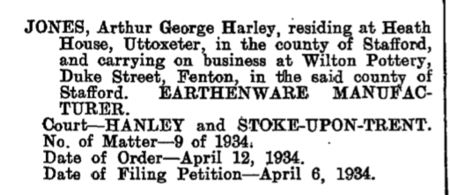 Winding up order for
Jones, Arthur George Harley
---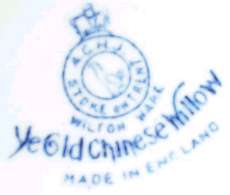 example of A. G. Harley Jones 'Willow' pattern
c.1923-34
---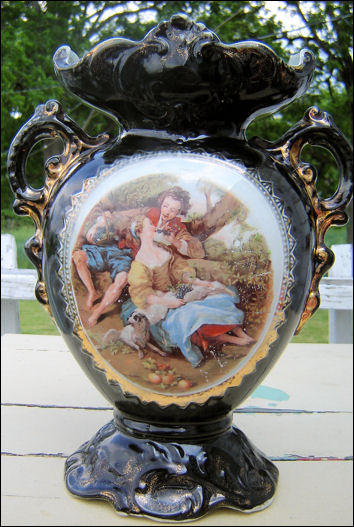 Harley Jones vase
---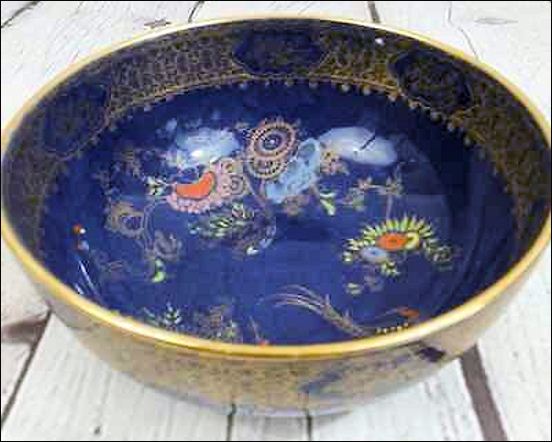 bowl in the reproduction Kang Hsi style
---



two vases in the BEECH ware style


BEECH
WILTON
ENGLAND
---



vase in the

samian

ware style


SAMIAN
WILTON
ENGLAND
photos courtesy: Marlene Croukamp
---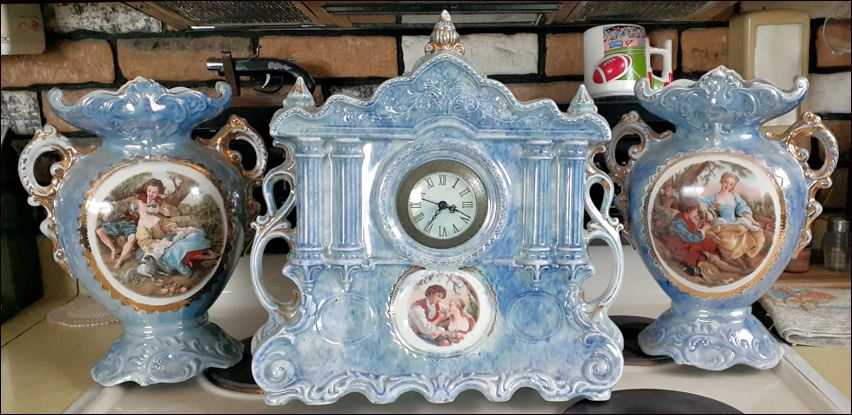 Harley Jones garniture set
Note: not the original clock mechanism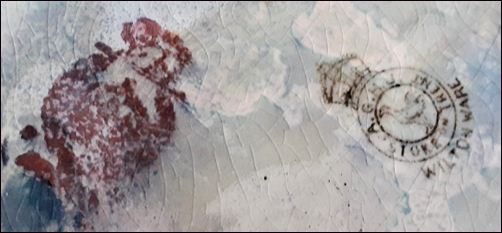 the garniture set has the early Harley Jones mark and the
later (1923+) Wilton Ware mark
photos courtesy: Dennis Drew

---
Marks & initials used on ware for identification:
H J
A G H J
---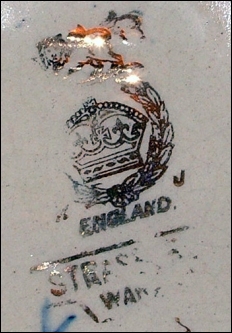 H J
England
c.1907+
the pattern name is sometimes included
---

HJ
England

c.1913+


Fentonia Ware
HJ
England

c.1920+


Paramount
HJ
England

c.1921+
---

A G H J
Stoke on Trent
Wilton Ware

A G H J
Stoke on Trent
Wilton Ware

A G H J
Stoke on Trent
Wilton Lily

[Registered number 735940 dates to 1928]
c.1923-34
there are a number of variations of this circle mark
---
Royal Vienna Art Pottery

1924 OS map showing the location of the Wilton Pottery (previously the Royal Vienna Art Pottery)
note the number of other pottery and brick works in the close vicinity
---

Google maps - 2018
In red is the former Wilton Pottery and in blue is the nearby former Doric Pottery
---

Google Street View - 2018
the original frontage of the Wilton Pottery (previously the Royal Vienna Art Pottery)

---
Questions, comments, contributions? email: Steve Birks
---