| | |
| --- | --- |
| Lingard Webster (and Co Ltd) | |
Location and period of operation:
| | | | |
| --- | --- | --- | --- |
| Lingard Webster (and Co Ltd) | Tunstall | 1900 | c.1972 |
Earthenware manufacturer at the Swan Pottery, High Street, Tunstall.

Previously: Colclough & Lingard (1887-1900)

By the time of Daniel Lingard's death in 1913 the company was named "Lingard Webster & Jones"

The obit refers to the firm as " Lingard, Webster & Jones." and a 1954 newspaper article refers to " Lingard, Jones & Webster".

Arthur George Jones of Greenbank House, Greenbank Road, Burslem described as earthenware manufacture was his executor in his will and on the grant of probate.

See more details on Daniel Lingard

Daniel Lingard joined with James Colclough , Pottery, Tunstall, c 1887 and then formed a company with James Webster (son-in-law to James Colclough) in 1900 [Colclough retained an interest in the works], which lasted until 1972 period.
They produced tea ware pottery and made their name with 'poor-mans-Crown Derby' being an Amari pattern pottery which was exported all over the world and were very successful until the beginning of the second world war (1939) after which it had to compete with many other companies and eventually went out of business when the pottery was pulled down to make way for a new roundabout road scheme in the centre of Tunstall, Stoke-on-Trent.


Originally promoting themselves as "The Teapot Specialists of England Since 1867", they were noted for producing everyday
tea service products and associated teawares. The Company made many fine novelty teapots in the period 1935-1955.
After the 1950s the firm ceased production of its novelty teapot range and concentrated on teapot wares, making normal type teapots.

Clarice Cliff was apprenticed as an enameller in 1912 at Lingard Webster's factory, at a wage of one shilling a week. After three years she moved to work as a lithographer at Hollinshead and Kirkham.

---


the Swan Bank Pottery of Lingard, Webster & Co - High Street, Tunstall

---


Lingard Webster teapot



Made in the mid 1930's this Creamer has been modelled as
Humpty Dumpty sitting on a wall,
decorated in a lime green glaze with gold lustre highlights,
the Creamer measures 2.5" in height


Lingard & Webster heart shaped sugar basin.
3.5 inch high by 6 inch wide by nearly 3 inch deep.
Initials used on ware for identification: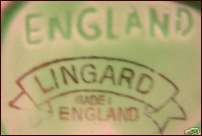 mark - c. 1930's

mark - 1946 onwards
note the use of the date 1867 - the company
Lingard Webster was formed c.1900.
The date 1867 refers to the start of the original
company founded by James Colclough
---
questions/comments/contribution:
email: Steve Birks