Lingard, Webster (and Co Ltd)

Lingard, Webster & Jones







Location and period of operation:
| | | | |
| --- | --- | --- | --- |
| Lingard Webster (and Co Ltd) | Tunstall | March 1899 | 1972 |
Earthenware manufacturer at the Swan Pottery, High Street, Tunstall, Stoke-on-Trent, England.
Daniel Lingard and James Webster had previously been in partnership with James Colclough who was working the Britannia Black Works, Tunstall and they operated as Colclough & Lingard.

In March 1899 the partnership was dissolved and the business continued as Lingard, Webster & Co. (James Colclough retained an interest in the company). The works were renamed from the Britannia Black Works to the Swan Pottery.

Clarice Cliff was apprenticed as an enameller in 1912 at Lingard Webster's factory, at a wage of one shilling a week. After three years she moved to work as a lithographer at Hollinshead and Kirkham.

The "& Co" was A. G. Jones. The obituary for Daniel Lingard's death in 1913 refered to the business as "Lingard Webster & Jones" (and a 1954 newspaper article refers to " Lingard, Jones & Webster"). However in adverts and other records the business is only ever refered to as Lingard, Webster & Co.

In 1941 the business was concentrated (under the Wartime Concentration Scheme) and moved manufacture to the Brownhills Pottery of George Clews & Co. Ltd.

In 1951 and again in 1960 the company officers were listed as: Managing Director: J. Webster, Directors and Sales Managers: C. H. Howell (Export) and J. S. Wright (Home).

The company closed in 1972 and the Swan Pottery was demolished to accommodate road improvements.

In April 1975 Lingard, Webster & Co., Ltd. were listed to be removed from the Companies Register and dissolved.
Previously: Colclough & Lingard
---
High Street
Tunstall

Lingard, Webster & Co.,
jet, samian and rockingham manufacturers
Swan Bank Pottery
from..... 1907 Staffordshire Sentinel
'Business Reference Guide to The Potteries, Newcastle & District'
---


Patent Spoutless Strainer Teapot
"Eclipse"
Lingard, Webster & Co., Tunstall, Staffs
Pottery Gazette - 1906

---

Lingard, Webster & Co., Tunstall, Staffs
Teapot Specialists
Unique Teapot with 'Hook Lid'
Pottery Gazette - June 1913

---
Obituary of Daniel Lingard....
"Death Of Mr. Daniel Lingard.óWe regret to announce the death of Mr. Daniel Lingard, which took place on Jan. 12 at his residence, Clowes Villa, Alsager, Tunstall. The late Mr. Lingard was the senior member of the firm of Lingard, Webster & Jones, of Swan Bank Pottery, Tunstall, manufacturers of teapots, hot-water jugs, &c., in Rockingham, Samian and jet, a house well known in the trade.
Mr. Lingard was 68 years of age, and had devoted the greater part of his life to the development of the business. For upwards of three years he had suffered from a painful illness which he endured with resignation.
He did much active work among the Primitive Methodists, by whom he was greatly respected. For several years he was steward of the Alsager Circuit, and was also treasurer of the local orphanage fund. He was superintendent of the Sunday school and officiated as organist and choirmaster in the early years of the Methodist Church in Alsager. He represented the district on the Synod and Annual Conference.
The funeral took place at Christ Church, Alsager, on Jan. 15, after a service held in the Methodist Church. Alsager, where he had been in the habit of worshipping, In addition to the relatives a large assembly of members of the trade and local residents attended to show their respect for the deceased."
Pottery Gazette - February 1913
---

Lingard, Webster & C o., Tunstall, exhibited teapots made wholly from local clay,
and their well-known Rock ingham with a soft delicate and pleasing glaze.
In April 1913 King George and Queen Mary visited Stoke-on-Trent and viewed an exhibition
by local pottery manufacturers at the Kings Hall, Stoke
"Lingard, Webster & Co., Swan Bank Pottery, Tunstall, teapot specialists, are a manufacturing house devoting themselves entirely to the manufacture of teapots and teapot sets. In the course of a long practice they have earned celebrity for their high-class productions, and especially for the exceedingly bright and pleasing effects which they offer in their particular line of goods.
They specialise in the manufacture of articles from the local clays of North Staffordshire, which are the base of the old Rockingham body, generally considered to have some subtle quality necessary to perfection in the art of tea making. Whatever properties this clay may possess, it certainly results in the production of a pottery body which is more refractory than the ordinary run of white clays, and is consequently less susceptible to dangers attending sudden variations and extremes of temperature ; it is accordingly an eminently suitable material for the manufacture of teapots, which, as every dealer knows, are often expected to be almost fool-proof. Whilst Lingard, Webster & Co. do not claim that their teapots will fulfil such an expectation, they do at least claim to employ a body which has a maximum of good qualities, and which is calculated to perform its functions admirably.
This Rockingham body is not in itself pleasing, but they have by special study and experiment learned to cover it by coloured clays and glazes in such a manner that the body is entirely hidden, the effect produced being in some cases extremely beautiful. Their efforts have been attended by complete success, as may be gathered by the fact that they have twice found it necessary to remove to larger premises before settling at their present address. The writer recently inspected their warehouses at the factory, and was impressed with many of the lines contained therein, and particularly so with their green and silver decorations, which they claim to be at once the most pleasing and durable of all decorative schemes. The silver is permanent, and will not tarnish.
Another speciality is their cream and gold treatment, which is a really charming combination. This ware has the outward appearance of ivory decorated with gold, but inside it is the same red Rockingham body as is the basis of all their productions.
We illustrate four teapots, which are typical of some of their specialities. These are of the "Unique", "Eclipse", "Eton", and "Rugby" shapes.
The decorated pot is the "Eton", one of the newest shapes they have produced, and its form is distinctly out of the ordinary. The decoration on this shape showm in our illustration is a Very effective one, being treated in pale blue and marone colours on a darker blue and cream ground.

The spoutless teapot with electro-plated mount is the "Eclipse", an article devised to facilitate the thorough cleaning of the teapot, and particularly to obviate the disadvantages of a fouled spout.

The "Unique" teapot is the one made with a hole in the cover to hook over the top portion of the handle, for the sake of security whilst pouring.
One of each of these two last-mentioned shapes was graciously accepted by Her Majesty the Queen on the occasion of the Royal visit to the Potteries, and King was also pleased to interest himself in their advantages.
The "Rugby" shape is practically the "Eton" inverted, or, to be more correct, the "Eton" was inspired by the "Rugby". The firm is offering many capital new lines which are well worthy of an inspection."
Pottery Gazette - August 1913
---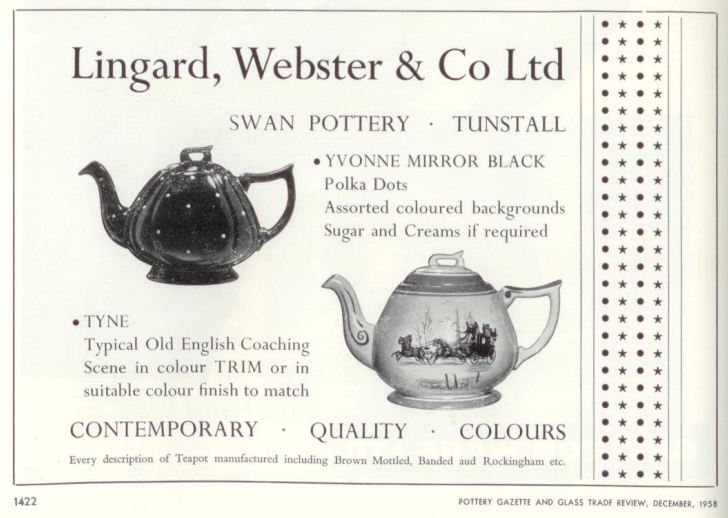 Lingard, Webster & Co Ltd
Swan Pottery, Tunstall
Every description of Teapot manufactured including Brown Mottles, Banded and Rockingham etc.
Pottery Gazette - December 1958
---
Typical examples of ware produced:
Promoting themselves as "The Teapot Specialists of England Since 1867", Lingard & Webster were noted for producing everyday tea service products and associated teawares.
The entry in the 1951 Pottery Gazette Reference Book records that the company produced...
"Earthenware, Jet and Rockingham and Samian... tea, coffee ware, beer mugs, biscuit barrels, teaposts, toby jugs."
The 1960 entry lists.....
Earthenware and Red Ware... beakers, biscuit barrels, breakfast ware, canteen and hotel ware, coffee ware, dishes (cheese), hospital ware, jugs (flower), jugs (Toby or character), kitchedn ware, lamp bases, studio pottery (hand thrown, various), teapots (brown, plain or banded), teapts (brown, decorated), teapots (earthenware, decorated).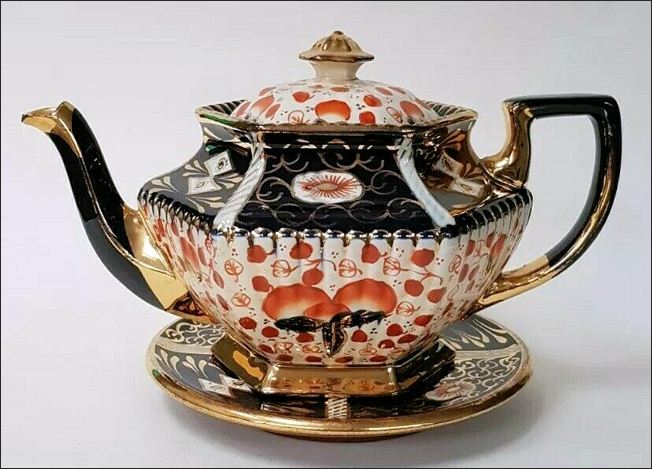 teapot & stand in the European Imari style
this pattern by Lingard, Webster & Co was sometime refered to as the "Poor man's Crown Derby"
---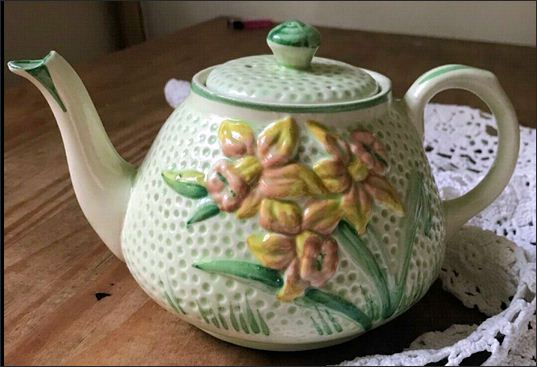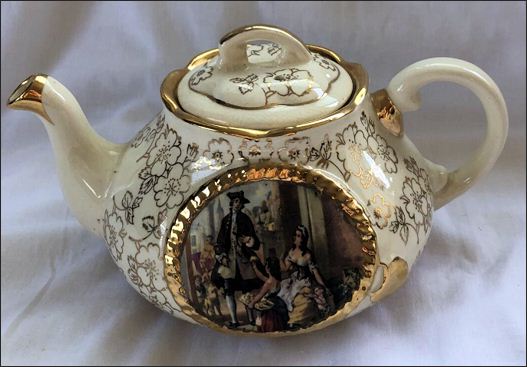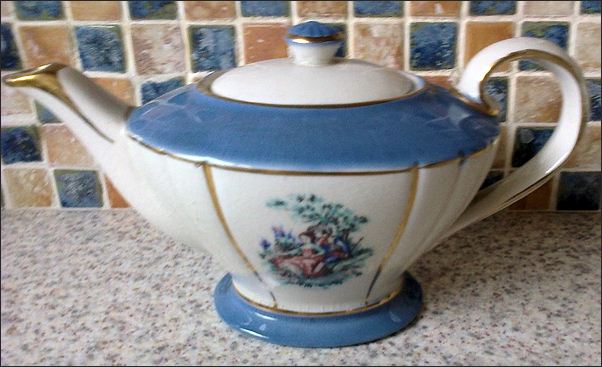 examples of Lingard, Webster & Co teapots
"The Teapot Specialists of England Since 1867"
---
| | | |
| --- | --- | --- |
| Humpty Dumpty | There was an old woman who lived in a shoe | Ye Olde Wishing Well |
generally produced c.1930-55 examples of Lingard, Webster & Co novelty teapots
often there were sugar bowls and milk jugs to accompany these

---
Marks used on ware for identification:
Early ware did not have a makers mark.
Novelty ware was often only marked "LINGARD"
Lingard & Webster often used an established date of 1867 and advertised themselves as "The Teapot Specialists of England Since 1867". In fact it was the earlier business of James Colclough which was established in 1867. Colclough did retain an interest in Lingard & Webster when it was formed in March 1899.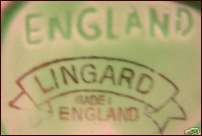 LINGARD
Made in England
mark often found on novely ware
c.1930-55

Lingard Webster
Tunstall
1867
Tunstall
c.1946+
---

the Swan Bank Pottery of Lingard, Webster & Co - High Street, Tunstall
---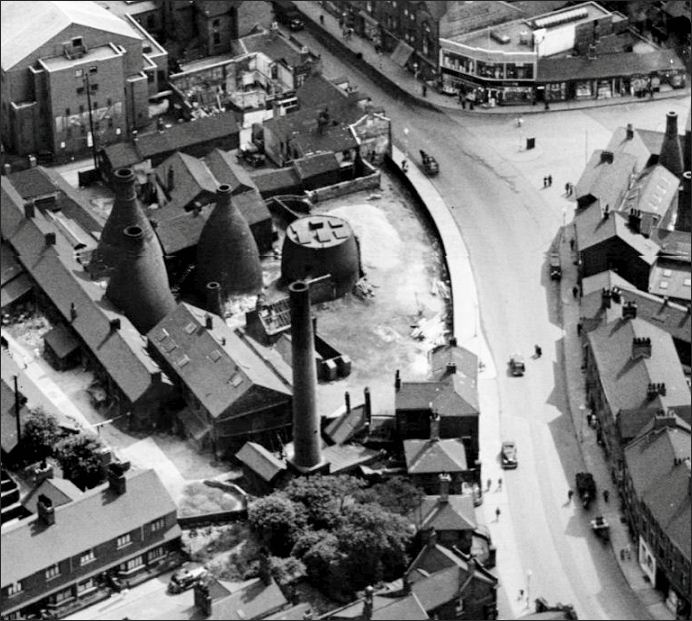 The Swan Pottery, Ritz Cinema and High Street, Tunstall, 1937
courtesy: Britain From Above
---
Questions, comments, contributions? email: Steve Birks
---