| | |
| --- | --- |
| J W Beswick | |
Location and period of operation:
| | | | |
| --- | --- | --- | --- |
| J W Beswick | Longton | 1894 | 1969 |
Manufacturer of Majolica and Earthenware at the Baltimore Works and from 1898 the Gold Street Works, Longton, Stoke-on-Trent, England
James Wright Beswick was originally in the coal-mining industry, but his pits at Chell had to close down in 1892. His son John, having studied the potter's craft at Tunstall, then joined with his father to start the pottery business as partners at the Baltimore Works, Albion Street, Longton.

In 1897 the Gold Street Works came onto the market, they acquired them and moved there the following year.

From that date the firm gradually expanded its activities, producing under-glaze, printed dinner, tea and toilet wares as well as hospital wares and fancy goods, such as pots and pedestals, vases in the so-called 'majolica' glazes, toby-jugs, Old-English style figures and animals.
at the Baltimore Works....
Previously: L Bentley & Co

Subsequently: Robinson & Jones
---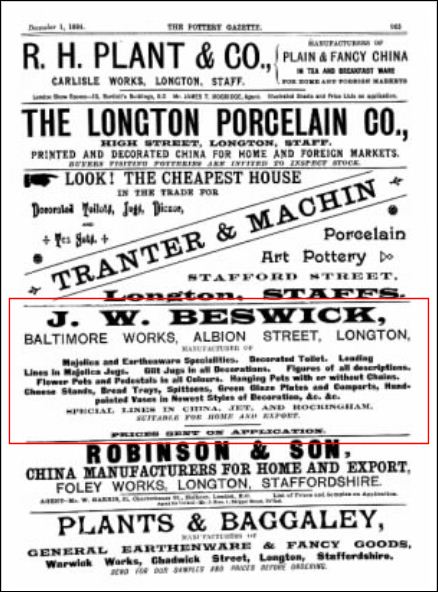 December 1894 advert in the Pottery Gazette for
J.W. Beswick at the Baltimore Works, Albion Street, Longton
---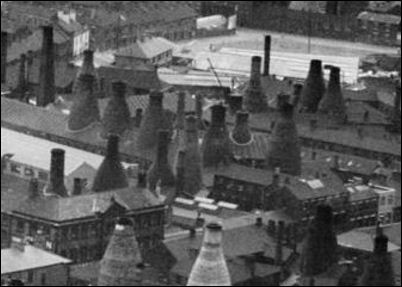 - click picture for information on the Baltimore works -
Beswick operated here from 1894 to 1898
---
- click picture for information on the Gold Street works -
Beswick operated here from 1898 to 1969
after Royal Doulton took over the Beswick animals and figurines
continued to be made here until 2002
---
questions/comments/contributions? email: Steve Birks
---