| | |
| --- | --- |
| Soho Pottery Co (Ltd) | |
Location and period of operation:
Soho Pottery Co

Tunstall

Cobridge

1904

1918

1906 (1918?)

1944
Earthenware manufacturer in Stoke-on-Trent

The Soho Pottery Co was established by Samuel J. Simpson in 1904 at the Soho Pottery Works, Tunstall

In 1918 the company moved to the extensive Elder Works, Cobridge - which they reconstructed and enlarged.

Samuel J. Simpson's sons Samuel E. M. Simpson and Thomas Simpson joined the business and after the death of their father in 1918 they continued the management of the business. Samuel looking after commercial matters and Thomas, production.

In 1944 the company name was changed to Simpsons (Potters) Ltd

Joseph Palin Thorley was Director of Design for Soho Pottery from 1918 to 1920 or 1921.

Thorley was apprenticed at Wedgwood's and fought in the trenches in France before going to the Soho Pottery.

Thorley went from the Soho Pottery to New Chelsea, to Allerton's before immigrating the U.S. in 1927.

There he worked for the best potteries like Hall and Taylor Smith & Taylor, before going to Williamsburg to make reproductions of their 18th century museum objects.
Formerly: Ernest Farmiloe
Subsequently: Simpsons (Potters) Ltd (at the Elder Works)
---


High Street
Tunstall


Soho Pottery Ltd
Earthenware manufacturers

from..... 1907 Staffordshire Sentinel
'Business Reference Guide to The Potteries, Newcastle & District'

---


Queen's Green
The Original and Best
SOHO Pottery Ltd
S.E.M. and T. Simpson
Elder Works, Cobridge
Stoke-on-Trent, England

August 1937
The Pottery Gazette & Glass Trade Review

---


Solian Wall Decorations
SOHO Pottery Ltd
Cobridge, Stoke-on-Trent

June 1939
The Pottery Gazette & Glass Trade Review

---


platter by SOHO Pottery in the Avondale pattern

---


lidded jug with the TUNSTALL mark
---
Marks and initials used on ware for identification:
Solian Ware
Ambassador Ware
Chanticleer Ware
Queen's Green
trade names used by Soho Pottery
---

Asiatic Pheasants
S P C
T
SOHO Pottery Companty
Tunstall
Asiatic Pheasants is the pattern name
---

ERNEST FARMILOE
Tunstall
England

SOHO POTTERY LTD
Tunstall
England
mark used c.1904 to 1906 when the SOHO Pottery
was at Tunstall
AVONDALE is the pattern name
The mark on the left is that of Ernest Farmiloe
who operated at the Soho Works in 1904
---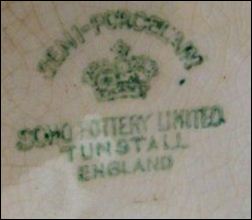 Semi-Porcelain
SOHO POTTERY LIMITED
Tunstall
England
mark used c.1901 to 1906 when the SOHO Pottery
was at Tunstall
---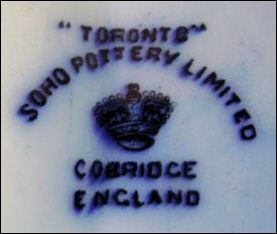 TORONTO
SOHO POTTERY LIMITED
Cobridge
England
mark used after 1906 when the SOHO Pottery
moved to Cobridge
TORONTO is the pattern name
---
click for more information:-
---
questions/comments/contributions? email: Steve Birks
---