| | |
| --- | --- |
| Soho Pottery Co | |
Location and period of operation:
Soho Pottery Co

Tunstall

Cobridge

1901

1906

1906

1944
Earthenware manufacturer at the Soho Pottery Works, Tunstall, from 1901-06 and then at the Elder Works, Cobridge, from 1906-44

Joseph Palin Thorley was Director of Design for Soho Pottery from 1918 to 1920 or 1921.
Thorley was apprenticed at Wedgwood's and fought in the trenches in France before going to the Soho Pottery. Thorley went from
Soho to New Chelsea, to Allerton's before immigrating the U.S. in 1927.
There he worked for the best potteries like Hall and Taylor Smith & Taylor, before going to Williamsburg to make reproductions of their 18th century museum objects.
Formerly: Smith & Binnall (at the SOHO works)
Subsequently: Simpsons (Potters) Ltd (at the Elder Works)
---


platter by SOHO Pottery in the Avondale pattern

---


lidded jug with the TUNSTALL mark
---

AVONDALE
SOHO POTTERY LTD
Tunstall
England

AVONDALE
ERNEST FARM???
Tunstall
England
mark used c.1901 to 1906 when the SOHO Pottery
was at Tunstall
AVONDALE is the pattern name
the meaning ERNEST FARM??? in place of
SOHO Pottery in the mark on the right is unknown
---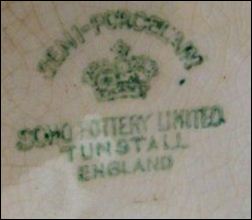 Semi-Porcelain
SOHO POTTERY LIMITED
Tunstall
England
mark used c.1901 to 1906 when the SOHO Pottery
was at Tunstall
---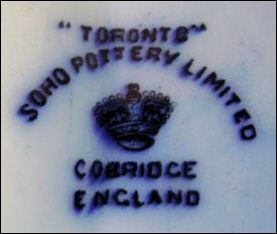 TORONTO
SOHO POTTERY LIMITED
Cobridge
England
mark used after 1906 when the SOHO Pottery
moved to Cobridge
TORONTO is the pattern name
---
click for more information:-
---
questions/comments/contributions? email: Steve Birks
---