| | |
| --- | --- |
| James & Thomas Bevington | |
Location and period of operation:
| | | | |
| --- | --- | --- | --- |
| J & T Bevington | Hanley | 1863 | 1876 |
Manufacturers of China, Parian and earthenware in Hanley, Stoke-on-Trent

The brothers James and Thomas Bevington were two of the seven sons of Samuel Bevington

James and Thomas set up partnership together in the Marsh Street Works, which they continued after their fathers retirement and death.

In 1867 they left the Marsh Street works and moved to Burton Place. For a couple of years they also worked a pottery in Cannon Street.

In 1876 the partnership was dissolved. Thomas continued at the Burton Place Works -he also briefly operated from works in Mayer Street.

James operated from works in the High Street (Cobden Works) and King Street.


James & Thomas operated three works:-

Marsh Street, Hanley c.1863-1867 (James & Thomas continued these works after the death of their father Samuel in 1863)

Burton Place, New Street, Hanley c.1867-76 (see map below)

Cannon Street, Hanley c. 1873-75
Continued as: James Bevington and Thomas Bevington
more on the Bevington family of potters
---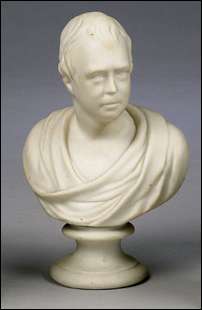 Parian Statue by James & Thomas Bevington
"Manufacturers of China and Parian statuettes etc. for home and foreign markets"
---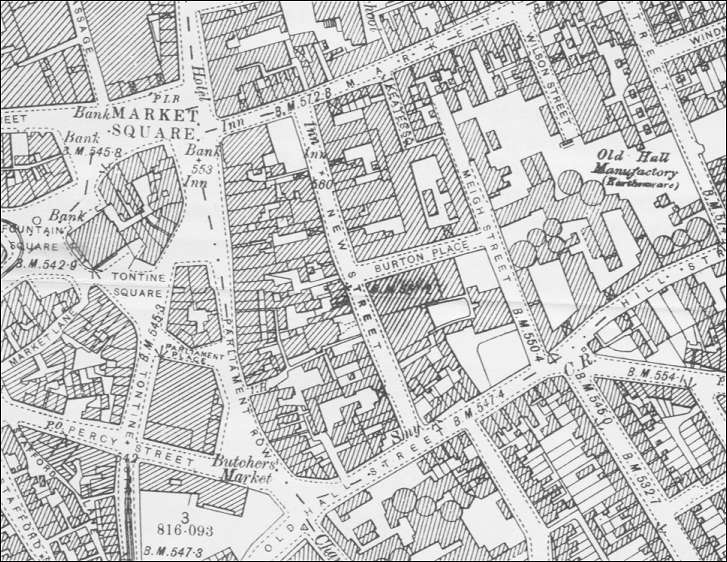 1898 OS map showing New Street and Burton Place.
(in the 1950's New Street was renamed Goodson Street)
Burton Place Works

This manufactory was worked by Thomas Bevington (1877-90), whose family had held it since 1862. The productions were china, in
which all the usual useful and ornamental classes of goods were made for the home markets, fancy ivory earthenware, gold-thread
ware, and a patent 'Victorian Ware' in which the surface is covered with felspar crystals, decorated with veins of gold to represent gold-
bearing quartz.
The mark is the royal arms and BY ROYAL LETTERS PATENT. The ordinary mark is the double triangle, between the initials T.B., enclosing a crown in its centre. Formerly, Parian statuettes and majolica goods were made, but these were discontinued in about 1870. The gold-thread ware has the surface covered and matted with fine threads in the most intricate manner, and these are gilt and form a ground upon which well-modelled flowers are added. In china, imitations of the old Crown Derby patterns were produced to a considerable extent and with success. The patterns, colours and gilding are all in good style, and the quality of the china body is excellent.
Thomas Bevington succeeded J. &T. Bevington from 1867 to 1877.

Jewitt's Ceramic Art of Great Britain 1800-1900
---
Questions/comments/contributions? email: Steve Birks
---