| | |
| --- | --- |
| F.J.J. | |
Location and period of operation:
Earthenware manufacturer - identity uncertain
Ware with the pattern name 'MILGROVE' in the IMARI style is found with the initials F. J. J.


Often a letter 'L' appears under the initials F.J.J. - this almost certainly stand for the town of LONGTON - one of the Stoke-on-Trent, North Staffordshire Pottery towns.

Associated with the pattern Milgrove is the registration number 631484 - this gives a pattern registration date of 1914

Wood & Sons produced ware in a pattern which was idential to that by F.J.J. - with the same registration number 631484 - but Wood used the pattern name 'MILLWOOD'

The working hypothesis is that the company F.J.J. closed and Wood & Sons aquired the rights to the pattern.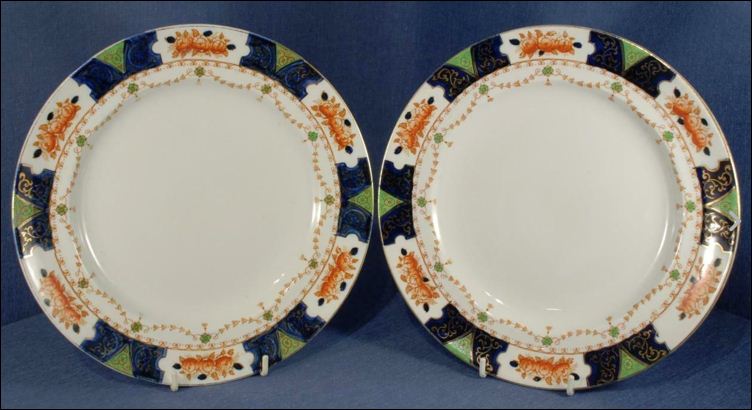 plates in the MILGROVE pattern
the pattern is in the IMARI style


MILGROVE
F J J
L
Rd No 631484
the 'L' under the initials FJJ almost certainly
stand for the town of LONGTON
the registration number gives a pattern registration date of 1914
---

trio in the MILGROVE pattern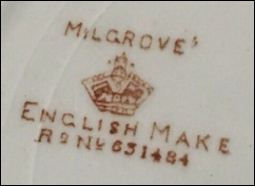 MILGROVE
English Make
Rd No 631484
the same pattern name and registration number but without the initials FJJ
---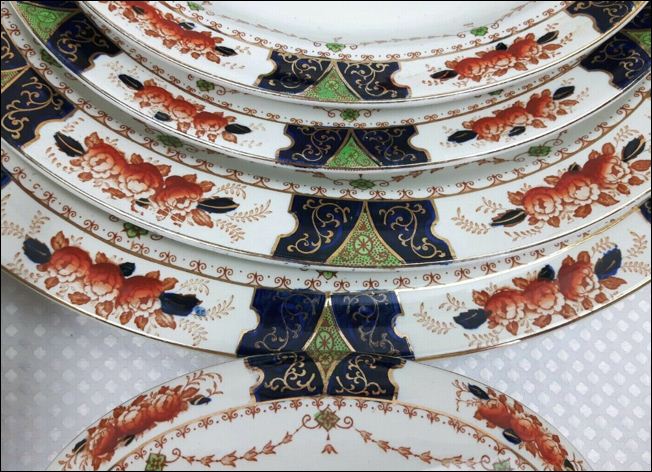 plates in the MILLWOOD pattern
the MILGROVE pattern by FJJ and the
MILLWOOD pattern by Wood & Sons are identical - with the same registration number

MILLWOOD
Semi-Porcelain
Wood & Sons
England


MILLWOOD
Semi-Porcelain
Wood & Sons
England
Rd No 631484
the mark appears with and without the registration number
---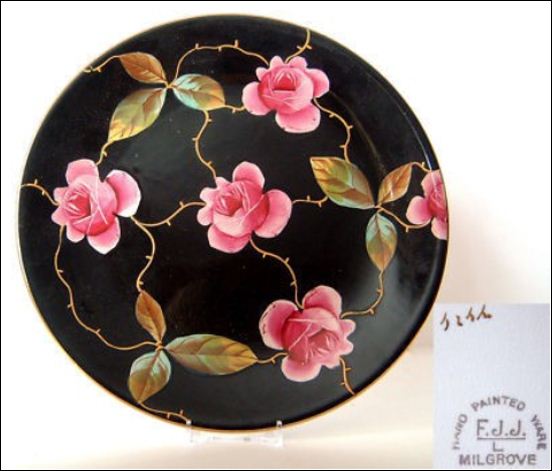 Hand Painted Ware
F. J. J.
L
MILGROVE

although this has the same pattern name MILGROVE it is not
the same IMARI style
---
Questions / comments / contributions? Steve Birks
---