Anyway, vandalism is nothing new to Tunstall or the park: the park was originally designed and planned as a tool to combat the rowdiness and anti-social behaviour of the growing urban populace in the late 1800s; and Mervyn Edwards pointed out in his excellent 'Potters in Parks' that such antics were a problem in the city's parks from the word go, and continued. For example in 1949 a collection of ornamental birds was stolen from the aviary in Queen's Park, Longton. I suppose that today, the acts of vandalism appear to be more random and incomprehensible, and in a world of mass media, are more easily and quickly reported.

The worst vandalism in Victoria Park though, has been the Municipal Vandalism from Stoke-on-Trent City Council. Unlike the unplanned chaotic destruction of the Hoody Generation, this particular form of vandalism has been planned: many years of under investment and shameful neglect. Mervyn Edwards described the sad state of some of the park's buildings and key features in 'Potters in Parks' back in 1999, and more than a decade later, things aren't much better. The park might have gained a couple of new basketball hoops and a climbing frame or two of late, but Victoria is still dressed in rags.


The classic image of Victoria Park: the Adams Clock Tower
Things came to a head in respect of the City Council's disgraceful and shabby treatment of Tunstall Park a few years back during public consultation on the City Council's Victoria Park Conservation Area Appraisal.
A Conservation Area Appraisal is designed to analyse and define the special interest and traits which give such areas their character, and identify challenges and pressures that could impact upon this.
The Victoria Park Conservation Area was designated in 2001, and particular threats identified by the City Council's conservation staff included replacement of original windows and doors, and the heavy traffic running along Victoria Park Road and the Boulevard. It was also recognised that the poor condition of the park was a problem, and that a robust maintenance regime is vital to the character of the Conservation Area.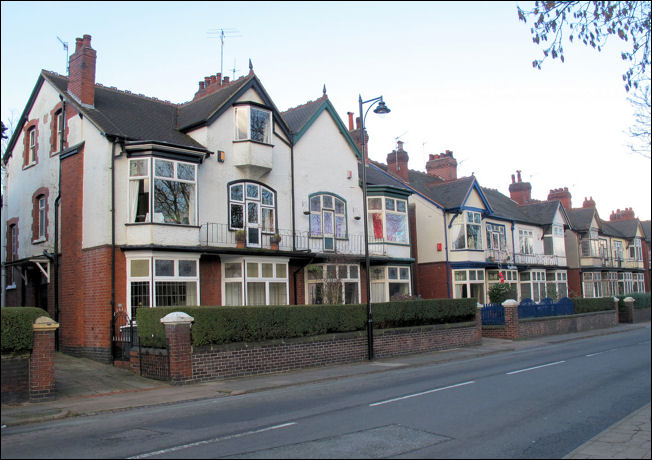 Victoria Park Road

However, local residents took this as a sleight upon how they dealt with their own properties, and reacted angrily, pointing out that the City Council had hardly done a sterling job in their management of Victoria Park. Despite this public outcry, little action has followed in respect of the park, until the recent charitable donation.


A ruinous looking Floral Hall in Victoria Park in 2007
© Stoke-on-Trent City Council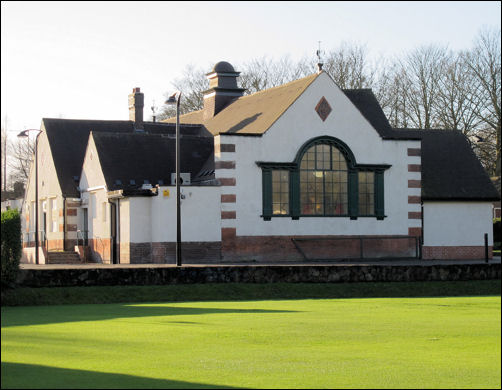 the Floral Hall after restoration
photo: Dec 2011
Victoria Park dates from the 1890's when Tunstall Urban District Council acquired thirty three acres of land that was used as a colliery and oil works for £4,835. The western edge of the site was used to construct what is now Victoria Park Road, with the land that adjoined the road allocated for housing which was developed between 1900 and 1930.
Prolific Potteries architect A.R. Wood – who was the Borough Surveyor, and had already built the nearby Victoria Institute and Jubilee Buildings, and public baths – prepared a sketch plan for the proposed park, which was eventually developed over a period of eleven years (1897-1908) due to financial problems.

It was originally intended to open the park in time to celebrate the Diamond Jubilee of Queen Victoria, but eventually opened to commemorate the coronation of King Edward VII.

The park still retains many of its original features such as the main entrance gates that were produced by local art-metal worker William Durose, who had worked with A.R. Wood previously on the Victoria Institute and Jubilee Buildings (these are now in a scandalously poor state), the Floral Hall – which was opened in 1911 – and the Adams Clock Tower.
Many of these features were gifts from local dignitaries during an era of diminishing public funding. Other features that have long since gone are the park's paddling pool, and the glasshouse, both removed for "safety reasons".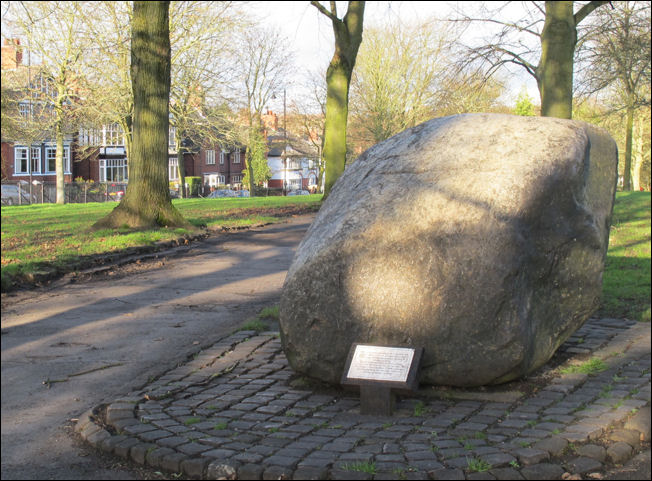 the erratic granite boulder
The feature that I was most interested in when I visited the park as a child was the large glacial rock located near to the Adams Clock Tower. The reason for my interest was that I was told that it was the remains of a meteorite, a story I was gullible enough to believe. The rock is actually an erratic granite boulder that was discovered during excavation works and is thought to be a relic of the Ice Age. It is estimated that the boulder weighs around six and a half tons.

Much like Mervyn Edwards, I too have fond memories of time spent in Tunstall Park. Sunny summer days with my family. Catching small fish from the pools. Kicking a ball around the football pitch with dad. And starting to realise that I had an interest in buildings and how they look. That came through enjoying the spectacular views of the Roman Catholic Church of the Sacred Heart on Queen's Avenue, Father P.J. Ryan's depression era masterpiece.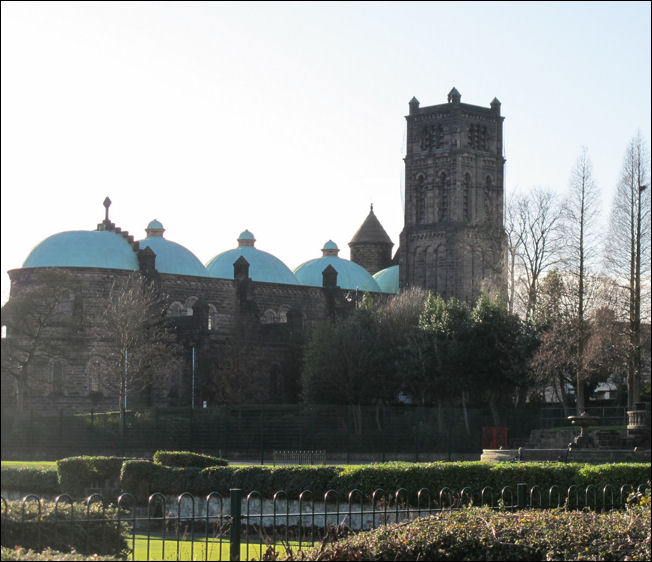 View of Roman Catholic Church of the Sacred Heart from Victoria Park

But now so much has changed, so much has been lost. I cannot remember the last time that I spent serious time roaming the park, and I'm guessing there are a lot of people that can say the same thing. From the outside looking in, the park doesn't appear to be the most attractive location in which to spend quality time. As with Durose's main entrance gates, the park's boundary railings are in a poor state, and these are the public face of the park.

Over the past few years, funding has been found and poured into Central Forest Park in Hanley, yet Victoria Park – a Grade II Listed public asset – has been allowed to continue its downward spiral. It really is quite perverse. The recent charitable donation towards improving the park's facilities is welcome, but the basics simply have to be right for a public park to thrive. The park currently looks unloved; it looks as though our city doesn't care. And when this happens, it becomes an easy target. This presents an awful image for Tunstall, and an awful image for the city.

And so what are the chances of Victoria Park seeing a future renaissance? As has been laboured in previous pages on thepotteries.org, we are now in an era of unprecedented austerity. The cuts to public spending are only just starting to take effect, and it is going to get worse.
The City Council have already announced that they are not going to achieve the savings that they were proposing to, and that a further round of redundancies will be necessary, as will a further butchering of public services. Can it get worse still? Well, I know of at least one local authority in the North West who is planning to simply deliver statutory functions. This paints a pretty bleak picture for Victoria Park.

So if the local authority cannot properly look after Victoria Park, who can? Is it time to consider other options? The current Government thinking around the Big Society would – in theory – seem to be a possible solution to the park's malaise: if the local authority isn't capable of looking after the park, why not move it on to a community group that can? Well, theories are great, but would such an approach work in reality? Local evidence would suggest not. I personally was involved in trying to formulate a community group focused on improving the local environment in Biddulph some years ago, an initiative that floundered due to a lack of support from the local authority.
And here in Tunstall, a local group was proposing to take on the Public Baths from the City Council, and this also floundered due to a lack of support from the local community.

The lessons? The Big Society will not work without support from local authorities, support which is unlikely to be forthcoming in the current climate, and it won't work in predominantly working class areas, where local people are rightly more concerned about getting through life and keeping a roof over their heads than bailing out a public sector than can no longer carry out its functions properly.

A number of people have mooted the creation of new Town Council's across the Potteries, most notably Alan Gerrard from the Art Bay in Fenton, suggesting that a new Town Council in Fenton could take on public assets from the City Council, and perhaps deliver local services more effectively. A new layer of democracy could work in the Potteries. With Stoke-on-Trent City Council being a unitary authority, there is a lack of political scrutiny that is present in two tier authority areas. A Town Council for each of the Six Towns, with each based at the towns' town halls? Tasked with looking after key public assets such as public parks and public buildings? Is this possible? Answers on a postcard to the Civic Centre.

D.P. 23rd December 2011