Public Monuments and Sculpture in Stoke-on-Trent & Newcastle-under-Lyme


|

Index of all Stoke-on-Trent art |



Angel of Victory (Statue)
at Burslem

Location: on top of the Old Town Hall, Market Place, Burslem
Installed: 1857
Commissioned by: Burslem Town Council


Description:
The Old Town Hall is surmounted by a gilded copper angel holding out a laurel wreath. She symbolises Civic Victory.
Background:
The angel was immortalised by Arnold Bennett in his books 'Clayhanger' and 'The Old Wives Tale' where Burslem is thinly disguised as Bursley.
"on a little hill in the vast valley, was spread out the Indian-red architecture of Bursley - tall chimneys and rounded ovens, schools, the new scarlet market... and rows of little red houses with the amber chimney chimney-pots, and the gold angel of the blackened Town Hall topping the whole.
The sedate reddish browns and reds of the composition, all netted in flowing scarves of smoke, harmonised exquisitely with the chill blues of the chequered sky.
Beauty was achieved, and none saw it."

"Clayhanger", Arnold Bennett

Materials:
| Part of work | Material | Dimensions |
| --- | --- | --- |
| Sculpture | Copper, gilded | Lifesize |

Photo: August 1987 - the 'angel' can be seen atop the clock tower
The Queens Hall can be seen on the left background.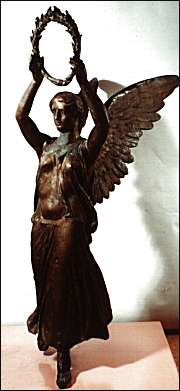 The 'angel'
Removed from atop the Burslem old Town Hall in February 1998
whilst refurbishment work took place for the Ceramica project.
The angel was on display in the Potteries Museum, Hanley
and then at the Royal Doulton Visitor in Burslem.

In December 2000 the angel was taken to the premises
of Bailey International Steeplejacks in Macclesfield
for restoration and re-guilding.


|

Index of all Stoke-on-Trent art |
---
questions/comments/contributions? email: Steve Birks
22 January 2006