RHEAD, Charlotte (1885-1947), pottery artist, Burslem.
Charlotte Rhead was born in Burslem on 19 October 1885, the fourth child of Frederick Rhead. She worked as an artist for T. and R. Boote, Crown Pottery, Wood and Sons and Burgess and Leigh, Burslem. At Burgess and Leigh's she trained a team of artists in tube lining technique, in which the decoration is applied to the ware by squeezing a rubber bag attached to a fine glass nozzle.
Examples of Charlotte Rhead ware for H J Woods
One of her designs for this firm was Florentine, still to be found in quantity. She joined A. J. Richardson in 1931, her designs for that firm including Byzantine, Foxglove and Wisteria. She became a director of Wood and Sons, a post which her father had held, in 1943. She died on 6 November 1947.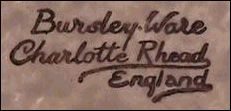 Sources: B. Bumpus, 'Pottery designed by Charlotte Rhead', in Antique Collector, January 1983; G. A. Codden, Victorian Porcelain.