Brickworks of Stoke-on-Trent and district
John Leigh & Son

photos and background information kindly supplied by Margaret Allsop (née Leigh) the great granddaughter of John Tunstall Leigh.
---
The Leigh brickworks was located on the site of the earlier Banktop Colliery, in the Stanfield area of High Lane.

The works are listed in the 1896 Kelly's Directory as John Leigh & Son operating at High Lane, Burslem.

The business was started by John Tunstall Leigh who was joined by his son, Henry.

Henry's three sons, James, Arthur and John, became partners with Henry when they were adults.

Henry died in 1960 and the three sons ran the brickworks until it was sold in 1967 to Fradleys, the house builder who built houses on the site.
---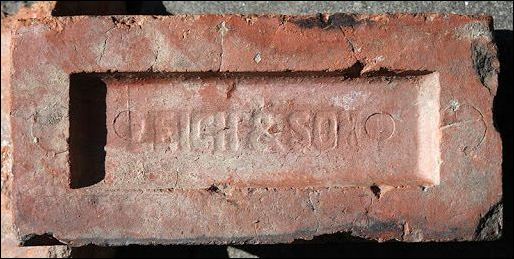 Brick marked Leigh & Son
---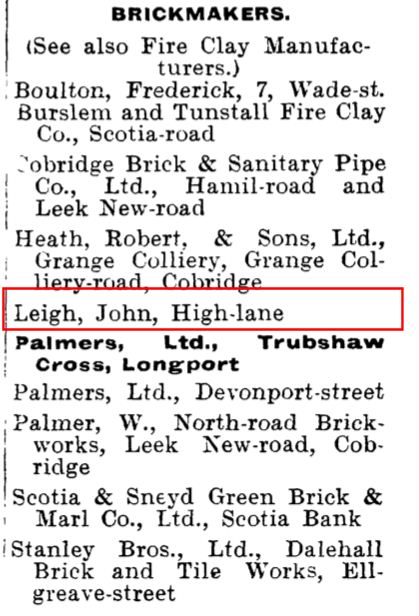 from..... 1907 Staffordshire Sentinel
'Business Reference Guide to The Potteries, Newcastle & District'
---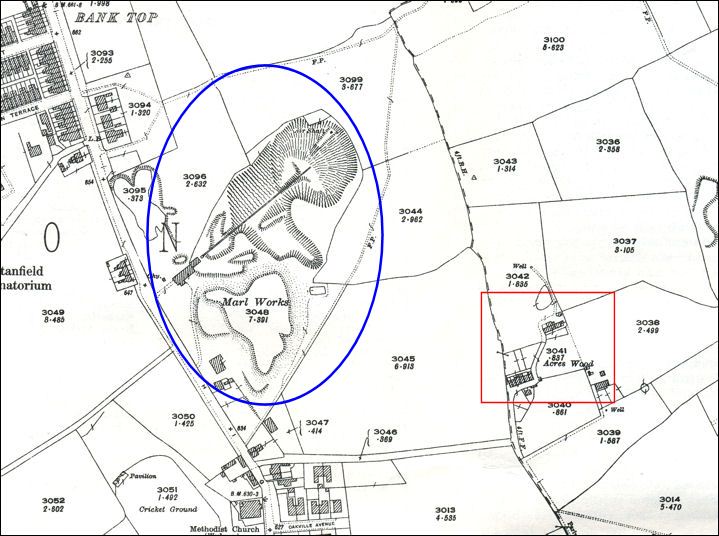 1922 map showing the location of the John Leigh & Son Brickworks (blue oval)
The location marked in red was the Acres Wood brickworks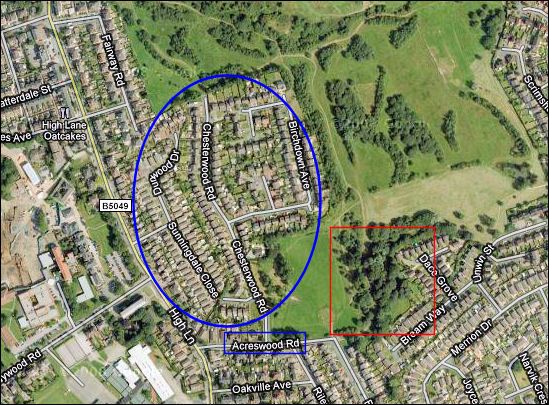 location of the John Leigh brickworks - Google maps 2009
---

one of the beehive kilns at the brickworks
brickworks photos: 1955

general view of the kilns and output of bricks

rebuilding a tunnel kiln
from the left, John Leigh, Billy Sargeant, and George Roper.
Billy and George worked on the brickworks until it closed around 1967
---

Henry Leigh, son of John Tunstall Leigh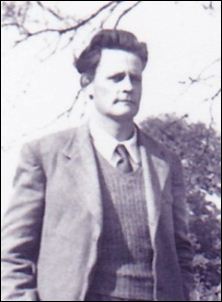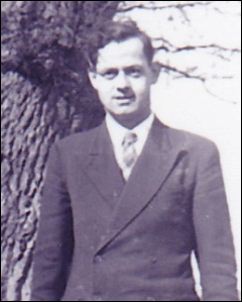 John Leigh, Arthur Leigh, and James Leigh (Arthurs twin)

1877 map of the High Lane area around Stanfield
the area is littered with collieries and very little housing
what became the Leigh brickworks was the site of the Banktop Colliery
---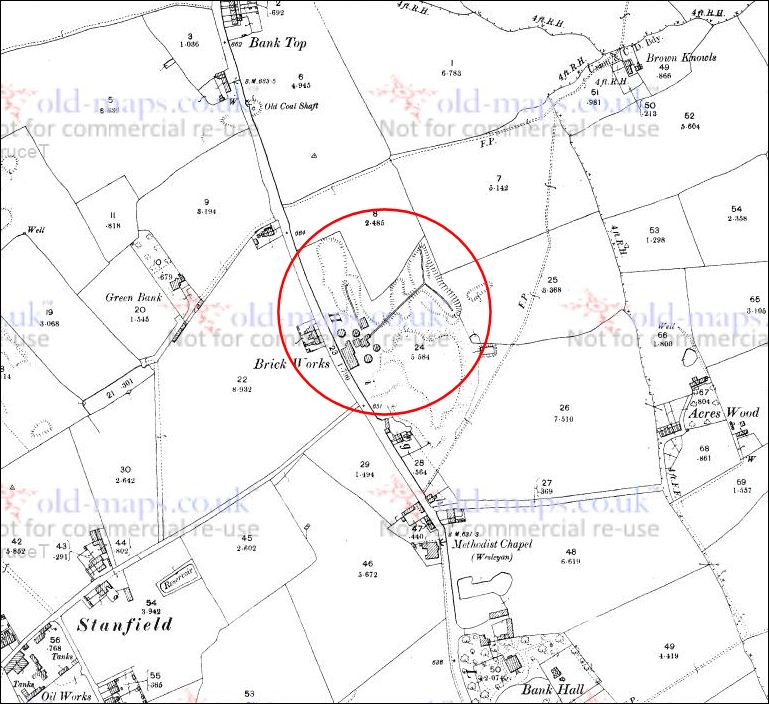 by 1899 a brick works was located on the former colliery site
---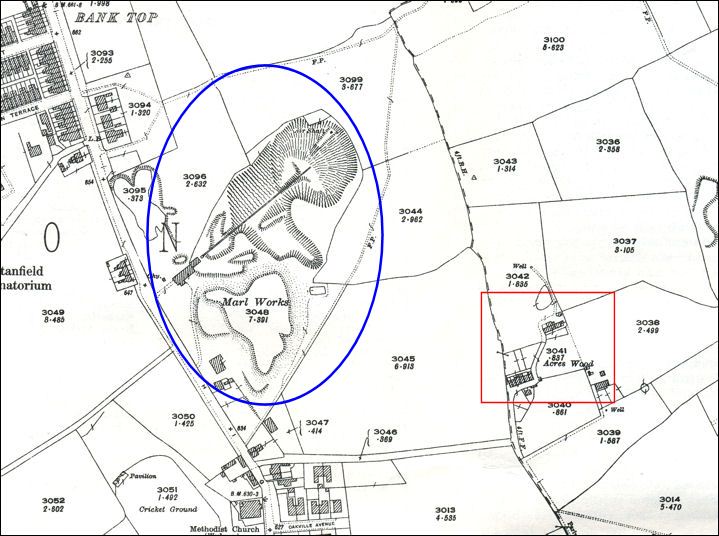 1922 map shows the development of the Leigh brick works
---

by 1937 the Leigh brick works had grown in size and
the Acres Wood brick works (owned by the Wilkinsons) had been developed
---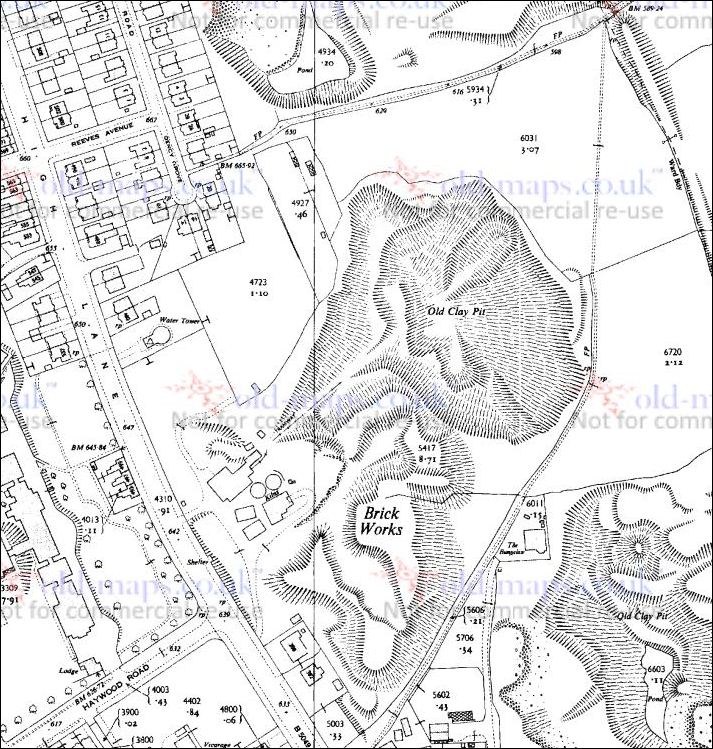 the 1970 map shows the extent of the brick works which by this time had been sold for housebuilding


---
Questions, comments,contributions? - email: Steve Birks
---