Mitchell Memorial

Built after the second world war as a tribute to Reginald Mitchell (the designer of the Spitfire airplane). The Mitchell Memorial is in Broad Street, built on the site of The White House.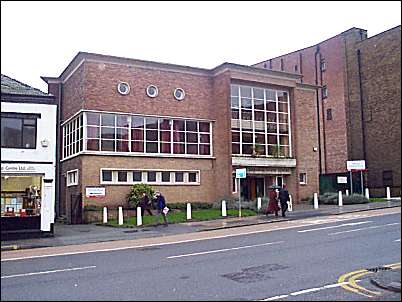 Mitchell Memorial Theatre
photo: 2000

The background to the Mitchell Memorial Theatre : The original concept was the provision of a building for young people which included a theatre facility.

Local youth have always been encouraged to take part in amateur dramatics by the Local Education Authority. Adults, with the skills and experience have supported young people and together it has become possible for at least 10 established local drama societies to perform regularly every year at this theatre.

The Mitchell Memorial Theatre has a long tradition, dating back to the 1950s,as a premier venue of amateur performing arts, working towards a high level of voluntary participation from all ages to achieve and raise aspirations. Activities are varied with an enthusiasm to maintain the successful development of this high profile historical building.

Annual One-act Play Festival and annual Full Length Play Festival are held which are accredited to the All-England Theatre Festival and National Drama Festivals Association. Adjudicators are members of the Guild of Drama Adjudicators and
the Theatre Manager is a member of the Theatrical Management Association.

There is also the opportunity to hold meetings and receive assistance in organising other events.

The premises are open weekly throughout the year and located in the City Centre (Hanley) within the Cultural Quarter.

In 1997 the son of Reginald J Mitchell, Dr Gordon Mitchell accepted an invitation to celebrate the 40th anniversary of the official opening and commented that the Mitchell Memorial Theatre would be one of his fathers favorite memorials bearing his name "it being an active memorial giving a lot of pleasure and help to a large number of people".

Facilities:
380 seat auditorium with proscenium stage; workshop; dressing rooms; refreshment facilities; meeting/rehearsal rooms; limited staff car parking; public car parking opposite; disabled facilities; security system; digital/analogue stage lighting including follow spots; portable audio equipment; stage drapes/cylorama/guaze/rostra; pianos and music stands.

Further information telephone:- 01782 235411
E-mail:- mitchell.theatre@stoke.gov.uk
Website:- www.stoke.gov.uk/mitchelltheatre


This background information supplied by Stoke-on-Trent local government and correct as at June 2002.

last updated: 28 June 2002