Penkhull Square | Buildings of Stoke-on-Trent

Penkhull Square

[ Web Site Index ]
Penkhull Square
Josiah Spode II was responsible the building of Penkhull Square (c.1802/3) on the south side of the village of Penkhull - this was a provision of housing for some of the key workers.

More on Penkhull Square


1872 Plan of Penkhull Square


1832 map showing the location of Penkhull Square


1841 census of Penkhull Square

The square contained 20 houses built in about 1802-3.
The main entrance was through an archway on the east side by Trent Valley Road.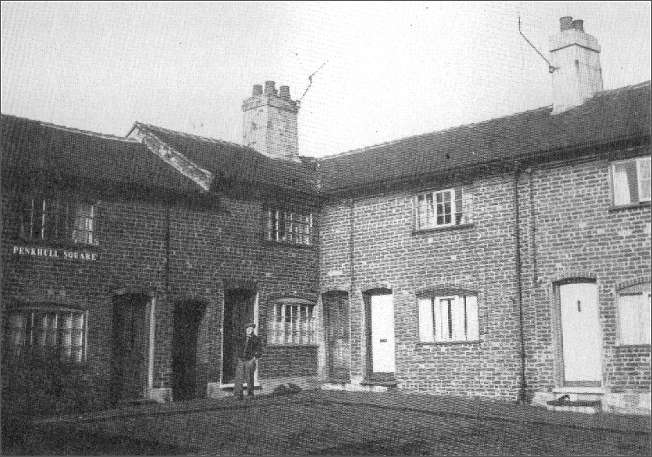 Each dwelling contained a living-room and a small scullery
with two corresponding bedrooms above,
one of them apparently too small for a full-sized bed.
The houses were demolished in the 1960s

Considering the small size of the houses it is surprising that at the time of the 1881 census two of the houses each had a family of 10 people.
1881 census:
Census Place: Stoke Upon Trent, Staffordshire, England
Details of head of households:-
| | | | | | |
| --- | --- | --- | --- | --- | --- |
| House Number | Name | Marr | Age | Sex | Birthplace | Occupation | people in house |
| - | Geo. PARKES | M 31 M | Stoke, Stafford | Potters Presser | 2 |
| - | John WRIGHT | M 49 M | Stoke, Stafford | Potters Presser | 10 |
| 4 | Thos. WHITTAKER | M 36 M | Stoke, Stafford | Potters Flatpresser | 4 |
| 5 | Mary HEATH | W 61 F | Stoke, Stafford | Seamstress | 4 |
| 6 | UNINHABITED | | | | - |
| 7 | Aaron TUNSTALL | M 24 M | Stoke, Stafford | Potters Laborer | 6 |
| 8 | Joseph TURNER | M 54 M | Audlem, Cheshire | Gen Laborer | 7 |
| 9 | John HEATH | M 28 M | M'chester, Lancashire | Iron Worker | 4 |
| 10 | UNINHABITED | | | | - |
| 11 | Herbert PARKES | M 39 M | Stoke, Stafford | Potters Slipmaker | 10 |
| 12 | Lucy CHATTERLEY | W 70 F | Stone, Stafford | Potters Ware Cleaner | 4 |
| 13 | Fred ADAMS | M 34 M | Stanley, Stafford | S W'houseman | 8 |
Dwelling: 16 Penkhull Sq
| | | | | |
| --- | --- | --- | --- | --- |
| Name | Marr | Age | Sex | | Birthplace | Occupation |
| Geo. SHAW | W 45 M | Head | Shropshire | Genl Laborer |
| Wm. SHAW | 11 M | Son | Stoke, Stafford | Scholar |
| Jane SHAW | 9 F | Daur | Stoke, Stafford | Scholar |
| Frances SHAW | 7 F | Daur | Stoke, Stafford | Scholar |
| Albert SHAW | 3 M | Son | Stoke, Stafford | |

Dwelling: 17 Penkhull Sq
| | | | | |
| --- | --- | --- | --- | --- |
| Name | Marr | Age | Sex | | Birthplace | Occupation |
| Saml. DAVIS | M 41 M | Head | Stanchurch, Stafford | Gen Laborer |
| Frances DAVIS | M 36 F | Wife | Uttoxeter, Stafford | |
| Frances DAVIS | U 17 F | Daur | Handford, Stafford | Potters Transferrer |
| Elizabeth DAVIS | U 10 F | Daur | Handford, Stafford | Scholar |
| Wm. DAVIS | U 8 M | Son | Trent Vale, Stafford | Scholar |
| John DAVIS | 6 M | Son | Stoke, Stafford | Scholar |
| Geo DAVIS | 5 M | Son | Stoke, Stafford | Scholar |
| Thos DAVIS | 3 M | Son | Stoke, Stafford | |
| Ann R. DAVIS | 1 F | Daur | Stoke, Stafford | |
18 November 2004