"Northwood and Wellington Church Districts have lately been formed out of Hanley. Northwood church (Trinity) is at Upper Hanley, and was erected in 1848, in the early English style, at the cost of £2700. The living is a perpetual curacy, valued at £150, in the alternate patronage of the Crown and Bishop, and incumbency of the Key. C. B. Jackson, M.A, "

From: William White's 'Directory of Staffordshire' - 1851
---
"Holy Trinity (Northwood): The ecclesiastical parish of Northwood was formed in 1845. The church, Holy Trinity, which was consecrated in 1849, is a handsome stone structure in the Early English style, consisting of a chancel, nave, aisles and low western tower, with spire; there are 530 sittings."
From: 'A descriptive account of The Potteries' - 1893
---
Hanley and Shelton lay within the parish of Stoke until the formation of new parishes in the area during the 19th century. A new parish covering the Northwood district was formed out of Stoke parish in 1845.
The church of HOLY TRINITY in Lower Mayer Street was built in 1848–9 on land given by Charles Smith of Elmhurst Hall near Lichfield.
The living, at first a perpetual curacy and from 1868 a vicarage, has remained in the alternate gift of the Crown and the Bishop of Lichfield.
The church, designed by J. Trubshaw, is built of stone in the Early English style and consists of an aisled nave, a chancel, and a north-west porch surmounted by a tower with a stone broach spire. Seriously damaged by fire in February 1949, it was then restored and reopened in 1950.
The vicarage house, formerly at the west end of Cardwell Street, was in the early 1960's moved to Cromer Road.
The following mission centres have been opened from Holy Trinity, Northwood:
Far Green Mission Room c. 1876–c. 1887;

the Iron Room, Queen's Road, c. 1891–c. 1913;

Peel Street Mission Room c. 1894, replaced c. 1908 by a brick chapel in the same street (now Perceval Street) which was closed c. 1946;

Butler Street Mission Room;

St. Matthew's, Birches Head.

The Butler Street Room was opened in 1896 for the 3,000 Welsh in Hanley Borough and had its own chaplain. It was replaced in 1899 by St. David's Chapel at the junction of Town Road and Broom Street. This had been sold by 1921 after the dispersal of the congregation.
From: 'Hanley: Churches', A History of the County of Stafford: Volume 8 (1963),
---
Holy Trinity, Northwood - the building...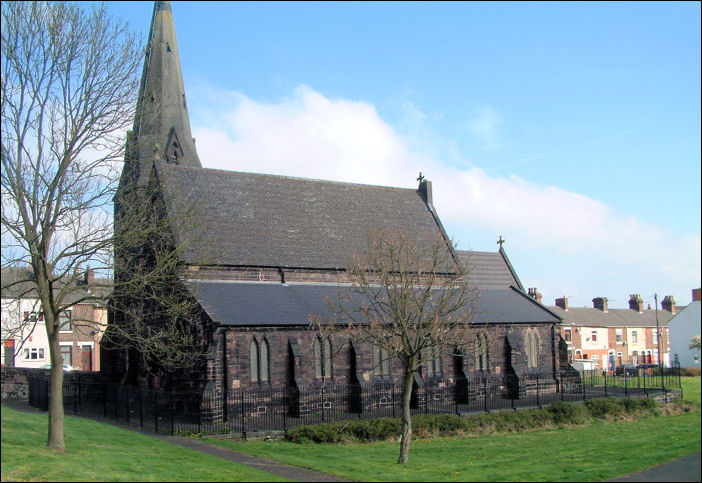 Holy Trinity Church of England, Northwood - Hanley
Lower Mayer Street
this photo taken from Jervis Street, behind the church are the terrace houses of Lower Mayer Street.

The church was built 1848-1849 by J. Trubshaw, it is a listed building and the listing details read....
"Rusticated stone with plain tiled roofs with scalloped bands. North-west tower with broach spire, nave and two aisles, chancel. 3-stage tower with angle buttresses and paired lancets to lower stage and bell chamber.

Broach spire with lucarnes. Coped western gable over triple lancet windows between buttresses. Added lean-to vestry to east. Chancel has angle buttresses and triple lancet window. South aisle with paired lancets between buttresses."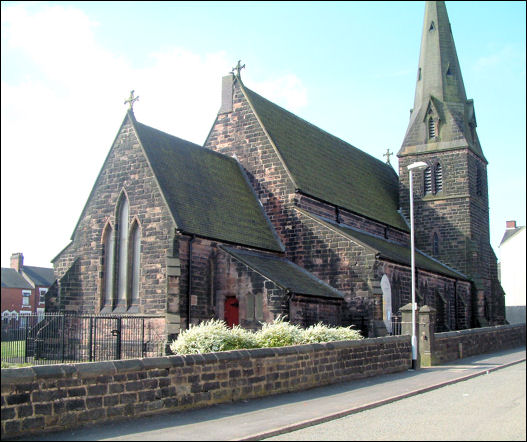 view looking up Lower Mayer Street

view from of the apse and the three stage tower
Lower Mayer Street to the right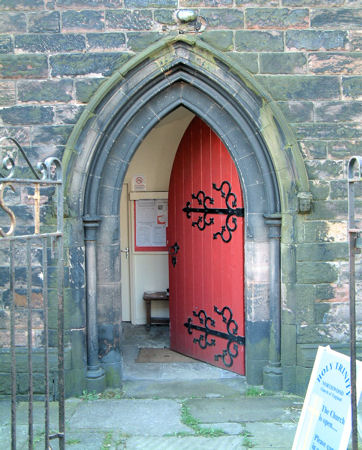 the main entrance door and porch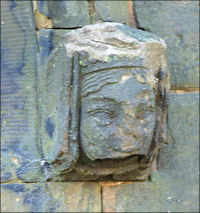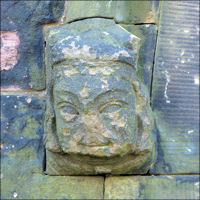 suffering a little from the weather
the faces each side of the door still stand guard