| Index of Churches and Chapels |
| Index of Longton Churches |
St. John the Baptist Church
Lane End, Longton


next: photos and map of St. John's
There was a church on this site from 1762, by 1790 it was too small for the people who wished to use it and it was also falling down, probably as a result of the coal mining underneath. Rebuilding of the second church took place between 1792-95 and the nave and west tower of the church shown in the photos below are of that date.
"The west doorway is typically eighteenth century Classical in design, but the nave windows are slightly pointed, having Gothic glazing bars and are arranged in two tiers. Inside, the original galleries go round three walls of the nave. Supported on slender, elegant cast-iron columns, the galleries are reached by staircases from the entrance porch. The east end was built on in 1827 and makes the church look like a grotesque medieval dwarf with its enormous Gothic hump of steep roofs supported in a bandy-legged fashion by buttresses, the whole accentuated by pinnacles on the corners ..."
From: "Portrait of the Potteries" - Bill Morland 1978


St. John the Baptist Church - just before demolition in 1979
Source: "A History of Longton"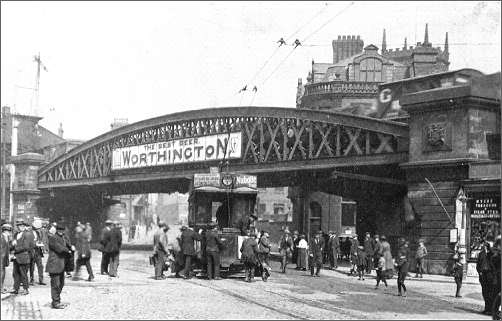 A postcard of Longton railway bridge
The bridge (completed in 1889) carries the Stoke to Derby railway, underneath the bridge can be seen a tramcar. Behind the bridge on the right is the Crown and Anchor Hotel and just behind the hotel can be seen the tower of St. John's Church - the map on the next page shows the relationship of the railway, hotel and church.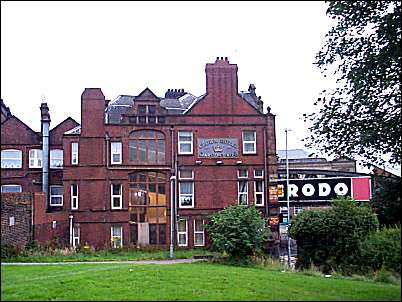 The Crown Hotel
This photograph (2000) was taken from where St. John's Church stood. This is the side of the hotel (now named The Crown Hotel) and on the right can be seen the railway bridge.

---
questions/comments/contributions? email: Steve Birks