Mount Pleasant doesn't fit as well today as it did
---
Mount Pleasant! The very name evokes Englishness with a tinge of Norman chivalry sufficient to enchant the imagination back to baronial times, castle-keeps and sheriffs, pastoral landscapes, parish lore, and village peace. The name resonates familiarly with other places with semi-fictional names conceived and contrived from the dreams of romantics; names like Adelstrop and Grantchester, Much-Something's and Little-Nothings; Highers of land and Lowers of meadows; Long Acres and Ancient Rows. Living in such places must be a joy, a bit of medieval paradise forever England tucked away at the end of your own English country garden.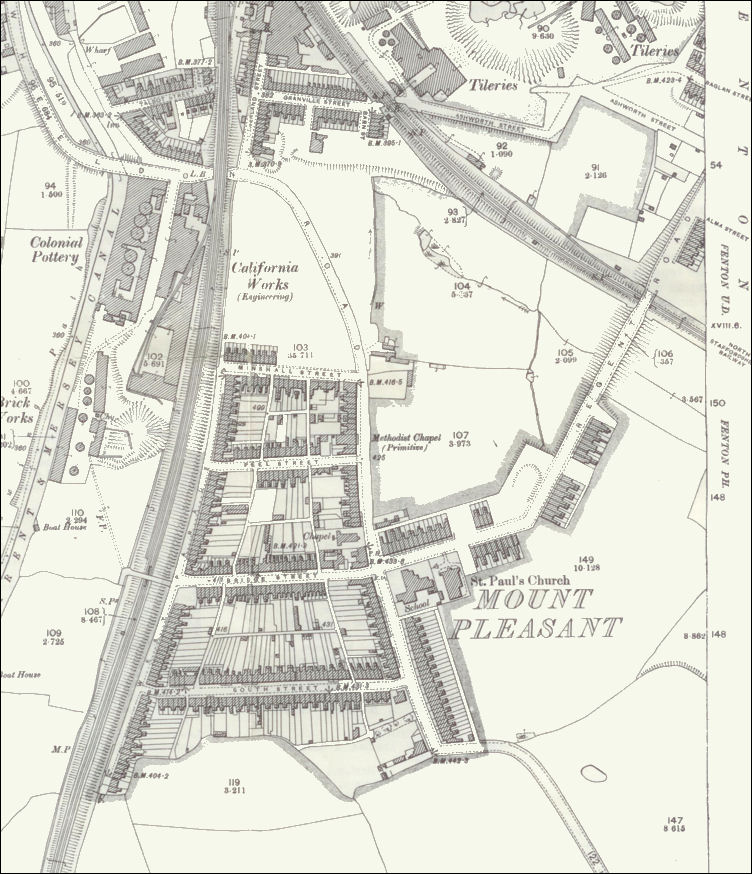 Mount Pleasant, Fenton on a 1898 map
in the mid 1950's some of the street names in the ciyy were changed....
Regent Road became Smithpool Road
Peel Street became Ramsey Street
Bridge Street became Ridley Street
South Street became Ainsworth Street

There are some 100 place-names in the UK named Mount Pleasant and all are not as agreeable as the name suggests. Indeed, in real life many are quite the opposite. Stoke-on-Trent's version of Mount Pleasant doesn't fit as well today as it did when it was founded by the Smith family line in the 18th century. For instance getting there is no longer a matter of saddling up a mare or stallion and trotting along a meandering hawthorn-hedged lane. No. I regret to say the internal combustion engine has ended all that naïve tomfoolery.
Imagine today how a 21st century traveller would survey the topographical approaches to Stoke-on-Trent's Mount Pleasant. An outsider probably might imagine for instant that Victoria Road Fenton is sub-urban leafy-glade byway; and that the modern-sounding A500 would be appealing to an intrepid traveller who was used to motorway manoeuvring. But the sheds that line Victoria Road are far from suburbia for it is the main thoroughfare through a retails and industrial estate, and manoeuvring along the Potteries D Road actually means to sit in your car motionless for long periods in traffic congested stillness.
In reality, and for expeditious travel, you really need to fly in a helicopter to get to Mount Pleasant in the 21st century.
In early times the district the Potters know as Fenton was divided into two allotments – Fenton Vivian and Fenton Culvert. Fenton Culvert lay on pleasant high land that stood above the ancient town of Stoke and was accessible over the River Trent through a bucolic thoroughfare known as Whieldon's Grove, a lane commemorating the famous potter Thomas Whieldon, a mentor of Josiah Wedgwood.

This early track once led to the estate of Thomas Smith whose family lived in Great Fenton Hall from 1715. The lane still follows the original route from Whieldon Road until it reaches Smithpool Road where it changes its name to Grove Road as it heads off towards Heron Cross.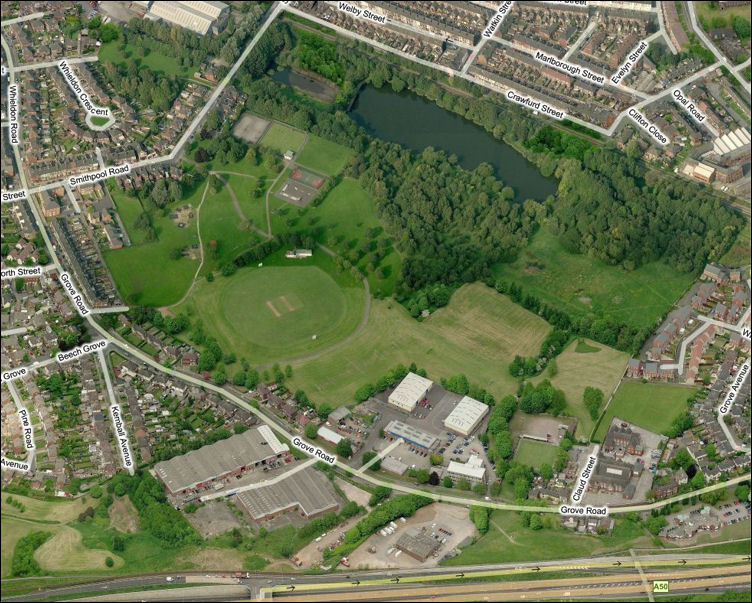 Smithpool lido
Bing Maps
According to the accredited historian John Ward writing in 1843, the area was formerly part of a fiefdom in the ownership of a Norman landowner in the employ and duty to Robert of Stafford. Following a medieval joust the estate was won on behalf of Lord Ormus of Darlaston in the reign of Henry I. As he fled the battlefield the loser was heard to cry bitterly, craven! – an expletive meaning 'I give in,' while Ormus's champion, the winner, shouted after him, culverd! – meaning coward. Whether you believe this story is a matter for the practical realist – it is up to you, but it's a nice tale anyway – isn't it!

The Smith family were mine owners whose genealogical roots lie in the 15th century. The great hall was demolished in 1900 and its land is now Mount Pleasant recreation ground encompassing a cricket ground and Smith's Pool fancifully known to locals and residents as the Lido.

The Regent - Mount Pleasant's only pub
With all this buried history knocking around I sought some respite in Mount Pleasant's favourite – and as it happens – only public house, the Regent. The Regent was rebuilt in the early 1930s and is one of the best unchanged examples of an art-deco hostelry in the Potteries. Curved mouldings holding square leaded-light windows have been retained in immaculate order with a name board carrying a delightful portrait of the young George IV when he was Prince Regent in the reign of his father, the 'mad' George III.
There was no one in the pub old enough to remember the inn before 1930 but it clearly was an important site in view of the spacious space that once enabled the fictional Arthurian tournaments to take place at the very centre of Mount Pleasant. The current tenants (2004) are Julie and Andy Powell who have occupied the pub for the previous two years.

"I'm actually not from Mount Pleasant," says Julie, "but I've lived here for a long time and I love it. It's away from the main towns, although it has a town centre feel, and it's got atmosphere. The people around here, not just my customers, are really friendly and things seem to be moving forwards in the village as well."
A couple of customers sat engrossed in conversation at the end of the smoke room bar their backs turned against the large TV Screen showing live football while from the taproom across the other side cheering voices swelled from a group of jousting pool players.

The lounge couple, Jane and Mark, are locals from the nearby Beeches estate.

"Mount Pleasant is handy," says Jane, "It's easy to get to the main towns and Tesco's is only just up the road, although the village, if you can call it a village, is struggling at the moment to establish an identity." Jane was referring to the recent demolition of St Paul's Junior School directly opposite which has left a large disagreeable tract of wasteland in its place.
"Don't forget the post office that's just closed," puts in Mark, "That's been a backward move for Mount Pleasant."
"That's right," Julie agrees, and with some irony adds, "And the chippy closed recently as well. I don't know which we'll miss most the post office or the chip shop."

It sounds to me as though Mount Pleasant has a few problems.

"The biggest problem at the moment is the gangs of children that hang around at night," Julie says pointedly, "I mean they're not bad kids and move on when they're told; but they appear threatening particularly to the elderly. Really something should be done to provide amenities for them."
The demolished church school that stood across the way opened in 1895 after funds were raised locally by a society calling itself the Staffordshire Knots supported by Millicent Duchess of Sutherland on whose family estate the land stood. Millicent herself collected the memories of a group of notable Potteries' people and published them in a book called 'The Book of the Bazaar.' She even handwrote a dedication in each front fly page and the book became a bestseller at £50 a copy.
Local councillor Derek Capey has his office in Grove Road. I ask him about the future use of the old school site.

"Well," he begins, "there has been some approaches to get things moving. I've seen plans for this particular location which the education authority has sold to a property developer. The church that stands next door is also due to be demolished and a top of the range housing development may then go ahead." But what about amenities for children?
"There are further plans hopefully," says Derek, "to regenerate the whole of the park. The new housing development will reach as far as the Lido and may meet up with the existing new estate that stands on the former allotment land. All this is being addressed and hopefully soon it will be realised."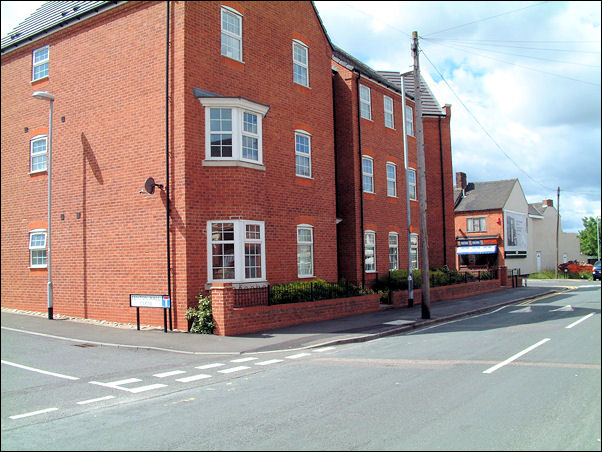 Apartments on the corner of Whieldon Road and Smithpool Road
]this housing developement was built afert this article was first published]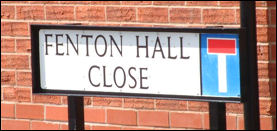 Fenton Hall Close
the cul-de-sac by the apartments acknowledges
the prior existence of Fenton Hall
---


Typical of a Potteries' village, Mount Pleasant has to share its location with industry. But at least it's an industry that acknowledges its historical antecedents.

At the bottom of Whieldon Road is the family business of FWB, one of Stoke on Trent's foremost trade counters for tools and metal hardware. Anthony Key is the latest family member to head this nationally successful business which originated in Cobridge in 1963 founded by his father Henry John Key.

"We moved to the Mount Pleasant site in 1967 and later acquired part of the old Whieldon Road Sanitary Potteries. The present buildings are laid-out on an old waste and shard tip. This part of the company used to be the Fielding's Crown Devon works which once had its own private railway station"

Across the road is an FWB subsidiary company called Oakbray where Anthony has his office.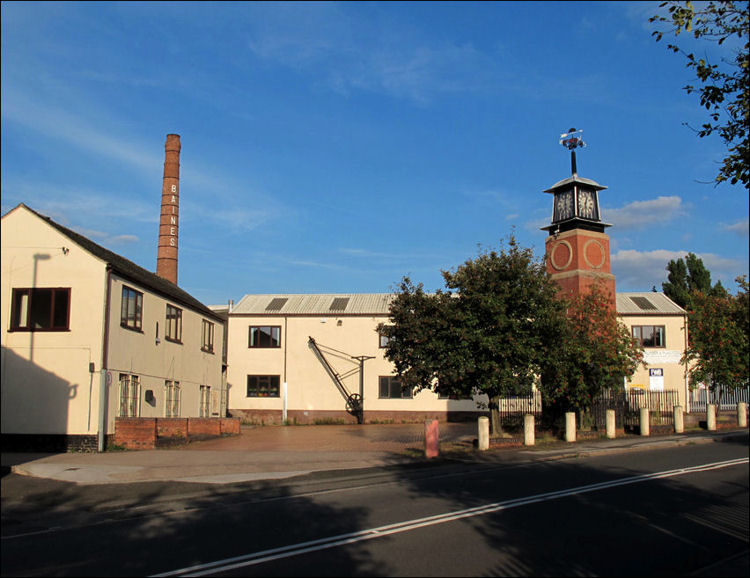 Pye Hill No.2 Colliery Clock - restored and installed at Whieldon Road, Fenton


"Before we came British Road Services had its depot here," he continues. Here in the front courtyard I marvel at a monumental four-face clock standing on a brick tower some 20 feet high. Anthony relates its history.

"The clock was manufactured in 1902 for Pye Hill colliery in Nottingham. When the pit closed in 1985 the clock was moved to Lound Hall National Mining Museum where it was found to be in very poor condition. Its restoration was achieved but it was all in vain as the museum closed a couple of years later. The Chatterley Whitfield Mining Museum then acquired the clock and installed it at Hesketh Power House. But of course Whitfield closed as well. At a sale of mining memorabilia my father bought the clock and the company has reinstalled it here as a monument to miners past and present."
Another feature of the FWB site is the 85 foot high chimney standing in the former Baines colour works. This is another artefact lovingly, though expensively, preserved by the Key family. A photograph hangs on the wall of Anthony's office depicting the chimney looking like a well-licked toffee apple.
"Actually," laughs Anthony, "On its top is an inflated hot air balloon painted to look like a rosebud. We had it put there to greet the Queen when she passed along the main railway line to open the National Garden Festival in 1986. But it deflated before she came. It was rather lucky she didn't see it I suppose."

I found the people of Mount Pleasant accommodating and very willing to talk with pride about this small location. So, old England – jousts and duels? Well, what's in a name as long as the people are nice?


Fred Hughes