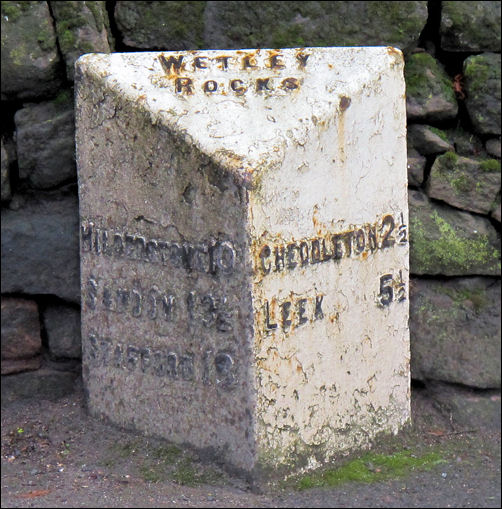 Wetley Rocks milepost on the A520 Leek Road
Hilderstone 10
Sandon 13½
Stafford 18
Cheddleton 2½
Leek 5½
---
"Climbing to the top of Wetley Rocks is no easy task," my mate Geoff advises me. "You know blokes of our age shouldn't be embarking on tasks we can't accomplish." I smile at the range of diverse recreational options wondering how much variety he has in mind. But our conversation is taking place after the event, after the sponge-down with witch hazel, after lying in a hot tub to ease my aches and pains. Strange how such sermons come as admonishments after the event and not as thoughtful pre-advice. "The older we get the dafter we become," says Geoff. "People of our age should know better."

There are some steps to the top of this Staffordshire wild outcrop of Triassic rock luring the unwary and unprepared to proceed without due caution. Then suddenly the steps disappear into rugged terrain – an easy climb for a fit Sunday walker but an Everest for an out-of-shape sedentary senior citizen.

"We carried three crosses to the top of the rocks for Easter," boasts Reverend Sue Goodwin with fitting smugness deserving my total awe and respect. "I won't say it was easy, in fact we almost gave up as the huge crosses were really difficult to negotiate. But there they are, visible for miles around."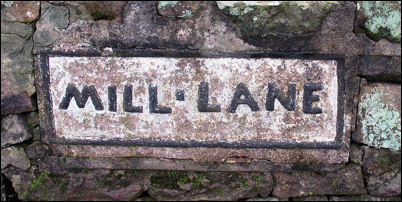 Mill Lane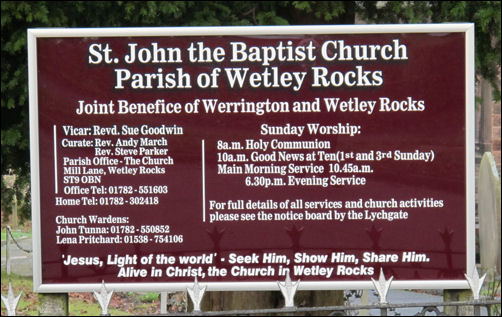 St. John the Baptist Church Parish of Wetley Rocks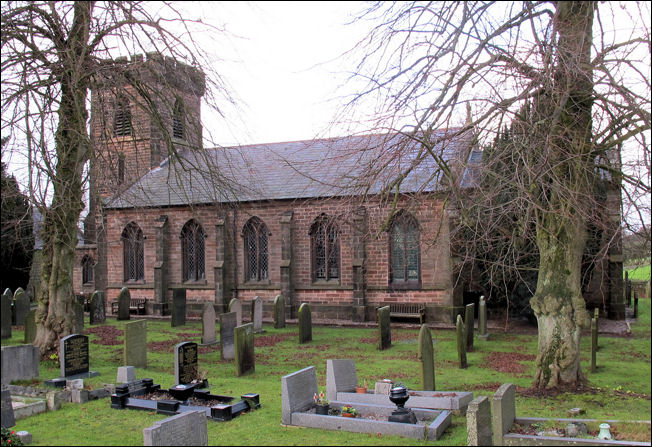 St Johns' located in its shipshape churchyard lies on the quiet side of the village
I've come to meet Sue, vicar of St John the Baptist Church Wetley Rocks and her Oasis ladies' group made up of Lena Pritchard and Shelley Southerland. Mill Lane where St Johns' is located in its shipshape churchyard lies on the quiet side of the village away from the hurly-burly of the risky A520 Leek to Stone road. Here in an appealing anti-room at the entrance to the splendid nave of the early 19th century village church I could not conceive of a more peaceful place to hold meetings. Sue has been vicar here for the past four years.
"I came to North Staffordshire with my husband Stephen who was previously the team vicar at Bordon Hampshire while I was the curate there," Sue explains. "I've been in ministry for 22 years and Stephen for 21 years. Stephen got a job at Keele while I managed a retreat in Leek for five years. It was then that the Bishop of Stafford offered me this job on a part time basis. The position became full time four years ago."

Sue and Stephen have worked at Sheffield and York before landing here in Wetley Rocks, "But we've loved every minute of it here, it's a lovely community," she says.

Both Linda and Shelley share Sue's sentiment.

"Each of us are pretty much outsiders," says Linda who came to Wetley Rocks after retiring from Eastbourne four years ago.

"We originally come from Lambourne in Berkshire," says Linda, "But we've lived in a number of other towns across the country."

I wondered whether Linda had come to Wetley Rocks for the views.

"Well actually we were looking for a place to retire to," she adds, "and we'd looked at a number of properties in a good many locations. But the house here and the rural surroundings were the appealing factors."

Shelley is an outsider with closer roots.

"I was born in Tunstall but my working life has been spent as a primary schoolteacher outside the region," she says. "I retired quite recently from my last school in Liverpool and I found my way here."

But why Wetley Rocks, I mean it isn't as though it's just around the corner from the Mersey is it?

"Well I found a house I liked in the redeveloped site of St Edwards Hospital in Cheddleton, but I suddenly found myself drawn to St John's church. I don't know why; I can only say that God called me here."

Among the sheaves of agendas we sip tea with the vicar.

"I believe the church community to be one of the strongest in the area," says Sue. "We have a base of sixty attendances over three services but the village itself is well-provided with the village hall across the way, the Methodist chapel in Cheadle Road. The new St Johns School has been a blessing as are our connections with the Cicely Haughton School."

Conversation moves on to the old primary school next door.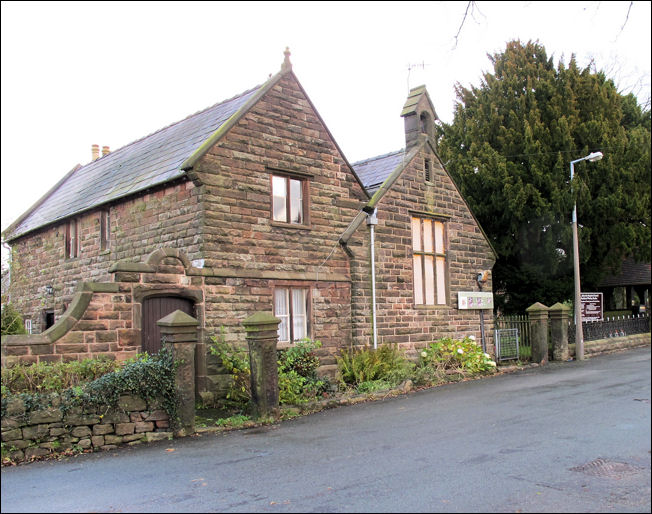 The old primary school next door to the church
"What we would like to see," says Sue "is the old school being developed as a youth and children's centre. It's stood derelict now for a number of years having been bought by John Pointon who owns the animal rendering factory in Cheddleton. I believe he has plans to build houses on the site but cannot do anything at this present time because of the on-going tenancy of the attached school house. Mr Pointon owns quite a lot of land around here but I do hope he doesn't build houses and comes round to our way of thinking."

---

More tea later and I feel ready for my attempt on the summit of the rocks and make my way to base camp at the foot of Cheadle Road. Here I stop to interrupt Clem Brassington and his black Labrador Fred working in the garden of his bungalow Grey Gables. Clem and his wife Lynn share the rear of the stone constructed bungalow with the sheerness of the rocks. You can literally reach out and touch the rock face from the rear door as the grey millstone towers out of sight into the sky.

"I suppose we've given up a lot to come and live here," says 67 year old Clem watching Fred from the kitchen window poking around the garden while Lynn gets ready to go out. "We came to live here just before Christmas and have only just about settled in."

Clem and Lynn decided to leave their home in Dilhorne where they raised their children, for a smaller house.

"Our previous home became too much to look after," exclaims Lynn. "You wouldn't believe it but we had three-quarters of an acre in lawns. And it was very lonely when everyone moved out."

Clem is a retired haulage contractor and farmer. He and Lynn lived at the 90 acre Oak Tree Farm where they spent 28 years of married life.

"We looked around North Staffordshire for a suitable property wanting somewhere we could put our feet up with a manageable garden. Grey Gables was once a farm out-building; in fact the stone was reclaimed entirely from the piggeries. The location is convenient and as a matter of fact I was born around here and went to school at St Johns'. It has been like coming home."

Around the corner in Consall Lane is the modern post office where Terry Simpson is the live-in postmaster.

"No we're not from North Staffordshire," he laughs almost before I ask. "We're from Devon and we were looking for a business to retire to. Having looked at one or two post offices we decided that Wetley Rocks suited us and we've been here ten years."

I supposed that the scenery and the rocks were a major draw.

"Not really," says Terry. "When you've lived on the edge of Dartmoor overlooking the Tors – well, Wetley Rocks is just a lump of rock by comparison. But I do love the walks."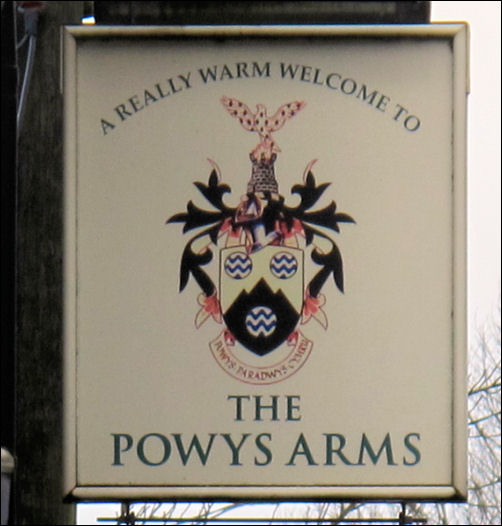 The Powys Arms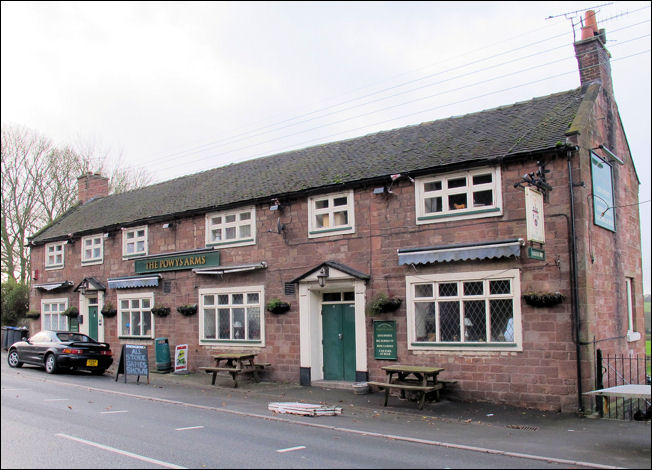 Powys Arms public house, the last one of three pubs left in this long village
I begin to wonder if there are any locals in Wetley Rocks. Terry mentions a couple of names but couldn't say where they live so I make my way to the Powys Arms public house, the last one of three pubs left in this long village. Gary Underwood and his wife Janice have just moved into the Powys Arms: more newcomers?

"That's right, I'm not from Wetley Rocks, I actually come from the Meir," says Gary. "Keeping pubs has been my business and I've been all over – Hanley, Cobridge, Leek – that was my last pub, the Red Lion. I wanted a pub selling food not a restaurant selling beer if you know what I mean.

So we've settled on Wetley Rocks where the children can stay near to their schools. And there are there a few acres of field attached to the pub which will be great in summer as I plan to open it for customer use."

It was, at last, time for my challenge on the heights of Wetley Rocks and ten minutes later grunting and puffing, I pulled myself through the tangled gorse with the aid of a conveniently placed handrail. Ok it isn't Everest and it does make you take note that there's much more sand in the bottom of the hour glass than in the top. But the expedition is worth it. Miles high above Staffordshire I can see over the ridge of Cellarhead, the rugged Roaches and the wild hilly landmarks of the Peak District. Below is Sue's English church, Terry's new post office, Gary's Powys Arms and I can just make out Fred, Clem and Lynn's faithful Labrador. Standing next to Sue's crosses I feel colossal: I feel like Gulliver in the Land of Lilliput!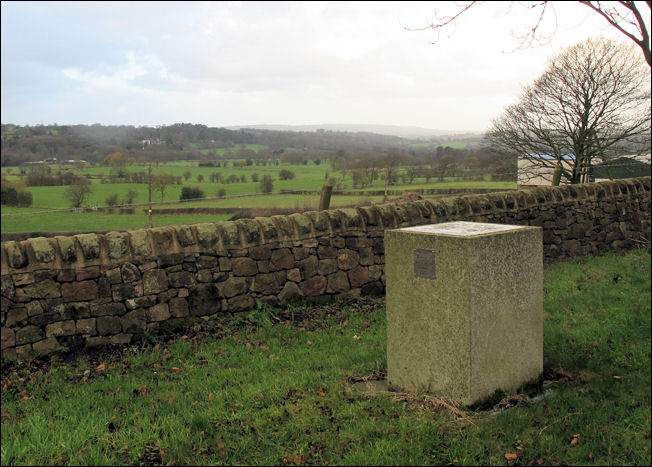 The topograph on Main Road, Wetley Rocks
The view over to Westwood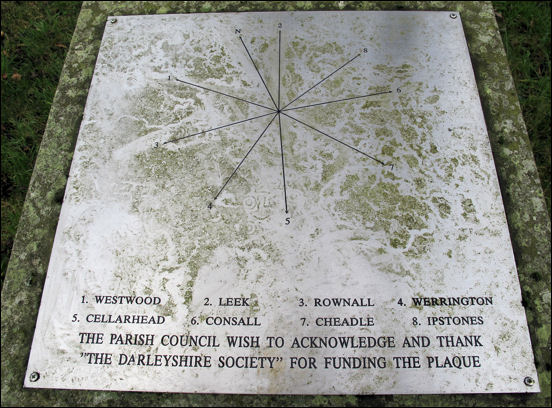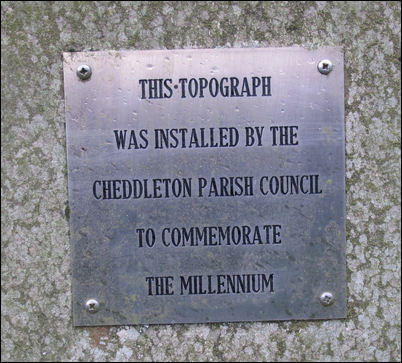 This Topograph was installed by the
Cheddleton Parish Council to Commemorate the Millennium
Fred Hughes - 2006