Thomas Wedgwood
b. 14 May 1771;
d. 11 July 1805

Thomas (fourth son of Josiah Wedgwood) was a leading scientist in his day. In the early development of photography he managed to produce impermanent images on cloth and white leather.

Notable attempts to capture the images made by light on light-sensitive chemicals had been pursued by the British scientists Thomas Wedgwood and Sir Humphrey Davy at the end of the 18th century.

Thomas was schooled mainly at home before a brief spell at Edinburgh University from 1787 to 1789. This was curtailed by persistent headaches, and upon leaving he worked for the two years to 1791 in his father's potteries. Once more ill health forced him to leave and he spent the ensuing years travelling around England associating with other wealthy sons.

Despite his obvious spark of genius, Thomas Wedgwood never achieved much more in his life. He suffered continuously from a mysterious illness and, as a consequence, spent most of his life after 1791 seeking cures abroad, including Germany in 1796 and the West Indies in 1800. Despite the best attentions of Erasmus Darwin, who prescribed him opium, his mysterious complaint eventually claimed him in 1805.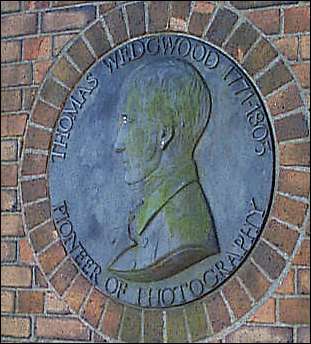 Thomas Wedgwood 1771-1805 Pioneer of Photography
Plaque in Etruria Park

on the plaque
In 1802 Thomas Wedgwood together with Sir Humphrey Davy presented a paper entitled "An account of a method of copying paintings upon glass and of making profiles by the agency of light upon nitrate of silver." He had worked closely with Davey, and their work was very nearly a breakthrough, for they had made what one can best describe as photograms. However, they were unable to fix the images, and the story is told that Wedgwood was reduced to examining his pictures furtively by the light of a candle. They also tried using a camera obscura, but the chemicals being used at the time were not sufficiently sensitive.

In the report to the Royal Society, June 1802, Davy wrote:
"The copy of a painting, or the profile, immediately after being taken, must be kept in an obscure place. It way indeed be examined in the shade, but, in this case, the exposure should be only for a few minutes; by the light of candles or lamps, as commonly employed, it is not sensibly affected."
Wedgwood died three years later, aged 34. What neither he nor Davey could find (a method of 'fixing' the photograph) was discovered in 1819 by Sir John Herschel.