Gertie Gitana - photo c. 1920

Gertrude Mary Astbury [her stage name was Gertie Gitana] ....

the Staffordshire Cinderella was born at Shirley Street, Longport, Stoke-on-Trent on December 27th 1887.

She was to become a firm favourite with British music hall audiences. She had a sweet, childlike voice that suited her famous signature tune 'Nellie Dean'.

Gitana is Italian for 'little gypsy'. At the age of eight she made her professional debut on the stage of The Tivoli in Barrow and at the age of 17 topped the bill for the first time at The Ardwick Empire, Manchester. Her earnings rose to well over £100 per week and her name could fill any hall. On 9th August 1907 an audience heard her sing Nellie Dean for the first time and it was an instant success.
Her first appearance was at the age of four as a member of Tomlinson's Royal Gipsy Children. In 1896 she made her debut proper, billed as Little Gitana, at the Tivoli, Barrow-in-Furness, where she sang 'Dolly at Home.'
She reached London in 1900. Thereafter she gradually became a firm favourite with music hall audiences all over the United Kingdom, appearing at nearly all the major houses. Her repertoire of songs included 'A Schoolgirl's Holiday,' 'When the Harvest Moon is Shining,' 'Silver Bell,' 'You do Look Well in Your Old Dutch Bonnet,' 'Queen of the Cannibal Isles,' ' Never Mind,' 'When I see the Lovelight Gleaming,' and 'Nellie Dean.' The last, which particularly suited her sweet, childlike voice, became her signature song, and was so familiar that for many years the 'Nellie Dean' public house in London's Dean Street, Soho, boasted a gallery of photographs of the popular singer. She made a number of gramophone recordings in London of which the first, dating from 1911, 1912 and 1913, were on the Jumbo label.

Public house "Nellie Dean" in Dean Street in the theatre area of London
The street and pub were re-named in honour of Gerti Gitana
---
In the 1914-18 war she was the Forces' sweetheart and was always ready to entertain in hospitals. After the war she appeared in pantomimes as Little Red Riding Hood, Cinderella and as a diminutive principal boy. Two musical shows were specially written for her 'Nellie Dean' and 'Dear Louise' and she married her leading man in the latter - Don Ross. (Don Ross of the road show "Thanks For The Memory"). Gertie also appeared in a Royal Command Performance.
Her final appearance was on 2nd December 1950 at The Empress Theatre, Brixton. She died of cancer in January 1957 and was buried in the churchyard at Wigston Magna, Leicester, with her husband.
Her name lives on on Cockney rhyming slang - Gertie Gitana - banana
Gertie is reputed to have financed her brother George Astbury who was a cycle dealer and builder of G.A. cycles at 42, Great Cambridge Road, London, N.17
Frederick Street in Hanley, Stoke-on-Trent was renamed Gitana Street in her memory
On Princes Street, Edinburgh (up near the galleries), there is a bench which just says:

In loving remembrance of Gertie Gitana
Music Hall Artiste "There's an old mill by the stream, Nellie Dean."


see more on Gertie Gitana - including the 1891 and 1901 census details
---

The 'Stage Door' public house in Gitana Street, Hanley, Stoke-on-Trent
previously this pub was named "Gertie Gitana's"
It takes its current name from the old Theatre Royal - the rear of which stands opposite.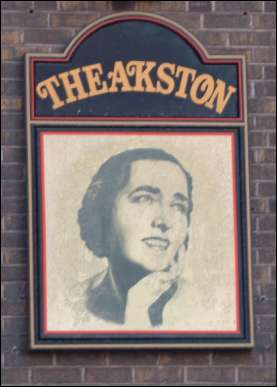 Gertie Gitana
portrait on the pub building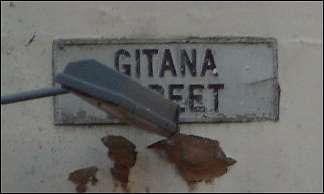 Gitana Street
previously known as Frederick Street and renamed in the 1950's
in honour of Gertie Gitana
---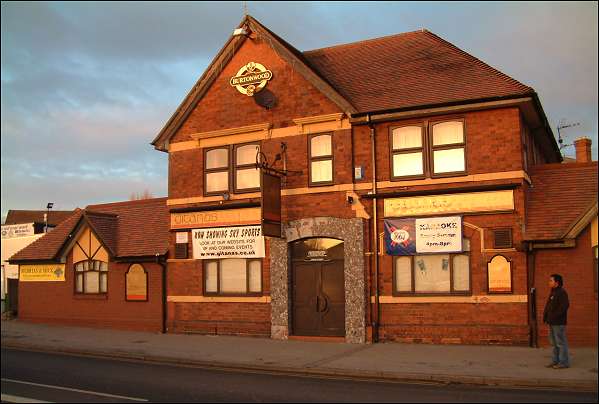 'Gitanas' on Hartshill Road, Hartshill, Stoke-on-Trent
The site of the former Union Inn was an original 1830's beerhouse.