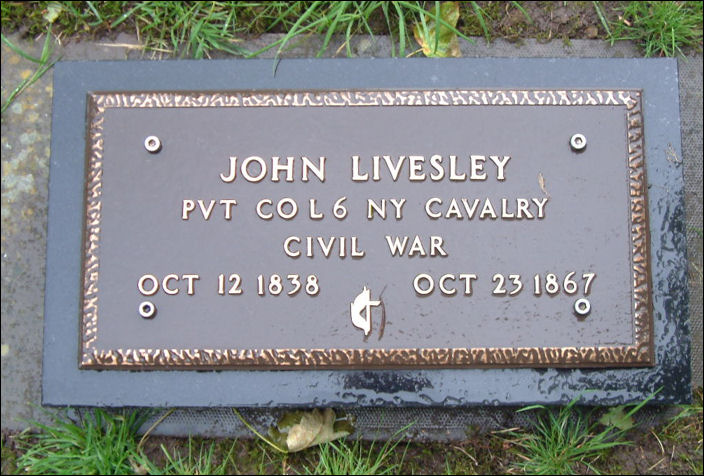 bronze plaque to the memory of John Livesley who died in the American Civil War
JOHN LIVESLEY / PVT CO L 6 NY CAVALRY / CIVIL WAR / OCT 12 1838 OCT 23 1867
The memorial is a standard simple plaque provided by the US Government
- the plaque was unveiled by Mr Huth Troth - it was laid on the tomb in 2003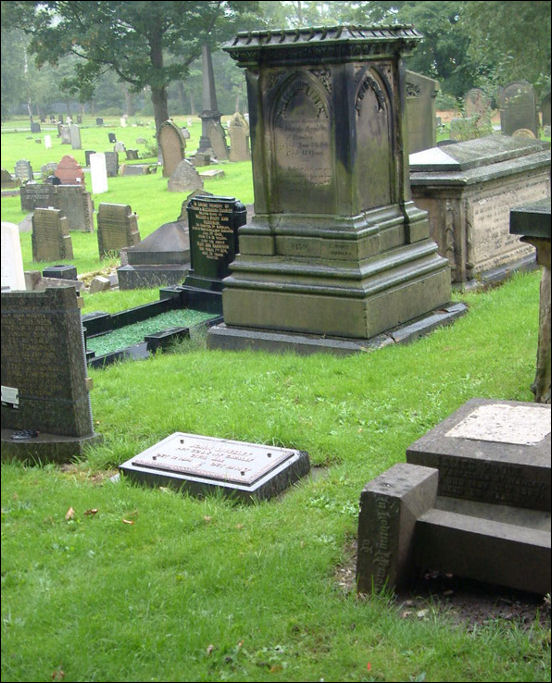 Born in Shelton in 1838, John Livesley was the son of a pottery manufacturer.
He was on a trip in New York in January 1864 when he was enlisted into the 6th Regiment New York Cavalry and fought on behalf of the Union. Details on his enlistment are unclear, but suggestions have been made that he was drunk.
However, his military career was short, and he lost an arm and a leg after being shot eight months after joining up.
John returned home to Stoke-on-Trent and set up as a grocer in Lichfield Street, in Hanley, marrying local girl Ellen Twigg in 1866. But John Livesley died just four months later, aged 29, having possibly never recovered from his wartime injuries.
He was buried in Hanley Cemetery, 137 years later a simple bronze plaque was put on his burial spot.
---
Members of the American Civil War Society visited the plaque erected in Mr Livesley's memory in Hanley Cemetery on the 2nd September 2011. Donning traditional uniforms, they laid flowers in his memory .

Members of the American Civil War Society at a re-enactment weekend at the grounds of Etruria Industrial Museum, next to the Caldon Canal.
photo: Sentinel Newspaper