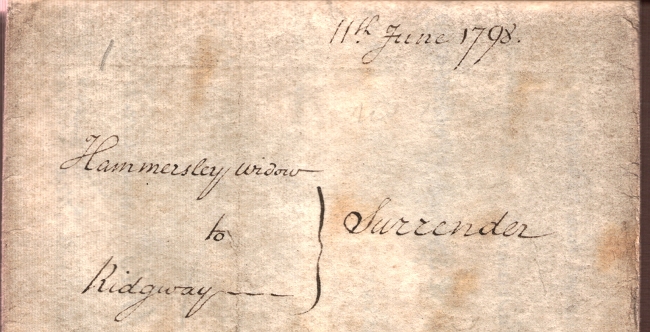 ---------- text of deed ----------
Manor of Newcastle under Lyme
The Special Court Baron of the most Noble Granville Leveson Gower Marquis of Stafford, Lord of the said Manor held at Penkhull within the said Manor the Eleventh Day of June in the year of our Lord one thousand seven hundred and ninety eight. Before Thomas Swinnerton Deputy of Thomas Sparrow, Gentleman Steward and in the presence of George Wilkinson and John Rudyard, Copyhold Tenants of the said Manor.
To this Court came Amey Hammersley of Shelton within the said Manor. Widow, in her proper person and Surrendered into the hands of the Lord of the said Manor by the Rod according to the custom thereof All that plot or piece of Land part of a certain piece of Land called Hanley Hays situate in Shelton within the said Manor and formerly the Estate of John Simpson deceased and by him Surrendered to the said Amey Hammersely at a Court held for this Manor the thirteenth day of September One thousand Seven hundred and eighty nine containing by mensuration Ninety two yards be the Same more or less and lying between the Dwelling house of the said Amey Hammersly and certain Buildings of Charles Bagnall which have this day been surrendered to him to the use of Job Ridgway herein after described. Together with liberty to build upon the Wall of the said Amey Hammersley which is lineable with the Gable end of the Dwelling house and also to lay and tie into such Gable end, and all Ways Easements and Appurtenances to the same belonging To the use and Behoof of the said Job Ridgway of Shelton aforesaid potter his Heirs and Assigns for ever.
To this same Court came the said Job Ridgway in his proper person and prayed to be admitted Tenant to all and singular the premises at this same Court Surrendered to his use as aforesaid to whom the Lord of the said manor by his said Deputy Steward granted Seizin thereof by the Rod according to the Custom of the said manor. To Have and to Hold the premises aforesaid with their Appurtenances unto the said Job Ridgway his Heirs and assigns for ever at the Will of the Lord of the said Manor according to the Custom thereof by the Rents and Services therefore due and of right accustomed and be paid to the Lord for a fine of one penny and was admitted Tenant thereof.
Examd.
T Swinnerton
Depy. Stewd.