POTTERY MACHINERY
The potter's wheel is the earliest machine of which we have any record ; and yet, strange to say, no appliances have received so little development or improvement as those used by the worker in clay. The distaff and spindle have long been superseded hy the spinning jenny ; but the potter's wheel still remains practitically the some rude contrivance that has been known from the earliest ages.
Remarkable as is the manual dexterity of the potter, enabling him to turn out articles of the same pattern with almost incredible rapidity, the keen competition of the present day calls for a still greater production, with a simultaneous reduction of wages. The application of power to potting is not such an easy problem, considering the great and rapid variations required in the speed, and in some cases a reversing of the motion.
When the "thrower" does not turn the wheel with his feet, the motive power is generally supplied by women or children, who soon learn when to turn fast or slow by watching the work as it proceeds. If not absolutely the first to apply power to potting machinery, Mr. Wm. Boulton, of Burslem, may claim credit for having been the first to bring about a practical solution of the question ; and the series of various machines which he has put up at the works of Messrs Wedgewood, Etruria; Messrs. Minton, Stoke-upon-Trent, and many other well-known firms, justifies his title of potters' engineer.
In arranging works Mr. Boulton dispenses, as far as possible, with line shafting, and drives the various machines by a continuous rope, preferably of cotton, always running, and brought by a friction pulley into contact with the machines as required.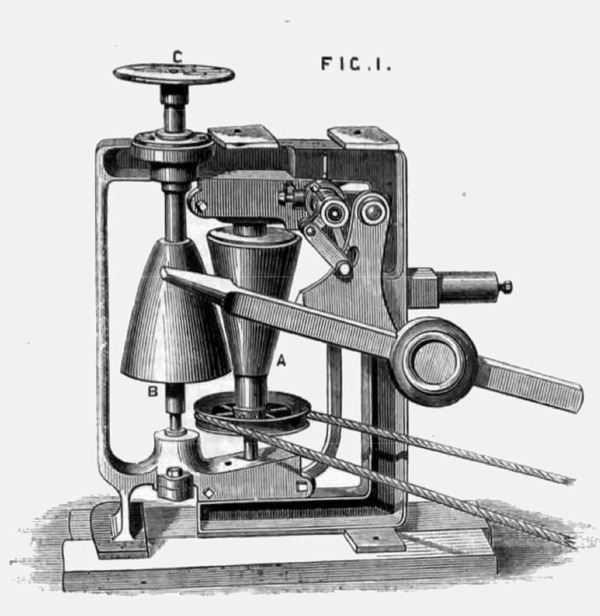 Fig. 1 the improved potter's wheel
Fig. 1, page 475, shows the improved potter's wheel. The inverted driving cone A, continually revolving is, by means of the lever and links made to touch the somewhat rounded driven cone B, with a varying portion of its surface, so as to give a great range of speed to the head C, on which the clay is placed.

---
Fig. 2 is an elevation, and Fig 3 a plan, of a similar machine, arranged to form one of a series.