Why did Clarice Cliff become so famous?

Index page for A.J. Wilkinson
Colourful Clarice Cliff
Originally regarded as cheap, practical and cheerful,
Clarice Cliff's pottery is now admired and sought after
by collectors the world over.


Born into a working-class family in Stoke on Trent, Clarice Cliff succeeded, by gritty determination and extraordinary talent, in becoming a ceramic designer of international repute. Her boldly coloured, hand painted pottery quickly earned her the title, Sunshine Girl.
Clarice Cliff's ranges, daring for their day, initially involved bright colours applied to whiteware in bold geometric designs. Spring 1928 saw the launch of the first range, dubbed, after her own suggestion, Bizarre Ware. The name 'Bizarre' was designed to attract attention and subsequent interest was carefully generated by way of practical demonstrations. At the entrances to major department stores in London, Bizarre Girls demonstrated how plain whiteware was given a new and dynamic lease of life upon having a Clarice Cliff design skillfully applied to it.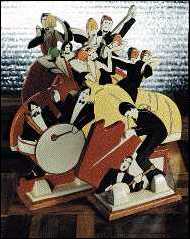 Age of Jazz dancers and musicians, 1930.

Following the range's initial success, more craftsmen and women were added to the team and both patterns and colours were quickly standardised to speed up production. Above all else, Clarice Cliff strove for, "colour and plenty of it ... I cannot put too much of it into my designs to please women." Floral patterns quickly followed the early abstract geometric designs and the
Crocus pattern, in which three or four simple, downward strokes formed the petals of each flower and thinner strokes formed the green leaves, was immediately successful, continuing to be so throughout the 30s.

The designs had universal appeal and customers were able to purchase Cliff pottery from many retail outlets, including Harrods, Liberty, Lawleys and Barkers. The Applique range is the most sought after nowadays but in the 1930s it was the Inspiration range that commanded the highest prices at Harrods. These particular wares were purposefully aimed at a more discriminating, affluent market and are extremely distinctive, since they were fired at unusually high temperatures.

Clarice Cliff astutely appreciated that innovation was of paramount importance. She was forever introducing new patterns to the market and an incredible total of over three hundred and fifty patterns were developed by Clarice Cliff and her workforce.

The designs were perceived of as attractive novelties and sold effortlessly. They were said to have brightened up many bored housewives' lives. Clarice Cliff's overwhelming success may be attributed to the timely introduction of her distinctive and robust pottery into a depressed market place, during an epoch of economic hardship. Numbered amongst her clients were celebrities from the world of stage, screen and radio, and fashionable women's magazines enthusiastically commissioned select sets of dinner and tea-ware for their readers.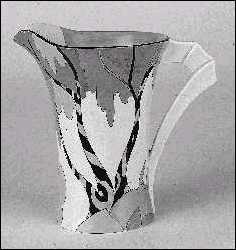 Honolulu pattern daffodil jug.

These same designs have maintained their appeal, and today Clarice Cliff's work is extremely collectable. Although there is a broad variety of individual items available on the market, each piece has its own unique decorative characteristics. Chargers, large flat dishes, traditionally elicit high prices at auction. In November 1994, at Christie's South Kensington, a rare, vibrantly coloured charger sold for £12,100 setting a new world record for any piece of Cliff pottery. The semi-abstract charger depicted Mount Etna against a blood red sky full of bright yellow clouds.

At any Clarice Cliff auction there are items to suit all pockets. Conical sugar sifters, for example, are avidly sought by collectors worldwide, with estimates starting at about £50. As in most of Clarice Cliff's work, their value springs from how well suited the pattern is to the shape of the piece. Rather than collecting different shapes many collectors focus their efforts on one particular shape, in as many different patterns as they can find.
About eight years ago, when interest in Clarice Cliff pottery skyrocketed, large examples were at a premium. However, the emphasis has altered over the years and collectors are increasingly interested in smaller wares. Sugar sifters are enormously popular: they make visually stunning collections, whilst fitting into relatively confined spaces. Coasters, on to which part of a particular Cliff pattern was painted, have grown increasingly popular and can fetch between £50 and £80 at auction. Ashtrays were also given the Clarice Cliff treatment but although widely available and skillfully decorated, they remain surprisingly unpopular ­ probably due to contemporary society's growing aversion to smoking.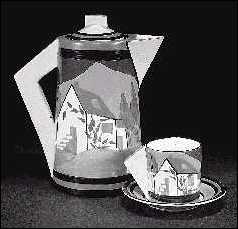 Applique Lugano coffee pot and coffee cup
and saucer which sold at auction
in April 1995 for £2,250 and £675.

In some twentieth century ceramic fields, damage of any sort results in the item losing a quarter to two thirds of its value. This is certainly not the case with Clarice Cliff pottery. A chip to a saucer, for example, is unlikely to devalue the whole tea set and minor damage to larger pieces usually involves only insubstantial devaluations.

Mark Wilkinson, Clarice Cliff specialist at Christie's South Kensington, suggests that the best way to determine whether a piece has been restored is to examine the unpainted areas since the honeyglaze body of the ware is extremely difficult for restorers to invisibly repair.




Christie's South Kensington, Leonard Griffin, Richard Green and Muir Hewitt helped with this feature.
Christie's S Ken hold regular auctions entirely devoted to Clarice Cliff.
0171 321 3152
Shops with large selections of Clarice Cliff Pottery:
Rich Designs,
1 Shakespeare St, Stratford upon Avon
01789 261612
Muir Hewitt, Art Deco Originals, Halifax Antiques Centre, Queens Road Mills, Queens Rd/Gibbet St, Halifax
01422 347377
Banana Dance, Unit 20, Northcote Road Antiques Market,
155a Northcote Rd, Battersea, London SW11
0181 699 7728

Adapted from an article in


Questions, comments, contributions? email: Steve Birks