Crown Devon
The Crown Devon story started in the early 1870s when Simon Fielding put his life savings into the Railway Works in Sutherland Street, Stoke-on-Trent. But within a few years, the bailiffs came in and it was Simon's son Abraham, who stepped in to save the company.
Majolica ware was in fashion and Abraham started to produce it in abundance. S. Fielding and Co flourished and expanded, introducing a vast range of new products. The Crown Devon backstamp appeared on a number of patterns from the 1880s although it was 1912 before the Railway Works was renamed The Devon Pottery.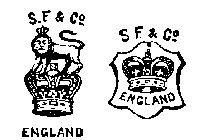 The Fielding marks
The word Fielding impressed started it all in 1878
followed by several backstamps with the initials
S F and Co.
New marks with the accent on Crown Devon
were introduced around 1910.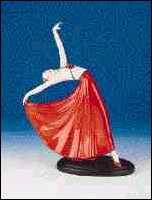 Stunning figure by Kathleen Parsons, £ 400 plus.

The name Crown Devon was synonymous with quality but its wares also brought a bit of fun to thousands of people. Many items, produced for a few pence in the 20s and 30s, are now worth much more than people think! Here are a few examples:
Majolica
Fieldings were a major exporter of this ware to the States, where you may find it today. It's not easy to pick up in this country and it's not cheap. Prices for a small piece start at around £ 100 and, while most examples are " attributed to Fieldings " , those with the impressed Fieldings mark and the diamond registration are very rare. A collector came across three items in Toronto last spring, all in the popular scroll and fan pattern: a small plate at £ 120, a 6 " milk jug at £ 200 plus, and a sardine dish, over £ 400.
The Royals
Produced in the latter years of the last century, in more than a score of different patterns. The most popular today is Royal Devon and examples vary from a match striker at around £ 50, to a three piece jardinière and stand at well over £ 1,000.

Other popular patterns are Royal Chelsea, Royal Sussex and Royal Stuart and these command high prices. Down the scale come Royal Windsor, Royal Kent and Royal Kew but the one to look for is Royal Scotia.
The painted pieces
The pre-1914 era saw the artists who made Crown Devon collectable in South Africa, Australia, New Zealand, Canada and the States. Their products were sometimes called 'Poor man's Worcester' but not so today. A pair of Highland cattle vases with covers, about 13 " high, will cost £ 650 at least and the same vases with retrievers by Hinton are worth £ 150 more.

Plaques painted by Lamonby, Cox, Marsh and company in pheasants, dogs, peacocks, cattle and cranes were fetching £ 650 years ago. I haven't heard of one at auction for ages but today's hammer price must be near four figures.
Musical novelties
These were produced both before and after the last war in a host of designs, some specifically for the South African, Australian and New Zealand markets.

The John Peel tankard which cost a few shillings in the 30s can now be bought for around the £ 60 mark. Tankards go up in price to £ 250 for the " foreign " ones but the daddy of them all is the Sandy Powell musical mug which changed hands not so long ago for £ 650.

Souvenir series
Coffee cans, jugs and other seaside novelty wares, produced by the million in the 30s, could be found all over the place a few years ago for a pound or two. Now they're £ 10 to £ 15.

Ivrine figure Introduced in 1919 and produced for more than a decade, these have always been quite rare and prices have escalated by more than 100 per cent during the past three years. The cheaper ones - Retriever, Stork and Cockerel - cost around £ 250 but the price jumps to £ 350 and more when you come to John Bull and his bulldog, Madame Pompadour and Vanity.
Art deco figurines
Most were modelled by Kathleen Parsons. Cellulose figures are most common but condition varies. A nice one can cost well over £ 100. Underglaze figures such Bathing Girl, Windy Day and Beach Girl have already topped £ 500 at auction.

A series of nude figures by Kathleen Parsons is very collectable - at a price. I'm told that some of the reps were reluctant to take the figurine samples home in case their wives saw them. Things have changed since then!

Champion dogs' heads Nine dogs' heads, modelled by Kathleen Parsons in the 30s, are getting harder to find and more expensive. Prices start at around £ 100, and the top models - Alsatian, bulldog and Dalmatian - are nearer £ 150.

The Crown Devon story goes on...there were clocks, clowns, musical chamber pots, Lustrine ware in ruby, blue, green and orange, boxed coffee sets and bridge sets and even a musical dog kennel.

It was a sad day when the Pottery closed in 1982 but now, 15 years later, the products of the factory in Sutherland Street are sought after more than they have ever been.




Ray Barker is author of The Crown Devon Collectors Handbook. He wrote the first book on Crown Devon in 1991. (It sold out in under two years and copies now fetch twice the original price.)
£14.95 inc p&p from: Francis Joseph Publications, 15 St.Swithuns Rd, London SE13 6RW.

Adapted from an article in


Questions, comments, contributions? email: Steve Birks