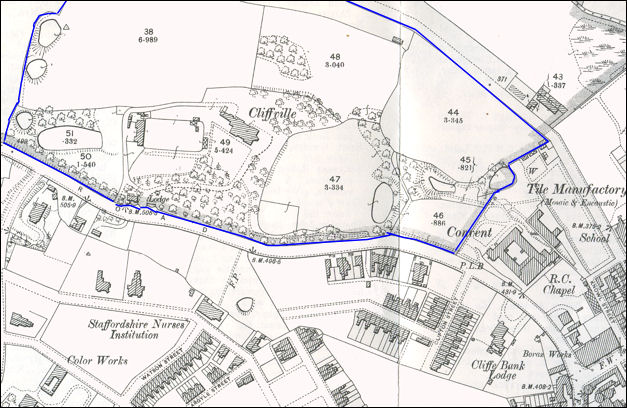 Cliff Ville - the home and gardens of Frederick Geen
on Hartshill Road
from an 1898 OS map
The mansion known as Cliffe Ville (or Cliff Ville) was built by John Tomlinson, a solicitor, in 1808. It became Geen's home where, in 1913, he entertained King George V and Queen Mary when they formally opened the Kings Hall in Stoke. In 1922 the house was acquired by the nuns at the nearby Dominican Convent and became St. Dominic's High School.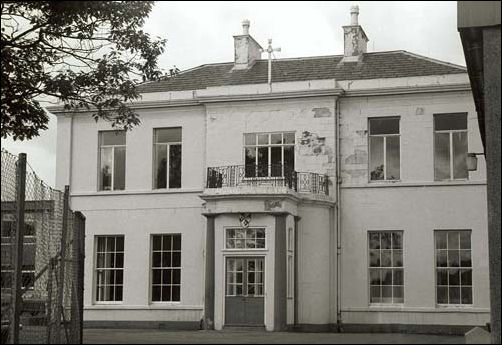 St. Dominic's School, Hartshill Road, Stoke
This two storey school building has a large drive and surrounding gardens. Some windows and doors have been modified and various later buildings have been attached. It stood on Hartshill Road which was previously named Stoke Road.
photo: © The Potteries Museum & Art Gallery
Staffordshire Past Tracks
Later a new school was built neared the convent and in 1988 the house was demolished. Now a small housing estate sits on the site of the house. Much of the grounds and some of the ponds are still in existence as Hartshill Park.

"The area designated as Hartshill Park has a varied history of land use. During the Domesday period it formed part of a vast deer park, Cliff Hay, mentioned in 1204. Hart is the name of a male deer and these were bred for the King to hunt in mediaeval times. Hartshill as a place name is recorded in the 16th century.

The park was also known as Castle Cliff because it was part of the royal manor of Newcastle and its oak trees were used to repair the castle there. It still existed in the 15th century because the hedges and posts which enclosed it were repaired then. The area the present park occupies is formed from the remains of two estates - Cliff Vale and Hartshill Farm."

"The mansion known as Cliff Ville was built by John Tomlinson, a solicitor, in 1808. John Tomlinson died in 1838. In April 1864, F.W. Tomlinson is registered as owning 13 acres of freehold. Cliffeville then passed to the Stamer family. In 1892 the sale of Cliffeville was authorised under the act of 1889. See p.186 'A History of the County of Stafford vol. VIII J.G. Jenkins' for sources."

"A grotto where a statue of Our Lady was placed during religious festivals and processions still stands in a commanding position at the top of the pools.
Many features of the garden area are waiting to be rediscovered, including a stone capped wall with a gateway leading to a hidden garden. There is also the use of local materials to build hard landscaped features, and a possible seating or viewpoint which has lost its view."

The same area in 2008 - from Google Maps