Historian Fred Hughes writes....
Stoke-on-Trent is a short year away from commemorating its centenary as a federated county borough. In 1910 the separate district administrations of six principal towns decided to chuck their lot in together and have a go at being a single-managed local authority.
"For generations the separate towns had shared the common resources of subterranean mineral wealth and delivered the collective skills of art and manufacture and talent in retailing and exporting it. In plain terms it made good sense to pool these resources," considers Potteries' historian Steve Birks.
"But it was a nervous beginning with some of the parties having to be persuaded kicking and screaming. Nevertheless it was successful – so successful that after fifteen years the Federated towns were rewarded by King George V who conferred upon it the status of City of the Realm."
Stoke-on-Trent is one of only 50 local government districts and civil parishes in England that have the right to claim city status. It may have been seen as an upstart alongside such bastions of the Roman Age as Bath and Chester, or centres of learning like Oxford and Cambridge, or the religious cities of Canterbury and Winchester, and the major gateways of international trading Liverpool and Bristol, or reforming municipalities like Manchester and Birmingham. Nevertheless, Stoke-on-Trent sits proudly on the list. How it achieved this can be explained by who did what, when, and how. More importantly does the city's motto – Vis Unita Fortior (united strength is stronger) still hold up.

"I can see that four important basic elements influenced its rise and subsequent realization in becoming one of the world's most important manufacturing centres and its development as an independent society through social enlargement," offers Steve. "The first clearly lies in its mineral assets. The second is the resolve and excellence of the artisans that dug out the coal, iron and clay and moulded it into a superior and saleable product. Third is its proximity with natural marketplaces, in particular Newcastle-under-Lyme which is really the seventh town. But most important is the quality of civic administrators both elected and appointed."
Much of the key research on North Staffordshire's municipal constitution was produced by John Ward his in seminal work, The Borough of Stoke on Trent, in 1843.
"Ward wasn't a local man," continues Steve. "He was born in Leicestershire in 1781 and became a qualified solicitor. Like many enterprising prospectors he was attracted to the soaring opportunities of the Potteries during the Industrial Revolution when many support-industries settled in the new expanding towns. Ward was 28 when he came to Burslem in 1809 where he secured the representation of a number of civil agencies. He became chief constable of the town and a licensing commissioner. But his interest in local history was his overriding passion."
Ward joined forces with a Manchester printer and schoolteacher name Simeon Shaw who was teaching at an academy in Northwood Hanley. Shaw was an antiquarian collector and shared his research with the famous Burslem potter Enoch Wood who was, in the first decades of the 19th century, already an established civic leader. A published historian, Shaw teamed up with John Ward to write a series of articles recording the history and Parliamentary Union of the Borough of Stoke on Trent from 1832. And it was the ground-breaking Reform Act of 1832 that provided the spark and the backdrop to this history.

"The 1832 Act revised many of the earlier manorial boundaries into electoral constituencies," says Potteries' academic historian Richard Talbot.
"It identified eleven existing townships in North Staffordshire – Tunstall, Burslem. Hanley, Shelton, Penkhull-with-Boothen, Lane End and Longton, Fenton Vivian, Fenton Culvert; the Hamlet of Sneyd and the Vill of Rushton. These locations were specific divisions under the manorial Courts Leet and Courts Baron that implemented and upheld local feudal and medieval rules. One of these courts sat at Penkhull every third Thursday in a local farmhouse near the Greyhound pub. In 1540 the Greyhound became the Manor Courthouse of the more important Newcastle-under-Lyme from 1558 to 1829. The building was enlarged in1704 and subsequently reconstructed in 1936 to what we more or less see today."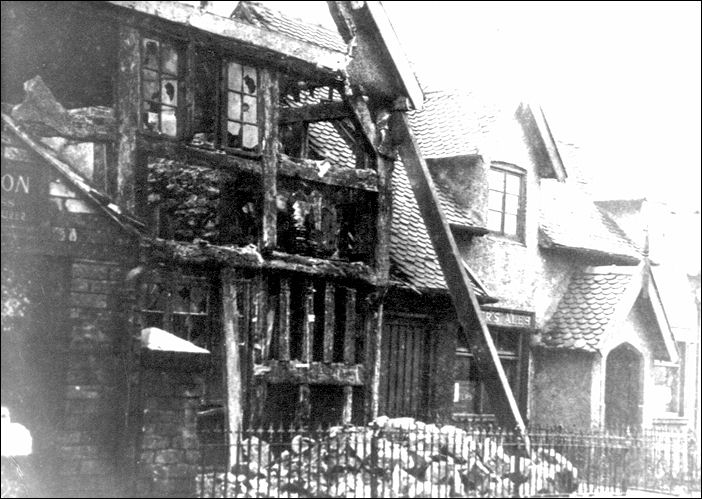 The Greyhound under reconstruction in 1936 after fire damage
Very little of the original sixteenth-century oak frame is preserved. But a stone chimney inside a lounge is unique also a rear timber-framed wing and a room on the north side.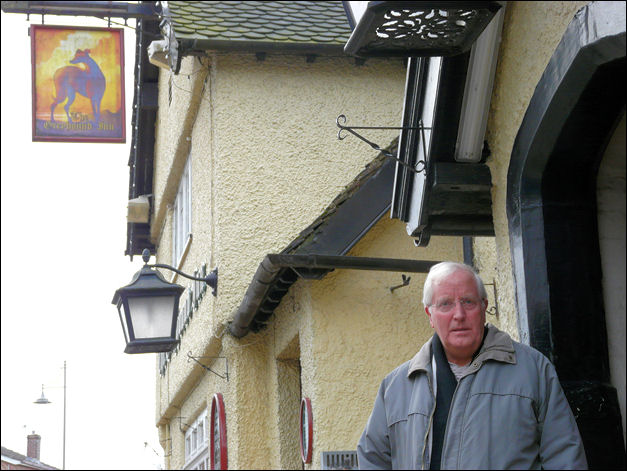 Richard Talbot outside the Greyhound, Penkhull
"Until the Reform Act the district was represented in parliament at county level," says Richard.
"The Industrial Revolution had seen many towns grow rapidly from a collection of villages into decent size communities. Yet they had no independent parliamentary representation. The Reform Act took the new industrial towns into consideration by enfranchising all males with property of a rateable value of £10. It did away with corrupt pocket boroughs – constituencies with an electorate of fewer than 2000. And it created 22 new constituencies not previously represented, one of which was the new borough of Stoke-upon-Trent. It's first two MP's were Josiah Wedgwood II and the Burslem potter John Davenport. Little did they know then but these were the first steps to Federation."