"But Trentham Hall was virtually abandoned by the Sutherlands in 1905," says Potteries historian Steve Birks. "Cromartie Sutherland-Leveson-Gower (1851-1913), the 4th Duke was the last here. After him the estate was sold in 1919. That effectively saw the end of this eminent North Staffordshire family. And where are the Sutherlands now? The direct line ended with the childless 5th Duke in 1963. The Earldom passed to a niece Elizabeth, the current Countess, while the Dukedom passed to a distant male heir, a Scottish peer Francis Ronald Egerton."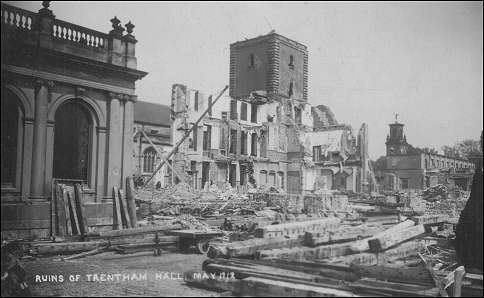 Demolition of Trentham Hall - May 1912

So what has this to do with the federation of Stoke-on-Trent?
"Well the 3rd Duke, George Granville, inherited Trentham in 1861 at the height of the Industrial Revolution," explains Steve. "George and his son Cromartie were concerned by the pollution of the River Trent as it passed through the estate. The furious Sutherlands issued a number of injunctions against the Potteries' towns to prevent the continuing contamination. To use their words, 'the polluted state of the Trent is a terror to Trentham'."
This was a period when the hall was in a bad state of repair and there's no doubt they wanted to get out. So why did they strongly support federation if they were leaving? Would they have stayed if the river had been cleaned? And why did they want to give it away?
"Who knows," says Steve. "Certainly as far back as 1902 the Sutherlands were petitioning against Fenton Council for permitting the discharge of sewage and sludge from the potteries. They reckoned that Fenton council was negligent in preventing the wilful pollution by some factories that were dumping toxins into two tributaries of the Trent known as Chittlings Brook and Longton Brook. Cromartie, who was at the time mayor of Longton, claimed that effluence rendered the water unfit for his cattle to drink. Even worse, the offensive stench caused intolerable nuisance not just to him but to the general public of Trentham. He asked the court for £1000 in damages and a restraining order against Fenton Council preventing the dumping of sewage and filthy water into the Trent feeders. But the petition failed and that's when, in 1905, he first offered the hall and 200 acres of land to the County Council as a gift, but they turned it down. In 1907 he again offered the hall and land this time to the Potteries' towns to make a park, but only on condition that federation went ahead. Once again the offer was declined.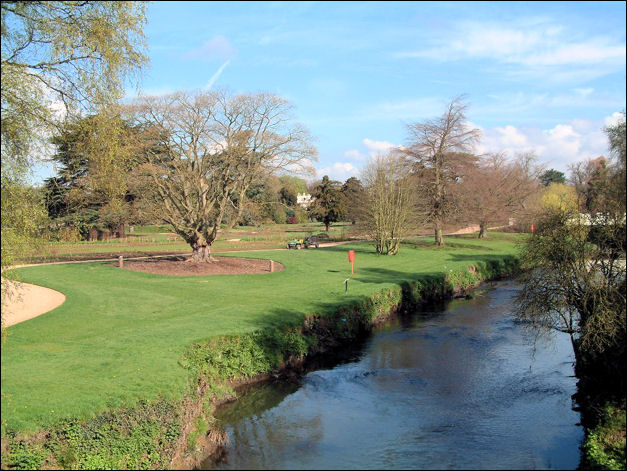 the River Trent as it passes through Trentham Gardens
photo: May 2008
There's no doubt Cromartie was an activist for federation. When he gave evidence at the federation enquiry in 1908 the Duke again placed on written record the pollution in the Trent. Perhaps he thought it would be easier to persuade a federated borough to take action than an impoverished urban district council. Anyway he didn't wait around. The hall was demolished, apart from the west front and stable block. And off he went."