These began at Hanley on the 15th of August 1842. A strike of colliers had occurred some weeks before. This event had deepened and intensified the general discontent and poverty of the whole district. People in large numbers were living on the verge of starvation. Some praiseworthy efforts were made to relieve this distress, but these were fitful and narrow in their scope. The only sure source of relief offered was one repulsive to the bulk of the sufferers—"The Bastile." To this many were driven by dire necessity. I cannot but think of the contrast afforded between the time I am now referring to and the condition of things to-day.
I am now writing in a district where a strike or a lock-out has existed for twenty weeks. During this time thousands of pounds have been contributed to the relief of the suffering, so much so that very few cases of deep need exist. Fifty years ago I could have found more acute suffering in a population of 7000 inhabitants than I can see to-day in moving among a population of 160,000.
So much for the difference caused by a beneficent and Christian Socialism.
At the time of which I write there was no such Socialism. The time of figs was not yet. There was rather a determination "to put down" the masses. The people, nevertheless, were willing to work. They were even anxious to work, as some years previously trade in the Potteries had been in a fairly flourishing condition, so far as the constancy of it had been concerned. With plenty of trade, however, the long hours of labour had tended to lengthen. Wages remained scanty, and as there was no effective trade-unionism the workers did not share in the improved profits, but simply got more abundant toil.
When slackness came again, as it did about 1839, with this slackness came attempts even to reduce wages, increasing poverty and increasing exasperation of the people went hand in hand. This state of things produced a general condition of mind favourable to any change. Hopeless poverty is a fruitful soil for revolution. Chartism, just then rising into notoriety in the country, professed to be able to show the sure way to beneficent changes.
The people had no power. The people must have power, and hence the "People's Charter," which gave assurance that all this, if loyally and generally supported, would make this a glorious fact. The tyrants who had so long oppressed them would be laid in the dust. The Reform Act of 1832, which had betrayed them, would be superseded, and their newly-made oppressors — the middle classes—would be cast down as well as their ancient foes, the aristocracy and the clergy.

Such were the pleas pressed upon desperate men by fervid eloquence, and by enthusiasm which shrank from no self-sacrifice and no peril. We are all Chartists now, as it is said, "We are all Socialists now," and there can be no real wonder that principles which have conquered both Liberals and Tories in sixty years should have won the hearts of men who saw through these principles the pathway to increased constitutional power, and so the way to justice and prosperity.
There was another cause which helped on the general discontent. While the employers were becoming increasingly rampant in their exactions, pressing the utmost hours of labour at the lowest prices, there were increasing signs on every hand of their growing wealth. Men who, a few years before, had been themselves workmen or small manufacturers were now becoming large manufacturers, building big houses, and surrounding themselves with luxuries and elegancies, which were the sure signs of growing wealth. These signs were coincident with the pleading of manufacturers of the need for lower wages. The result was a deepening sullenness, a deepening defiance over the whole district. This was the common mood when "the six points of the Charter'' were brought forth like so many radiant finger-posts, pointing the people to a Land of Promise near at hand.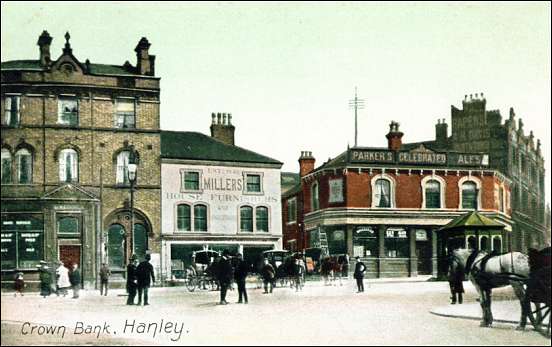 Crown Bank, Hanley - c.1900
In 1842 Thomas Cooper stayed at Jeremiah Yate's house and then spoke
at Chartist meetings here at Crown Bank near Yate's coffee house
there were 8-10,000 people at the meeting
These were the conditions prevailing when the colliers' strike occurred in July 1842. The effect of this strike was to stop many of the pot-works for want of coal, and thus to aggravate the general distress and disaffection.
I have already told of the colliers coming to a colliery near Tunstall and breaking up everything breakable on the pit bank, when the poor constable was pitched into the pond near by, and shoved back with a rail when he came near the edge of the pond. That was an ominous sign of rougher work and wilder deeds soon to follow.
After Thomas Cooper's harangues at the Crown Bank, Hanley, on the 14th of August, and on the following morning, at the same place, his fervid denunciation of the people's oppressors acted like a fell inspiration in the hearts of his hearers.
As soon as Cooper had done speaking someone cried out, "Follow me." This invitation was loudly cheered and eagerly followed. The maddened crowd swept first across the Crown Bank and nearly demolished a rate-collector's house. In increasing fury and numbers they went to Earl Granville's collieries, stopped the engines, and ducked some of the men they found at work.

In their madness they were merciless even to men of their own order. Potters too were turned out of the different manufactories where they were employed. The police office was attacked and the prisoners released. They fell on the Court of Requests at Shelton, destroying books and papers and furniture, and violently attacking the clerk.

When they arrived at Stoke they over-powered the police and tried to burn down their office. In marching to Fenton they were met by some soldiers, and were prevented doing much mischief there.

But in their journey to Longton their numbers increased, and when they arrived there they held an open-air meeting. As soon as this was over the mob broke into a wild havoc. Shops were broken open and their contents thrown out to the hungry crowd. Indiscriminate plunder was thus pursued among unoffending people. Then the rectory was marched upon, occupied by a well-known clergyman, the Rev. Dr Vale. The furniture was first destroyed, then the cellars were searched and the beer and wines in them quickly consumed, and thus further rendered reckless, the leaders set the house on fire and burnt it down. The military came upon this scene of destructive fury, and there was a fierce conflict between them and the rioters. The riot, however, was quelled here for the time and the ringleaders arrested.
But in Hanley another attack was being made upon the parsonage of the Rev. R. E. Aitkens. Here, unfortunately, more beer and wines were found, and the desperate men who drank them were ready for any villainy. This house was set on fire and its contents destroyed. From this house they went to Lawyer Parker's, and his house was soon wrapped in flames. The same fate befel the house of Mr Bailey Rose, the stipendiary magistrate.
Thus ended this day of wild destruction. Mr Ward, in his account of this matter, says that when the rioters returned to Hanley in the evening, Thomas Cooper commended them for their depredations, but reproved them for their drunkenness. This was intended, no doubt, as a sly sarcasm upon Cooper's temperance principles, but if Cooper is to be believed, it was an absolutely false statement. Such commendation would have been as wicked in its nature as it would have been perilous in its policy. Cooper's career and character have now been made known for some years, and no one now believes that Cooper was capable of such malignity as Mr Ward alleges. He never engaged in an act of violence himself, he never wilfully suggested such to others. No doubt his passionate declamations were misunderstood, but while many of his hearers forged evil purposes in their hearts by the fire of his hatred of wrong, the fire in his own heart was kindled by as patriotic and noble a purpose as ever burned in the bosom of Hampden.
Cooper was unfortunate in his time rather than in his method of advocacy. He was equally ardent in his later days, but in 1843 the "schoolmaster" had not been abroad. The ignorance of those days—the direct product of such government as the people had had for generations—was responsible for the mischief which followed, and not Cooper's smiting the wrongs under which the people suffered.
This day's work at Hanley and elsewhere on the 15th of August was a grim preparation for the following morning at Burslem. Crowds of men, with large sticks in their hands, and some, it is said, with blackened faces, marched upon Burslem. Perhaps the blackened faces were those of unwashed colliers, whose desperation had made them regardless of their toilet that morning, and for many mornings before. The mob, thousands strong, marched along singing the Chartists' hymn of the day—
"The lion of freedom's let loose from his den,
And we'll rally round him again and again."

The George Hotel as it was in the days of the riots
this is the view from Queen Street, looking across Swan Square
The rough rhyme suited the rough singers on their desperate march. Arriving at the Swan Square in Burslem, they found another mob breaking into the George Inn. This place was forced, the cellars invaded, and drink again consumed to give a fiercer fury to those who had shared in it. These two mobs having united, were attacked by a number of soldiers, but only using the flat sides of their swords. This looked like a friendly warning on the part of the military—like the gleaming of teeth which could bite in case of need.
There was also a troop of Dragoons from Newcastle, under the command of Major French, and these men were being drilled in "the Legs of Man" yard. Two hundred special constables were hiding, who, from all accounts, would have preferred to hide until the fray was over.

Contemporary reports represent these poor specials as presenting anything but a valorous appearance, even though they were being primed with the best beer. Gathering contingents of desperate and curious men came from many quarters. Seeing this, Major Powys, who was a magistrate as well as a soldier, asked those who were quietly disposed to go home.

He did this in Chapel Bank, and then in the market square. Finding this comparatively useless, he proceeded to read the Riot Act. This only produced a more menacing disposition to defy.

He again appealed to the crowd to go home, but they stood before him in resolute defiance. Then came from his lips the ringing command, "Clear the streets!" Amid the rattling of swords drawn from their scabbards came the cry. "Charge!" The soldiers then drove in upon the mob, but again only used the flat sides of the swords.
John & Thomas Wedgwood's "Big House"
Confusion and noise prevailed everywhere, but the crowd driven away in one direction returned in another.
Burslem market-place had many outlets, and these enabled the people to baffle somewhat the attacks of the soldiers. Some of these got separated in the roads, and were maltreated. This small success of the crowd fired them with greater daring, and sticks and stones were used with reckless courage.
But above the uproar of this conflict in the marketplace there came the piercing sounds from a band marching along Moorland Road. Soon there was a cry, "They are coming from Leek," and a wild shout of "Hooray." This movement led the soldiers to leave the market-place, and gallop towards the "Big House" at the Moorland Road entrance to the town.
This new mob came on, composed of weavers from Leek, Congleton and Macclesfield. The poor wretches, from all accounts, did not present a very formidable aspect. They were mostly half-dressed and half-starved. The only really vigorous men among them were a few agricultural labourers whom they had picked up on the way. Many of them carried thick sticks and thin arms.
Others mustered all the stones they could carry in torn aprons and handkerchiefs. They were a motley crew, pale-faced, and cadaverous looking. Near where they entered the town the special constables stood, and it is questionable which had the paler faces, the new crowd or these defenders of law and order. Major Powys demanded when he went out to these men what they wanted.
The reply came quick, " Our rights and liberties, the Charter, and more to eat." Perhaps if this last want had been supplied by the wisdom of English statesmen and the more generous treatment of the employers, their rights and liberties, and the Charter, too, would have been sought in quieter and more loyal ways.

"More to eat!" they cried, and who can say that their demand was unreasonable? It was the cry of divinely given appetites trampled upon by a false and wicked human policy, and when these two things come into collision, law and order, respectabilities, shams and pretences, without an element of justice, must go down or fight for ascendency.
Major Powys, soldier-like, gave voice to the gibbering respectabilities when he said, "assembling in a disorderly mob is not the way to get your rights and liberties. I entreat you to disperse and go quietly to your homes."
This advice was received with mocking and defiant yells. Major Powys did not tell these men how to get their rights and liberties. They had tried to get them by more orderly agitation for twelve years and failed. He told them to go quietly to their homes. But let it be remembered what many of those homes were. They were places robbed of nearly all the elements which make home. They were places where they saw the pinched faces of wives and children, and heard cries for food which they could not supply. To reason thus with these men was quite "proper" for a military magistrate, but it can be seen now that to take such advice would have been a miracle of self-restraint, and such miracles are not wrought by the grace of starvation.
"Rude comparisons you draw,
Words refuse to sate your maw,
Your gaunt limbs the cobweb law
Cannot hold.

You're not clogged with foolish pride,
But can seize a right denied,
Somehow God is on your side,
Hunger and cold."
That yell of defiance which rose from the crowd in response to Major Powys's words was not wholly of the devil's inspiration. Violence had been done to the rights and liberties of these men as wicked as the violence which was now provoked. "To destroy life and property" is as stupid as it is iniquitous, but let us recognise that it is equally stupid and iniquitous to provoke a destroying desperation. This had been done, cruelly and persistently done.
Major Powys did not know that those he represented were primarily responsible for all the terrible possibilities which were before him in that awful hour. But the crowd knew this, and hence the loud mockery which followed his little preachment.
This general yell was the signal for action. There went forth the cry, "We'll make the soldiers run and duck the specials behind."
They were vain words, and they were followed by equally vain actions. Showers of stones were hurled at the soldiers, and the mob pressed forward, and those in front touched the horses' heads. It was now clearly seen that this seething mass of desperation must be resisted.
Major Powys had shown remarkable restraint up to this ominous moment.

Collision was now inevitable, and there went forth from his lips the fatal ringing cry to his soldiers, "Fire!"

Immediately the guns were raised, and the crowd shrank back instinctively, but vainly, owing to its own mass. "Food for powder" was plentiful and near at hand. The musketry rattled; but the rattle was soon drowned by cries of defiance and terror and agony from that writhing mass of human beings. Numbers fell to the ground, either wounded or forced down by the general rush which followed the firing of the muskets.
The confusion was complete. Maddened and still desperate, the crowd broke and fled in different directions. Standing against the gate-post of the "Big House" was a young fellow from Leek, and it was said he had a stick in one hand and a stone in the other. It was also said on the very day of this riot that he was not taking part in it, but was one of those men whose curiosity will take a man to the very verge of peril. However this may be, the blood of the soldiers was up, and this youth's brains were blown out against the gate-post. He fell dead on the footpath, and military valour had secured one fatal trophy, such as it was.
So many shots as were fired, though they did not find fatal lodgment in many cases, nevertheless wounded many, who were carried away by friends, or hobbled away themselves. Some, it is said, went away to die of their wounds, but their injuries were prudently concealed in this time of suspicion and terror.

It was a miserable, hideous and loathsome conflict, but, thank God, the last of its kind which has darkened the Potteries so far in this century, and probably no other century will witness in our country an event so charged with tyranny and injustice, and with folly and wickedness.
As Lowell says in his " Ode to France,"—
"The brute despair
Leaped up with one hoarse yell and snapped its bands,
Groped for its right with horny, callous hands,
And stared around for God with bloodshot eyes.

Brutes with the memories and desires of men,
Whose chronicles were writ with iron pen
In the crooked shoulder and the forehead low,
Set wrong to balance wrong, And physicked woe with woe."
This charge, and the firing of the muskets which I heard a short distance away, was what led me to run off to the Burslem market-place. I was playing in a field on the side of the New Road, leading from Burslem to Tunstall. When I neared the town I met numbers of stragglers fleeing in terror from what they had seen and felt. Some of these had portions of their clothes torn off in the scramble to get out of the crowd, and were only half dressed.
It was a grim sight, and yet it furnished plenty of food for laughter. This was not wanting on the part of cool and curious folks who had not been in the fray. In the streams of people I met some were limping through small wounds they had received, or through injury from the terrible crush in which they had been carried along.
Nearly all were rushing down the New Road as if they were pursued by wild beasts. Just outside the town I came upon a man and woman who were excitedly relating the perils and sufferings through which they had passed. The man was a little cobbler whom I knew well as a Tunstall man. I don't know how it was, but in those days cobblers were nearly always in front, upholding the law as constables or breaking it as reformers or rioters.
Thomas Cooper himself, said to be the arch-instigator of this outbreak, had been in this line of business. This poor little cobbler wore a tall hat, and the crown of it was cut clean off. The bridge of his nose, too, was neatly slit in two. The blood was trickling to the end of it and forming red drops there, which made the thing rather comical. As he had forgotten to take his pocket-handkerchief with him that morning before leaving home, he kept wiping off the red drops with the back of his hand.

This gory hand was very prominent, and made him look as if he had been doing some terrible deed. When I came upon him he was telling a group of people how a horse soldier had made at him with a bloody purpose and cut off the crown of his hat with the first blow. Then intending, as the cobbler said, to cut his head off, the soldier made another slash at him with his sword, but he ducked and saved his head.

The soldier, however, followed him out and slashed out again with his sword, but as the cobbler just then threw his head back, the point of the sword only went through the bridge of his nose. I well remember how vividly he described his dodging of this soldier who seemed to thirst for his blood, and how at last he shrunk into the crowd and so got free from his ferocious enemy.

If all this was true there must have been a very hot episode in the midst of that wild crowd, and a very narrow escape from a second man being killed on that terrible day. The cobbler's narrative was mingled with groans of indignation against his military foe, and some strongly unpleasant things were said about him.
Near to the cobbler stood a woman who had been wounded in the leg. This wound had evidently been the result of a spent bullet as she was moving away with the crowd. Her dress was badly torn, and she looked as if she had been rolled down the shord-ruck on the New Road from Burslem. She, too, had her story to tell, but it was interrupted with so many hysterical outbursts and digressions that it would have puzzled a shorthand writer to have given a clear and connected account of it.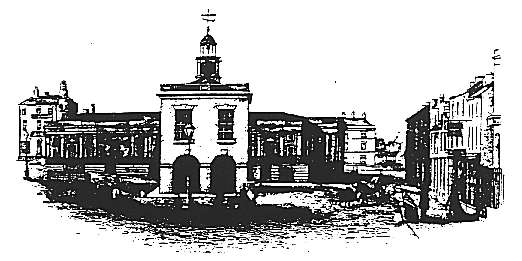 Burslem Town Hall and Market Place in 1843
Not deterred by these visible terrors I pushed on to the Burslem market-place.
The sight which presented itself was confusing and bewil¬dering in the extreme. It was evident that masses of people had remained stolidly defiant or curious even after the fatal charge by the soldiers had been made. There were hundreds of people packed in the narrow street at the back of the shambles right down to the "Big House," where the man from Leek had been shot.
The marketplace presented a weird and dismal aspect. All the shops were closed, and the soldiers were busy driving the slowly-moving and sullen-faced crowds away. Windows were broken in the Town Hall, and many other signs of destructive work were to be seen.

The more furious part of the mob had been driven out of the market-place, but streams of people were pouring into it again from the many side places of access. There were evidently gathering elements for another outbreak, and at last the word was given to the military to clear the market-place.

The special constables were evidently not called upon to help in this work, but as the soldiers drove the people along the specials were placed opposite every avenue to the marketplace to prevent a fresh rush of the people When the word was given to make a clearance of the place, the soldiers' horses pranced and their swords gleamed as they pressed upon every section of the mob.

I was at the back of the shambles when this movement began, but kept well up above the mass of the people, so that I could see what was going on without being entangled in the crowd. The horse soldiers came up this narrow street, pressing closely on the heels of the people, and using the flat sides of their swords upon those they could reach.

Owing to the dense pressure of the crowd running was impossible, and numbers of people were tumbled in heaps through pressure or terror. The confusion and groans and shrieks were terrible to hear and see, for men, women, and even children, made up this seething mass.
As I was above the crowd I could see hats, caps, bonnets and shawls wherever there was a bit of space visible. Men and women were bareheaded in consequence, the hair of the women streaming about their faces, and as agony and fear were depicted on these faces, it was a sight of terror never to be forgotten. It seemed a cruel thing, too, to drive those who were not there to fight, and to hurry and frighten them in this manner. But that was no day for courtesy or chivalry.
It was equally a curious thing that so many whose only motive was curiosity could place themselves in such circumstances of peril. As I was going back towards the New Road I saw the special constables forming a cordon on the left-hand side of the market-place. They did not strike me as a very valorous body, as they kept well away from the crowd being driven upwards by the soldiers.
When the people got into the wider area up near Greenhead, they broke away as fast as their legs could carry them until they got into the New Road and the road leading to High Lane. Then they halted in broken groups to tell of escapes and sufferings, and to pour the lava of their wrath upon the powers that be.

In want, in terror, and with a sense of the crushing injustice of the times, they cursed the land in which they had been born, and no fiercer words could have been uttered against the Duke of Alva and his brutal soldiers than were heard that day by English men and women who only wanted to work and to live a reasonable life by their labour.
Such things seem now like a grim nightmare. Such things, we now thankfully recognise, are impossible. Lancashire has just closed a stubbornly-contested dispute of twenty weeks, and yet no riot, not even a single disturbance, has occurred. The fighters have mingled daily, and only verbal conflicts have ensued, and these lightened by pleasantry and badinage as to which side would win. This has come of juster laws, of wider popular rights, and of that softening of antagonistic interests by more Christian goodwill and the respect which comes from the knowledge that the people have power to maintain a good defence.