Sir Clough Williams-Ellis surveying
Portmeirion in 1961
(© Robin Llewelyn, Portmeirion Ltd)

Susan Williams-Ellis in her workshop
(© www.telegraph.co.uk)
Sir Clough was born in Northamptonshire in May 1883, but four years later he found himself in North Wales when his family made the move to Glasfryn. By his early twenties, he was in London establishing his own architectural practice after just three months of formal training, suggesting he was very much self-taught.
After serving his country in the First World War, Clough returned to his architectural pursuits, where he became heavily involved in Sir Ebenezer Howard's Garden City movement, and also campaigned vigorously in support of the establishment of Green Belt policy; in his famous book England and the Octopus, Clough attacked continuing urban sprawl, and the spread of "blasphemous bungalows". However, Clough was not just a man of words; he did more than simply voice strong views on urban development, and became the first Chairman of the Development Committee first 'New Town', Stevenage.
During his years of helping to shape the nation's landscape, Sir Clough always had a dream to create a village of his own, with the aim of demonstrating "that one could develop even a very beautiful site without defiling it, and given sufficient loving care one could even improve on what God had provided".
Clough had a great love of the sea, which he had gained from his father, and he searched the world – his search taking him as far as New Zealand – to find a suitable island on which he could turn his vision into reality. Ironically he found the ideal site on his door step; a private peninsular on the west coast of Wales just five miles from his family home. He took the decision to purchase the site, and went on to develop the famous Portmeirion village ('Port', because of the coastal location, and 'Meirion', as this is Welsh for Meirioneth, the county in which it lies) in two periods separated by the Second World War, 1926-1938 and 1954-1972.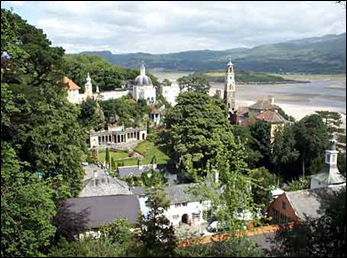 Portmeirion, Wales
Before Clough started work on the village, the site was occupied by a large mansion ('Aber Iâ'), a gardener's bothy, and a block of stables, set in extremely overgrown grounds. The mansion itself was in a dilapidated condition and as Clough knew that he would need income to finance his building plans, he set about renovating Aber Iâ with a view to opening it as a hotel; the newly refurbished building opened its doors to paying customers at Easter in 1926.
The first major new buildings at Portmeirion were first 'Angel Cottage', followed by 'Neptune', which is now hotel accommodation with the Golden Dragon Bookstore on the ground floor.

Aber Iâ, Portmeirion's hotel
(© www.virtualportmeirion.com)

Angel Cottage, Portmeirion's
first new building
(© www.virtualportmeirion.com)

Construction continued apace in the Arts and Crafts style until the outbreak of the Second World War when Government placed restrictions on residential development and materials brought the construction of Portmeirion to a halt.
Work commenced again in the early 1950s, with this new wave of development typically Classical or Palladian. The first cottage completed after work restarted was the 'Gate House', and was a great example of how Clough worked with the natural landscape being built over a large protrusion of rock.
Towards the close of the decade, he completed 'Telford's Tower', to commemorate the bicentenary of the celebrated engineer, Thomas Telford, famous for the Menai suspension bridge which links mainland Wales with the island of Anglesey.


the Gate House
(© www.virtualportmeirion.com)



Telford's Tower


(© www.virtualportmeirion.com)
In 1971, Clough was knighted for services "to architecture and the environment" (he was also made a CBE in 1958), and just a year later, he declared Portmeirion to be complete. He went on to enjoy his creation until his death six years later at the age of 95.
The village has gained much fame over the years, being the setting for various films and television programmes, the Prisoner perhaps being the most famous and popular. Many people have found themselves enchanted by the village's beauty, including musician Jools Holland, who – having visited Portmeirion to film an edition of The Tube – went on to have a studio complex at his home Blackheath built to a design heavily influenced by the village.
Even more bizarrely, heavy metal band Iron Maiden recorded a song entitled 'The Prisoner' on their album 'The Number of the Beast', and frontman Bruce Dickinson was filmed wandering through Portmeirion's avenues in a documentary.
Today, Portmeirion continues to flourish, and is owned by a charitable foundation formed by Sir Clough in 1925, and managed by Portmeirion Ltd, of whom Sir Clough's grandson Robin Llwelyn is Managing Director.
Much as the village of Portmeirion in Wales continues to thrive, so does the Portmeirion of the Potteries. Of course, the Portmeirion of the Potteries is the pottery company that the Sir Clough's late daughter Susan formed with her husband, the eminent economist Euan Cooper-Willis.
Susan was born in June 1918, and her artistic talents were allowed to flourish, being brought up in an artistic home environment. During her education, Susan pursued her artistic instincts, and during her Fine Art training at Chelsea Polytechnic, she developed a great feeling for three dimensional expression. She was given her first opportunity to use these skills when she was invited to produce some gifts for the souvenir shop in her father's village in Wales.
As the Swinging Sixties dawned, Susan and her husband took the decision to come to the Potteries, where they bought A.E. Gray Ltd, a small pottery decorating company started by Albert Edward Gray in 1907.
They went on to purchase another company – Kirkhams' Ltd, and eventually these two companies were combined, and based at Kirkhams' former home on London Road in Stoke, the design and manufacture of products bearing the 'Portmeirion' name began. Early designs including 'Malachite' and 'Moss Agate', and the famous 'Magic City' were received to much acclaim.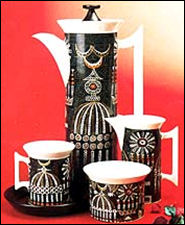 Susan Williams-Ellis' Magic City design
Susan soon established a reputation for innovative design and she clearly shared her father's philosophy that "good design is good business", and this, coupled with her husband's finely honed commercial expertise, ensured that Portmeirion started to become a very strong and successful business.

As the 1960s became the 1970s, Portmeirion launched what many consider to be their signature product – 'Botanic Garden'. Botanic Garden was launched in 1972, and was considered to "encapsulate a new mood for casual dining", calling time on old formalities, and bringing a new design philosophy to the market place; it became an instant success.
Botanic Garden has become a classic of British design and has been hailed as the world's most popular casual tableware and giftware design, and celebrated its 35th anniversary in 2007. Recognising the areas' expertise, the range continues to be made in the Potteries, while Portmeirion's continued success stems from Susan's philosophy to design and model shapes that are both functional and pleasing to the eye: "good design is good business".
Susan was extremely fond of the Potteries, and held the people of Stoke-on-Trent in high regard. On receiving an honorary fellowship from the University of Arts in London in 2005, she said of her inspirations and her company: "I decided to pursue pottery, rather than painting, mainly because I wanted to create affordable and beautiful things. Being in Stoke has been a wonderful part of my life. The people of Stoke are really the nicest people one could ever meet, and their hard work has established Portmeirion and enabled us to sell our pots around the world. I have been very fortunate".

Susan Williams-Ellis died in her sleep on 26th November 2007, aged 89, but Portmeirion continues to go from strength to strength, and her influence can still be seen and felt throughout the pottery industry, with companies such as Moorland Pottery in Burslem clearly sharing her design philosophies.
Portmeirion continue to operate from Kirkham's original site off London Road in Stoke, the Falcon Works. However, production is carried out in a newer purpose built factory, and the site's original buildings (both of which are Grade II Listed) sit in a state of disrepair and dereliction in undignified surroundings off Sturgess Street, as Chris Oldham's haunting photographs below demonstrate.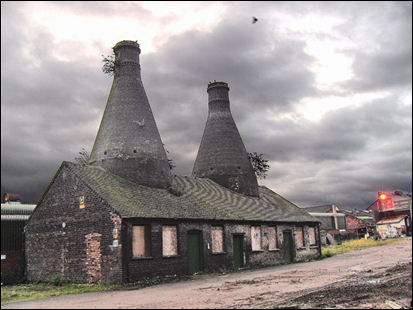 Falcon Works, Stoke

Just as Sir Clough Williams-Ellis rescued Aber Iâ from ruin, and went on to create something as magical as Portmeirion, would it not be a great tribute to both Sir Clough and his daughter Susan, if these great monuments to the pottery industry in Stoke-on-Trent could be rescued and be at the heart of something as magical as Portmeirion, the link between a proud industrial city in England's Midlands, and the beautiful west coast of Wales?
David Proudlove 31 October 2008