| | |
| --- | --- |
| A SAGGAR is a fireclay box for holding ware during firing. | |
A SAGGAR is a fireclay container, usually oval or round, used to protect pottery from marking by flames and smoke during firing in a bottle oven.

The SAGGAR MAKER, is a skilled man, producing the finished saggar, using his thumb to make a near join between the side and the base.

The BOTTOM KNOCKER (a young boy) made the base of the saggar from a lump of fireclay which he knocked into a metal ring using a wooden mallet or mawl (pronounced mow). on Bottom Knockers

The FRAME FILLER (a male apprentice) flattened a mass of clay and produced a rectangle which was wrapped round a drum to make the side of the saggar.

The finished saggar was fired in the kiln and lasted for 30 to 40 firings - if they were not broken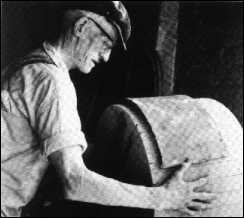 A saggar-maker at work making
the side of a saggar
on a wooden former.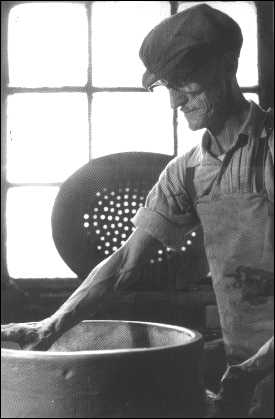 A saggar-maker
assembling a base and side.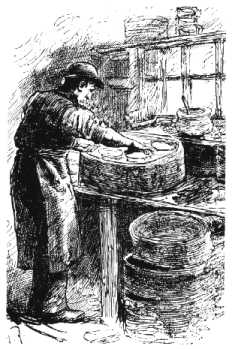 A saggar being loaded with ware for firing.
Placing wares in saggars required special knowledge. Plates were 'reared'
or 'dottled'; that is carefully separated from each other by thimbles to prevent
the glaze from making them fuse together in the glost firing.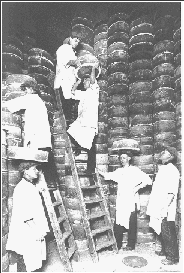 Placing saggars in a kiln

Saggar Makers at John Locketts - Longton - 1932
---
Examples of "saggar makers" from the 1881 census for the Potteries area:-
1881 census:
Dwelling: 122 Normacot Rd
Census Place: Stone, Staffordshire, England
| | | | | |
| --- | --- | --- | --- | --- |
| Name | Marr | Age | Sex | | Birthplace | Occupation |
| George STOCKLEY | M 26 M | Head | Longton, Staffordshire | Potters Saggar Maker |
| Annie STOCKLEY | M 29 F | Wife | Longton, Staffordshire | Potters Paintress |
| Herbert STOCKLEY | 1 M | Son | Longton, Staffordshire | |
1881 census:
Dwelling: 19 Castle St
Census Place: Newcastle Under Lyme, Staffordshire, England
| | | | | |
| --- | --- | --- | --- | --- |
| Name | Marr | Age | Sex | | Birthplace | Occupation |
| John BURCHALL | M 38 M | Head | Newcastle, Staffordshire | Potters Saggar Maker & Greengrocer |
1881 census:
Dwelling: 31 Sant St
Census Place: Burslem, Staffordshire, England
| | | | | |
| --- | --- | --- | --- | --- |
| Name | Marr | Age | Sex | | Birthplace | Occupation |
| Wallace HEATH | M 37 M | Head | Burslem, Staffordshire | (Potter) Saggar Maker |
| Martha HEATH | M 39 F | Wife | Burslem, Staffordshire | |
| Frederick HEATH | 15 M | Son | Burslem, Staffordshire | (Potter) Saggar Maker |
---
---