Blunger

Container in which slip is mixed.

Slurry

A thick slip.

Slip

Clay mixed with water, into a liquid, sieved to remove any particles. Used in casting and decoration.

Slipware

Pottery, usually earthenware, whose decoration is based upon the use of slip.

Porcelains are often produced by slip-casting - pouring slip into absorbent moulds which soaked up the water, leaving a similarly dried-out, contracted shape.
---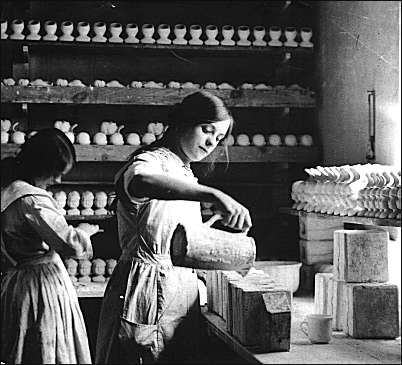 Young girls working in a 'slip house'
the girl in the picture is pouring the prepared slip
into a plaster mould.
---
A doctors report to the 1840 commission into child labour in pottery works stated:

" 'Slip making', or preparing the clay, is another unwholesome occupation. "The clay" is prepared by boiling the composition to a proper consistence on kilns, and during the process of evaporation, the room is filled with dense aqueous vapour. The men engaged in this branch suffer severely from winter cough and chronic bronchitis; and but few of them, if they survive, are able to perform much labour after the age of 60".

Burgess and Leigh installed the latest mechanised processes in their potworks - the blunger was one of them. William Boulton designed the blunger and patented it in 1874.


The blunger washes the clay and converts it to slip.
At one time this was an arduous manual job

postcards from Wedgwoods

More and more mechanisation was introduced into the factories and there sprang up a number of engineering works in the Stoke-on-Trent area. Some of these engineers designed and patented their own machinery for the pottery works.
see: Gosling and Gatensbury slip pump

"Making the desired mixture is now a simple matter. Carefully determined proportions of the four ingredients are run into a large central vat – the "mixing ark "– in which powerful "agitators" mix them thoroughly together."
on mechanised slip making for tile manufacture.
---
Examples of "slip makers" from the 1881 census for the Potteries area:-
1881 census:
Dwelling: 93 Villiers St
Census Place: Trentham, Stafford, England
| | | | | |
| --- | --- | --- | --- | --- |
| Name | Marr | Age | Sex | | Birthplace | Occupation |
| Henry BAXTER | M 60 M | Head | Longton, Stafford | Potters Slip Maker |
| Henry BAXTER | U 25 M | Son | Trentham, Stafford, | Potters Slip Maker |
881 census:
Dwelling: 59 Cobden St
Census Place: Trentham, Stafford, England
| | | | | |
| --- | --- | --- | --- | --- |
| Name | Marr | Age | Sex | | Birthplace | Occupation |
| Edward BOWMAN | M 45 M | Head | Rugeley, Stafford | Potters Slip Maker |
| William H. BOWMAN | U 20 M | Son | Longton, Stafford | Potters Slip Maker |
| Albert BOWMAN | U 16 M | Son | Longton, Stafford | Potters Slip Maker |
---
---