Josiah Wedgwood (1730-1795) was born into a potters family, and in 1744 he was apprenticed as a thrower to his elder brother Thomas.

"my mother is a baller (supplies the thrower with balls of clay)" Testimony of Jos. Wilkinson (age 11) c.1842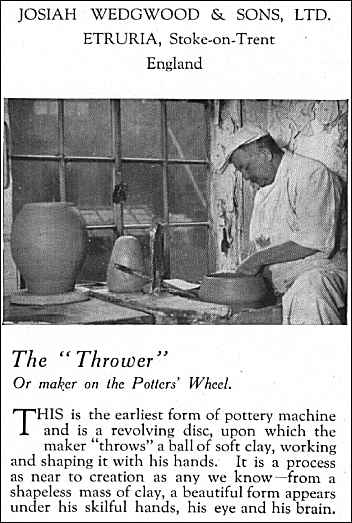 The Thrower

postcards from Wedgwoods

The following is an 1840/41 testimony of a clay thrower who worked for Mintons:
EARTHENWARE FACTORY, Eldon Place, Stoke;
Proprietors Messrs. MINTON and BOYLE.
HOT-HOUSE and THROWING ROOM. Temp. 94 Fahren., open air 42.
No. 2: Thomas Kay,
aged 46
I have worked for Mr. Minton 18 years next Christmas. Slip-making in the fore part of my service, that is making the clay for use; I now look to the ware in the hot-house; besides that I beat the clay in the adjoining room; beating clay is tremendous hard work; I stand near the open door to do that; the hottest work is in the hot-house; don't keep a thermometer there; heat rises from 90º to 120º; 'tis not so hot now by a deal as in the morning; we cool it now for the ware.
I am paid by the quantity of work done; my average wages are about 15s. per week. I have a wife and 7 children; only one is a potter. I come to work at 6 in the morning, sometimes at 5; it depends upon what goods are in heat; leave at 3, 4, 5, and 6; and afterwards do a little job-work for another master, and earn 4s. or 3s. a-week.
Don't find the great change of heat affect my health; it sometimes affects others; very few live to any age in such an employment, 'tis the hardest business of potting. I live at Harford Bridge; do not go home to dinner; I take my dinner in the throwing- house; get bread and cheese, no ale; but get some meat at home at night; can't read or write.

---
Examples of "throwers" from the 1881 census for the Potteries area:-
1881 census:
Dwelling: Frederick Street
Census Place: Stone, Stafford, England
| | | | | |
| --- | --- | --- | --- | --- |
| Name | Marr | Age | Sex | | Birthplace | Occupation |
| Jacob SALT | M 47 M | Head | Longton, Stafford | Potters Flat Presser |
| Mary E. BARKER (SALT) | 17 F | Step Daur | Longton, Stafford | Potters Thrower Wheel Turner |
1881 census:
Dwelling: 96 Villiers St
Census Place: Trentham, Stafford, England
| | | | | |
| --- | --- | --- | --- | --- |
| Name | Marr | Age | Sex | | Birthplace | Occupation |
| Enoch WARRILOW | U 28 M | Head | Longton, Stafford | Potters Presser |
| Elijah WARRILOW | U 25 M | Brother | Longton, Stafford | Potters Thrower |
Examples of "baller" from the 1881 census for the Potteries area:-
1881 census:
Dwelling: 23 Woodland St
Census Place: Wolstanton, Stafford, England
| | | | | |
| --- | --- | --- | --- | --- |
| Name | Marr | Age | Sex | | Birthplace | Occupation |
| William GREATBANKS | M 48 M | Head | Burley Dam, Cheshire | Carter |
| Elizabeth GREATBANKS | M 43 F | Wife | Wybunbury, Cheshire | |
| George GREATBANKS | U 18 M | Son | Tunstall, Stafford | Potter Thrower App |
| Sarah Ellen GREATBANKS | 15 F | Dau | Tunstall, Stafford | Potter Baller |
1881 census:
Dwelling: 4 Cross Keys Sq
Census Place: Stoke Upon Trent, Stafford, England
| | | | | |
| --- | --- | --- | --- | --- |
| Name | Marr | Age | Sex | | Birthplace | Occupation |
| Eliza FINNEY | W 56 F | Head | Longton, Stafford | Baller For A Thrower |
| John FINNEY | U 30 M | Son | Longton, Stafford | Coal Miner |
---
---