Transfer printing was developed in response to a call by English consumers for less expensive, mass produced wares. Customers wanted embellishment on their previously plain utilitarian wares. Initially the patterns were oriental in flavour.

Transfer printing is a process by which a pattern or design is etched onto a copper (or other metal) plate. The plate is then inked and the pattern is "transferred" to a special tissue. The inked tissue is then laid onto the already bisque fired ceramic item, glazed, and fired again.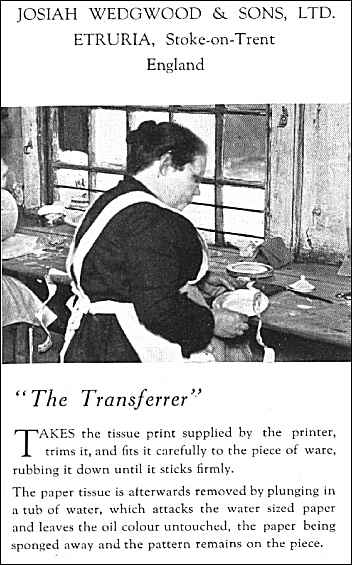 postcards from Wedgwoods
---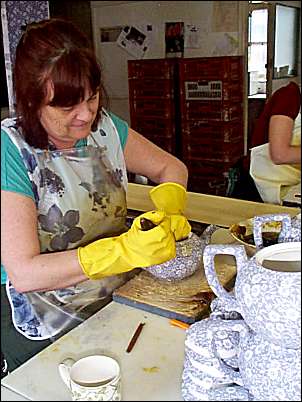 Applying transfer to teapots
May 2000



'walk' around Burgess & Leigh
---
No. 263. Thomas Wiltshire, aged 12.

[Who worked at Davenport's pottery in Longport c.1840]

Note his families occupations: Father prints the transfer, sister cuts paper, which will be for the transfer printing and mother is a 'transferrer'.

I am employed by Mr. Davenport to sweep the cutting-shop, run on errands, break pummice-stone - nothing else. I can read and write. I went to day-school before I came to work. I go to Sunday-school now, at New Methodists. They teach me to read the Bible and that. I come to work at half-past six, sometimes a little before, and go into the hovel until the cutting-shop is open, to warm myself. I go home to breakfast at nine o'clock, and always take my half hour. I go in the other bank to dinner with my sister; she is a transferrer; father is a printer; mother is dead; another sister cuts paper; a young brother stops at neighbour Knowles's between school-times. Two of the other boys can read in the Bible. I don't know much about the others. I get plenty to eat and drink. I get holidays at wakes, and races, and at Christmas.
---
Examples of "transferrers" from the 1881 census for the Potteries area:-
1881 census:
Dwelling: 91 Broom St (Beerhouse Outdoors)
Census Place: Stoke Upon Trent, Stafford, England
| | | | | |
| --- | --- | --- | --- | --- |
| Name | Marr | Age | Sex | | Birthplace | Occupation |
| Mary A. KELSALL | W 50 F | Head | Liverpool, Lancashire | Potters Transferrer |

1881 census:
Dwelling: 26 Providence Court
Census Place: Stoke Upon Trent, Stafford, England
| | | | | |
| --- | --- | --- | --- | --- |
| Name | Marr | Age | Sex | | Birthplace | Occupation |
| Henry HORWELL | M 27 M | Head | Hanley, Stafford | Potters Printer |
| Hannah HORWELL | M 23 F | Wife | Hanley, Stafford | Potters Transferrer |
| Josiah MATTHEWS | W 39 M | Step Brother | Hanley, Stafford | Potters Printer |
| Richard HENSHALL | U 19 M | Brother In Law | Hanley, Stafford | Potters Printer |
---