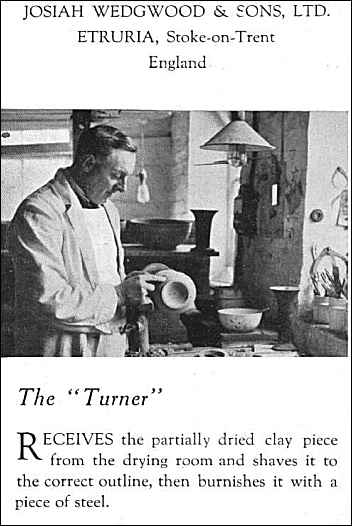 postcards from Wedgwoods
---
1840 Report:-

In 1840 the House of Commons set up a commission to inquire into the state of children employed in the mines and manufactories. Samuel Scriven visited the area of Stoke-on-Trent from December 1840 onwards to collect evidence.

these are two of of his interviews of a young lady who helped a turner and the foreman of a turning department >>>
EARTHENWARE FACTORY, Eldon Place, Stoke;
Proprietors Messrs. MINTON and BOYLE.
TURNING ROOM. Ther. 60, open air 44.
No. 3. Lydia Dale,
aged 20
I have been employed 6 years this Martlemas; can neither read or write; attended a Sunday-school a little, not long, at Stoke, Methodist Connexion; can do needlework and knitting; not married. Always worked in this room as a treader or lathe-turner; come at 6, leave at 6; the work agrees with me; have got good health and a good colour; get about 7s. or 8s. per week, but the amount depends upon my industry, as we are paid by the piece; and, as I help the turner, I get 4d. to every 1s. he gets; we sometimes together turn 40 dozen; such as egg-cups which are shed as 12s, tea-cups are shed as 36's, basins 24's, and so on.
I am showed half an hour for breakfast, 1 hour for dinner, out of the 12 hours. I live 4 miles from the works; eat my dinner at the works; have father, mother, and brothers, but none are potters. Like the work pretty well.
Messrs. COPELAND AND GARRATTS, Stoke-upon-Trent.
No. 48 - Thomas Howell,
aged 50
I am foreman of this department; have been a potter 38 years; in the turning way 25 years; all the lathes are turned by machinery; we have the means of stopping the whole of the lathes and throwing tables at a moment's notice, but we must run into the cellar to do it; sometimes accidents do occur, but they are rare; we have 10 turners; no boys except one to sweep the room and do little odd jobs; they are all paid piece-work; I am paid by the week; we have no such thing as truck-work; they all get hard cash. They come at 7, leave at 6; if many orders in hand they stay till 9, when they get extra pay.
In some kinds of heavy work we prefer the steam, as possessing the greater power; in the lighter work I think hand-power best, as the movements are soon answered. There is nothing peculiarly pernicious in the nature of the work: the temperature is sometimes high and detrimental, and the confinement is bad; but, on the whole, I do not think it unhealthy. The ware is sent from hence to the Greenhouse or handlers-room.
---
Examples of "turners" from the 1881 census for the Potteries area:-
1881 census:
Dwelling: 10 Lord St
Census Place: (Stoke Upon Trent) Shelton, Stafford, England
| | | | | |
| --- | --- | --- | --- | --- |
| Name | Marr | Age | Sex | | Birthplace | Occupation |
| Anthony HULME | W 39 M | Head | Shelton, Stafford | Potters Turner |

1881 census:
Dwelling: 22 Garibaldi St
Census Place: (Stoke Upon Trent) Shelton, Stafford, England
| | | | | |
| --- | --- | --- | --- | --- |
| Name | Marr | Age | Sex | | Birthplace | Occupation |
| Samuel JOHNSON | M 31 M | Head | Etruria, Stafford | Potters Turner |
| Alice JOHNSON | M 29 F | Wife | Joiners Sqre Hanley | |

1881 census:
Dwelling: Cobridge Rd
Census Place: (Stoke Upon Trent) Shelton, Stafford, England
| | | | | |
| --- | --- | --- | --- | --- |
| Name | Marr | Age | Sex | | Birthplace | Occupation |
| John LOVATT | W 55 M | Head | Stoke, Stafford | Potters Presser Pot Works |
| Benjimin LOVATT | U 21 M | Son | Stoke, Stafford | Potters Turner Pot Works |
| Henry LOVATT | 19 M | Son | Stoke, Stafford | Potters Turner Pot Works |
---