Listed Buildings in Stoke-on-Trent and area
Middleport Pottery (Burgess, Dorling & Leigh)
---
Area
Middleport
Street
Port Street
Heritage No.
104 A
Grade
II*
Date Listed
20 August 1979
Building: Middleport Pottery - occupied by Burgess, Dorling & Leigh
Location:

STOKE ON TRENT SJ8649SW PORT STREET, Middleport, Burslem

Description: Model Victorian pottery works. 1888-89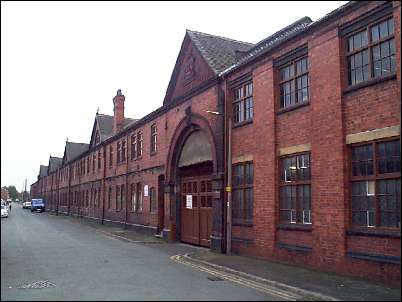 Main range housing printing shops, offices and show rooms, to Port Street
---

Pottery works. 1888-1889. Brick and terracotta with plain tiled roofs.

Originally built for Burgess & Leigh, now occupied by Burgess, Dorling & Leigh (from August 1999)

Main range housing printing shops, offices and show rooms, to Port Street, of 2 storeys and 34 bays, articulated by advanced gables at intervals, with pediments carried on terracotta scrolls containing Diocletian windows.

All windows have double ring cambered heads, and are grouped in pairs or singly giving a rhythm to the facade. Entrance beneath pedimented gable to the right, with double stepped brick arch and narrower foot-door alongside.

Cartouche in pediment with date and name: "Middleport Pottery". Terracotta eaves cornice. Axial stacks. A series of workshop buildings arranged within the rear yard still enables the original production process to be traced, with the former engine house to the east, the preparation and making areas adjacent and to the north, and the single surviving biscuit kiln at the centre of the site, with a broad circular hovel.

Production process finished at the western side of the site, and there is a surviving warehouse range and loading cranes alongside the canal. The factory was built as a new complex for an established company and was seen at the time as a model factory designed with a logical production plan incorporating linear movement with some sideways movement reflecting the quantity and range of production on the site.

(Stoke-on-Trent Historic Buildings Survey).
---



Middleport pottery from the rear alongside the Trent & Mersey canal
many pottery factories were build alongside the canals


fishing on the cut
Sid Kirkham


Entrance beneath pedimented gable to the right,
with double stepped brick arch and narrower foot-door alongside.



Cartouche in pediment with date and name: "Middleport Pottery"

you can take a "walk" around the Middleport Pottery works





next: Bottle Oven at Middleport Pottery, Middleport
previous: Calcining Hovels at Newport Lane, Middleport