| Index of all listed buildings |


Listed Buildings in Stoke-on-Trent and area
Falcon Pottery Works (occupied Portmeirion Potteries Ltd), Stoke
---
Area
Stoke
Street
Sturgess Street
Heritage No.
140 A
Grade
II
Date Listed
20Aug 1979
Building: Falcon Pottery Works (occupied Portmeirion Potteries Ltd)
Location:

STOKE ON TRENT SJ84SE STURGESS STREET, Stoke

Description: Four story pottery works, brick built gable end, slate roof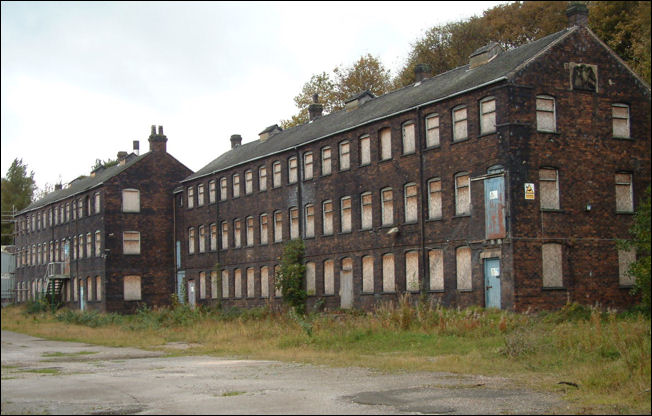 Falcon Pottery Works
photos: Steve Birks Oct 2008
---

Formerly known as: Falcon Works Main Block on NW side of Yard.

Remains of pot bank, 1902-1905. Brick with plain tiled roofs. Surviving buildings comprise the kiln block and 2 workshop and warehouse ranges on opposite sides of a yard. Single storeyed kiln range of 9 bays with 2 downdraught glost ovens with circular hovels to the east of the site, and to the west, a 3-storeyed workshop range of 18 bays with doorways in the end bays, and fixed light windows with double ring cambered heads. Stone plaque of falcon in gable apex.

Further workshop block to south of 3 storeys and 12 bays with similar detailing, built at about the same time. The works were built by Goss as an extension to London Road works established in 1858.
(Stoke-on-Trent Bottle Ovens Survey: Goss Works).

end of the 3-storeyed workshop range


Stone plaque of falcon in gable apex

---

Falcon pottery bottle kilns





next: Bottle Ovens at the Falcon Works, Stoke
previous: Former Minton Hollins Tile Works, Stoke



Falcon Pottery works, Stoke
photo: © Chris Oldham 2007
---
| Index of all listed buildings |
| Tunstall | Burslem | Hanley | Stoke | Fenton | Longton | Other areas |
---