Listed Buildings in Stoke-on-Trent and area
Cemetery Chapels, Hanley
---
Area
Hanley (Shelton)
Street
Cemetery Road
Heritage No.
49a
Grade
II
Date Listed
15 March 1993
Building: Cemetery Chapels
Location:

STOKE ON TRENT SJ84NE

Description: Episcopalian and non-conformist chapels, 1860, pink sandstone, plain and patterned roof.

Hanley Cemetery Chapels

photo: © Mr Brian Peach - October 2000

---

Cemetery Chapels. Circa 1860. Pink sandstone with plain tiled roofs, with ridge and banded with scalloped tiles.

Symmetrical about 2 axes, with central triple arched arcade carrying tower with broad broach with angle pinnacles to spire.

Flanking chapels have 5-sided apses to east and west, with 3-light traceried windows in each facet, beneath coped gablets. Large porches project in north and south elevations, with doorways with heavy moulding between buttresses

---
Henry Ward and Son were responsible for the design of the chapels as well as the sextons and registrars lodges. In common with other cemeteries in the city (such as Hartshill cemetery) there were two chapels. One for the Church of England (Episcopal) and one for Dissenters (such as Methodists).
Each chapel has a vestry and the two buildings are connected by three open archways. The center was grained and was for a carriageway; the two side arches being for foot passengers. The chapels were built in a symmetrical manner and the tower, surmounted by a spirelet, rises from the centre. The floors are paved with Minton & Co.'s encaustic tiles.

Cemetery Chapels - looking from Cemetery road
Episcopal on the left and Dissenters on the right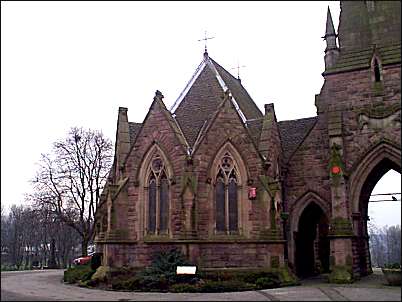 Front view of the left hand chapel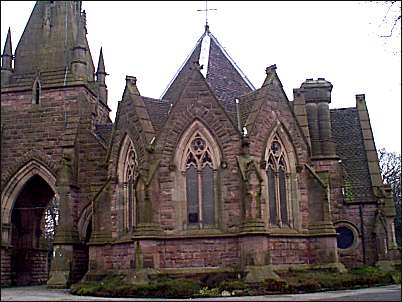 Rear view of the left hand chapel
photos: Steve Birks - Jan 2001
---
"Having secured a site (in 1858), the Council offered premiums for the two best designs for chapels, and for laying out the grounds. No less than sixty-five architects, residing in various parts of the country competed, and several designs for the arrangement of the grounds were also sent in. The designs of these gentlemen were publicly exhibited at the Town Hall, and ultimately that of Messrs. Ward and Son, architects of Hanley, for the chapels and lodges and that of Messrs. Bellamy and Hardy, of Lincoln, for laying out the grounds was accepted. For the construction of the chapels and lodges a contract was entered into with Mr. J. Clewes, of Hanley, at a cost of £2,598.... the chapels are constructed of Werrington stone, with dressings of Hollington stone. The roofs, which are of a high pitch, are internally of open stained woodwork and externally are covered with coloured tiles, surmounted by ornamental iron ridges."
The Staffordshire Advertiser Newspaper, 5 May 1860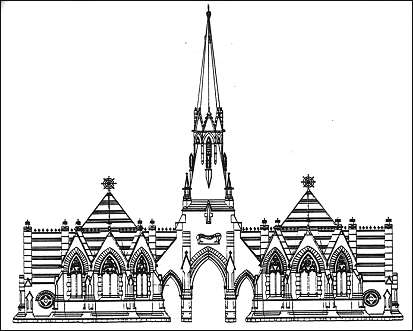 Drawing showing the front elevation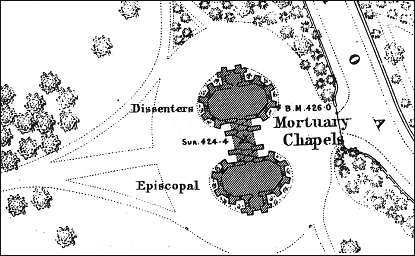 Extract from the 1878 OS map
---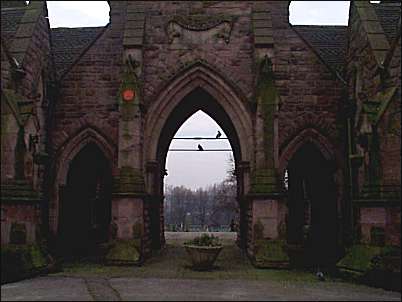 The central arch with the footway arches to each side

Detail above the central arch

The tower above the central arch

Doorway to the Episcopalian chapel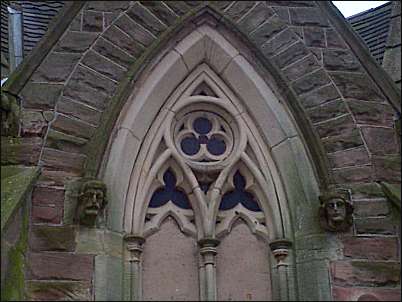 Detail above one of the windows
photos: Steve Birks - Jan 2001
| The Sexton's lodge | The Registrar's lodge |





next: Hanley Cemetery South Lodge
previous: Former Potteries Water Board Offices, Albion Street, Hanley