Listed Buildings in Stoke-on-Trent and area
Regent Theatre, Hanley
---
Area
Hanley
Street
Piccadilly
Heritage No.
53 A
Grade
II*
Date Listed
30 November 1989
Building: Regent Theatre
Location:

STOKE ON TRENT SJ8847

Piccadilly, Hanley
Description:

CINEMA BUILT 1929 BY W E TRENT, STEEL FRAMED, ART DECO STYLE

Regent Theatre entrance on Piccadilly
Two storey faience-clad elevation to Piccadilly with
masks of comedy and tragedy and 5-light first floor window

The Regent Theatre was previously a cinema opened by Provincial Cinematograph Theatres on 11 February 1929, its first presentation was a silent film, The Last Command. The foyer was luxuriously decorated in the fashionable Art Deco style, with similar splendour in the auditorium and its reputation grew for presenting Sunday concerts.
In 1930 the Provincial was taken over by the Gaumont British Picture Corporation, although it was not renamed the Gaumont until 1950.
In 1974 it was given a triple screen and in 1976 the Gaumont was renamed the Odeon Film Centre after the Odeon in Trinity Street closed down in 1975. In 1989 the building was closed (following the opening of a six screen Odeon at the Festival Park)
Following a three year, £23 million development of the city centre, The Regent was reopened on 22 September 1999 after being fully restored to its previously elegant Art Deco style and has already been visited by a host of distinguished guests including Sir Derek Jacobi. Her Majesty the Queen officially opened The Regent Theatre in October 1999.
The Regent Theatre was listed in 1989, and has re-opened as part of Hanley's new 'Cultural Quarter'.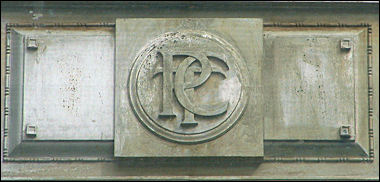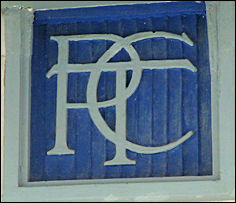 PCT logos on the theatre frontage
Provincial Cinematograph Theatres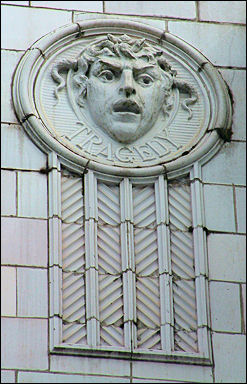 Comedy and Tragedy at the Regent Theatre, Hanley
On the left of the upper façade of the theatre frontage the face of Comedy wears a jesters cap, on the right, the face of Tragedy has unruly hair resembling downturned horns.
The words 'COMEDY' and TRAGEDY' are inscribed under the appropriate roundels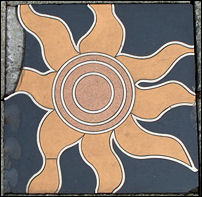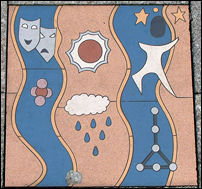 Tiles set in the pavement in front of the Theatre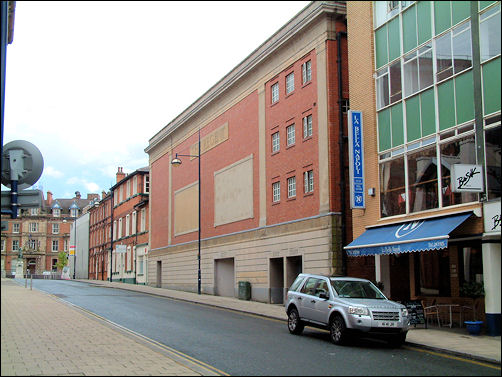 Regent Theatre in Cheapside
Elevation to Cheapside in Italianate style with faience rusticated ground floor,
"The Regent" in faience signs.
photos: Steve Birks July 2008
---

Now a theatre.

Built in 1929 by W.E. Trent for Provincial Cinematograph Theatres Limited. Steel frame clad in brick and faience, roof not seen.

Plan has auditorium with circle and theatre fly tower to rear of entrance foyer and first-floor restaurant facing Piccadilly. Art Deco style. Two storey faience-clad elevation to Piccadilly with masks of comedy and tragedy and 5-light first floor window with original glazing above 2 sets of six double doors with original etched glazing set in revealed architrave.

Elevations to Pall Mall and Cheapside in Italianate style with faience rusticated ground floor, "PCT" in cartouches and original name, "The Regent" in faience signs.

Interior: entrance in Piccadilly leads to large foyer, with coffered ceiling, moulded pilasters to enriched cornice and original light fittings. Stairs lead via 4 etched glass doors to large circle foyer with coved plaster ceiling and pilasters.

Auditorium in lavish Art Deco style stalls and circle: square proscenium arch with moulded plasterwork flanked by elaborate grilles for former organ. Orchestra pit. Circle supported to sides on square moulded piers that continue to ceiling with simple capitals and uplighters. Moulded balcony front stepped to sides. Central ceiling dome with ribbed and "v-shaped" mouldings. Coffered ceiling over rear circle with original light fittings.

Included as a late 1920's cinema belonging to historically important Provincial Cinematograph Theatre Circuit, who pioneered the "super cinema" along American lines in Britain.
---


Interior of the Regent Theatre
Central ceiling dome with ribbed and "v-shaped" mouldings



View of the Regent Theatre from Broad Street
the large extension to the theatre is to enable it to accommodate touring West End style shows

photo: Steve Birks Feb 2008





next: Former Post Office, Tontine Street, Hanley
previous: Falcon Pottery, Old Town Road, Hanley