Listed Buildings in Stoke-on-Trent and area
Parish Church of St. John, Hanley
---
Area
Hanley
Street
Town Road
Heritage No.
57 A
Grade
II*
Date Listed
02 October 1951
Building: Parish Church of St. John the Evangelist
Location:

STOKE ON TRENT 613-1/8/57 TOWN ROAD HANLEY

Description: 1790 Gothic Style, red brick west tower.

St. John the Evangelist from Quadrant Road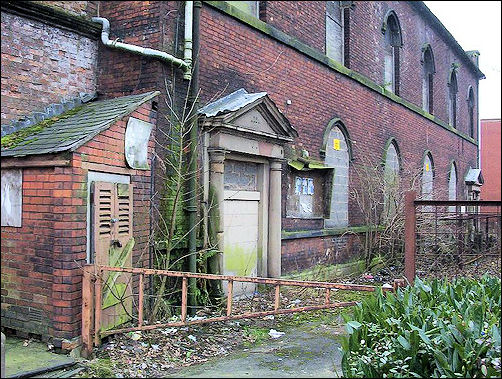 photos: January 2006
---

Church now disused.

1788-1790 with additions of 1872 by W. Palmer. Brick with stone dressings and slate roof with ridge cresting. West tower, nave and aisles, chancel. 4-stage tower with blind lower openings and housing for clock above.
Bell chamber lights and castellated parapet, the castellations made up of panels of cast iron, bolted together, and with the bottom flanges and side end flanges bolted to supporting masonry.

Neo-classical North doorways in east and west of north wall. 4 lower windows, and 6 in clerestory above, some with contempory cast iron windows with intersecting tracery. The frames incorporate horizontal bars of wrought iron to support the fixings for leaded light. Square ended chancel with shallow polygonal apse: with the vestries to the east of the aisles, a later addition.

INTERIOR: Most fittings and fixtures now missing, but gallery with panelled fascia supported on slender cast iron columns with plain capitals. Exposed roof trusses, supported by massive tie beams, with later casings, and added struts, and diagonally boarded panels to undersides of roof slopes.
East window with painted glass of c1830 depicting "Our Lord Blessing". The figure of Christ is clad in purple robes, and standing beneath a Gothic canopy. Flanking windows also 1830. Bell chamber with peal of 10 bells, the original peal of 8 bells cast by E. Arnold of Leicester and installed in 1791, supplemented by 2 additions in 1891, and all re-cast and re-hung from a contemporary bell frame in 1923.

HISTORICAL SIGNIFICANCE: The building is of exceptional interest because of the presence early cast-iron structural and decorative components, notably the gallery columns, the window frames and the castellations.
It is thought that these components are some of the earliest to have been used in any type of building in Britain, only those in St. James', Liverpool having been identified as being earlier (1774-5).
Source: The Buildings of England: Pevsner N: Harmondsworth.
---


Date: 1835 - 1845 (c.)

Description: 'S. E. View of Hanley Church,' showing a brick building of the
Gothic revival (1788) with a western tower.

© William Salt Library


on St. John the Evangelist Church

---


St. John's, Hanley 2002
photo taken through Weatherby's window
Eileen Hallam

Ragged Glory

"One of the saddest sights in the city of Stoke-on-Trent, and a monument to the apathy and neglect of the city's built heritage can be found on Town Road in Hanley, and forms the gateway to our City Centre."


it was announced on 6th July 2008 that St. John's is to be restored
and converted into a restaurant

---





next: Canal mile post at lock 37, Trent & Mersey canal
previous: The Tontines, Hanley